Address:

3310 S Rochester Rd

Rochester Hills

,

MI

48307


Get Directions

Store Hours:

M-Sat: 10-7; Sun: 12-5

Phone:

Email:

Website:
Get Pricing
GET A PERSONAL QUOTE
Pricing varies based on size, options, accessories, promotional offers and other local factors. Your dealer will help you select the right hot tub and options. Send your contact information for your personal quote.
"Greatest Value Ever! My husband and sons have back problems, some had back surgery. We have found in just a short amount of time, that the spa has given them relief and a morning boost to start the day."
RAMMY | Benicia, CA
Hot Tubs in Rochester Hills, MI
Since 1968, Lifestyles Hot Tubs has been metro-Detroit's hot tub specialist, introducing clients to the best hot tubs and offering care and maintenance for all seasons. At our Rochester Hills, MI, showroom, you can get a firsthand look at the range of hot tub styles and features designed for diverse families and lifestyles. Come check out Hot Spring® spas, Caldera® spas, Freeflow® spas, and Endless Pools® up close. Hot Tubs near Detroit, MI: The Great Lakes are all around us: powerful places of relaxation and renewal. But how often do we actually get to visit? The truth is that we can experience their benefits right at home—and in a way that is markedly warmer—with a luxury spa. No matter where you work around the Detroit area, you'll look forward to a rejuvenating reset in your own private hot tub at the end of the day. We're an Integral Part of Your Community: We're more than just the showroom you visit to find the ultimate hot tub to suit your lifestyle and your budget. After you purchase, our relationship with you will continue for the long life of your hot tub—through superior service, maintenance, and upgrades to your personalized home spa. Our founders were always connected to the metro-Detroit community: they started out selling eggs door to door. Through those regular customer relationships, they noticed that many people in the community had pools on their properties, so they began selling chlorine to fill a need they saw. Through a continuing commitment to improve the lives of their customers and neighbors, that soon grew to encompass hot tubs. For almost 50 years, Lifestyles has expanded in experience, exceptional products, and scope. We're in your neighborhood, ready to talk about your lifestyle and your hopes for a complete home spa experience—your way. What Your Lifestyle Means to Us: Our customers and staff agree: hot tubs make you feel better every time you use them. When we talk about which hot tub is right for you, we're taking your everyday life into consideration. We have hot tubs for those interested in reducing pain and tension, finally pulling their ideal backyard together, hosting family and friends, and everything in between. What You Can Expect from Lifestyles Hot Tubs: Whether it's summer, fall, winter, or spring, your Hot Spring spa is there waiting for you at the end of a long day (or at the start of one!). We know from experience how vital your hot tub becomes, which is why we carry the leading brands in reliable performance and adaptable features. Plus, we offer you careful, customized installation, the best service technicians—some with more than 20 years of experience—a proactive approach to maintenance, and insurance claim services, so you can rest assured that your hot tub will be with you for the long haul. Your experience is our priority—from the early stages of considering your home spa options through the years of discovering more and more ways to integrate your hot tub into your life. Our Rochester Hills location is just one of nine throughout the Detroit, MI, area. If you'd like to find out more, click here to download a brochure or request a quote for an even closer look at some of our favorite hot tubs.
Areas Served
Auburn Hills, Bloomfield Hills, Clarkston, Detroit, Lake Orion, Rochester, Rochester Hills, Waterford, and Surrounding Areas
Gallery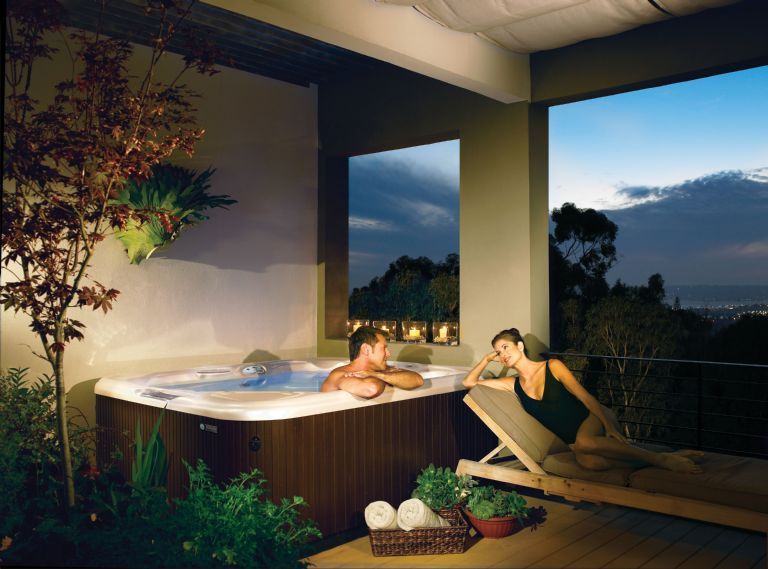 Dealer Awards and Memberships

Dealer of the Year, Regional Dealer of the Year, Outstanding Service Award, Superior Consistency
Services Offered

Backyard Consultation
We can meet with you to determine the best location for a hot tub in your yard.

Delivery Available
We can deliver your new hot tub right to your backyard.

Service Department
We're here to assist you after you purchase your hot tub.

Test Soak
Arrange a time to come in and give one of our hot tubs a try.

Watercare Analysis
We'll help you make sure your hot tub has the cleanest water possible.
Additional Services
Spa Relocations, Covers, Chemicals & Accessories, Pre-Owned Spas, Valet Service, Silk Balance, Salt Water Hot Tubs