How much does a hot tub cost?
If you are in the market for a hot tub, one of the first questions you might ask is, "How much does a hot tub cost?" The answer is, it depends. Hot tub prices are not an industry secret. The main reason they are not readily displayed is that prices vary, depending on several important factors. Here we'll explain those hot tub price factors and provide the typical price ranges you'll see when shopping for a spa of your own.
COST OF A HOT TUB
The sale price of a new hot tub can range from about $4,000 to $20,000 and more. In theory, the further up you move in pricing, the more long-term enjoyment you get out of your hot tub. However, the initial cost of the spa is only one element to consider. When trying to determine which hot tub provides the most value for your money, you should also consider what the ongoing costs of ownership will be, how often you plan to use your hot tub, and how many years you would like your hot tub to last.
Starting Price Range
Construction
Performance
Compare To
Interior
Exterior
Jets
Water Care
Energy Efficiency
Entry-Level
$4,000 - and up
Formed plastic
Formed plastic
Minimal quantity and variety
Standard bottled sanitizer
Standard insulation
Freeflow® and Fantasy® brand spas
Value-Priced
$7,000 - and up
Molded acrylic
Composite panels
Increased quantity and variety
Built-in sanitizing systems
Efficient insulation
Hot Spot® Collection spas from Hot Spring®
Premium
$11,000 - and up
Molded acrylic
Composite panels
High quantity and variety
Advanced systems and salt water
Efficient insulation
Limelight® Collection spas from Hot Spring®
Luxury
$14,000 - and up
Molded acrylic
Composite panels
Maximum quantity and variety
Advanced systems and salt water
High-efficiency insulation
Highlife® Collection spas from Hot Spring®
The following provides a breakdown of what you can generally expect from a hot tub within each typical price range.
HOW MUCH IS A HOT TUB? ENTRY-LEVEL HOT TUBS
$4,000 and Up Starting Range
While spas in this price range offer a very basic set of features, their affordability makes it very easy for first-time hot tubbers to start enjoying hot water massage.
Typically, spas in this price range are rotationally-molded – meaning the spa interior and exterior are formed out of a durable plastic. They look different than spas with shiny acrylic shells offered at higher price points. One benefit of a rotationally-molded spa is that they are lightweight and easy to move. When shopping in this price range, expect to hear the term "plug and play," which means that the hot tub only requires a 110 V electrical connection. So, getting started is easy and you will likely save on installation costs without the need for an electrician. Fill the spa with a garden hose, plug it in and enjoy.
Popular Entry-Level Brands:
$7,000 and Up Starting Range
This is the starting price range for spas with high-gloss acrylic shells, durable composite cabinets, more jets and a greater variety of features. It is important to understand that in this range, spa manufacturers might make trade-offs. In fact, this may be the most precarious price range for first-time hot tub shoppers.
A manufacturer offering a hot tub in the value price range may focus on offering features that get attention, such as a lot of jets, dramatic lighting and water features. To keep prices low, they may be compromising on quality or leaving out important performance features, such as heat insulation that keeps energy costs low. Or they may not be investing in a strong service network or comprehensive warranties.
On the other hand, Hot Spring Spas manufactures value-priced spas in the Hot Spot Collection that provide a blend of quality, performance and value to deliver years of reliability and energy efficiency.
Spas in the Hot Spot Collection use the FROG® @ease® In-Line Sanitizing System, which automatically dispenses SmartChlor® chlorine and minerals for easy water care. It self-regulates based on the water's sanitization needs, maintaining a consistent level of protection.
Popular Value-Priced Hot Tub Models:
PREMIUM & SALT WATER HOT TUB COST
$11,000 and Up Starting Range
As you move further up in price, spas in the premium range offer a better and more satisfying long-term ownership experience, and some include the option of using salt water as the water care system.
In addition to offering more jets, water features and colorful lighting, these spas have more advanced features. As a result, they are usually more energy-efficient than value-priced spas, which reduces the ongoing cost of ownership. They often feature more advanced controls, more effective filtration systems and water care options that can reduce your maintenance time requirements. Components such as pumps and heaters may also be of higher quality, and warranty coverage is often longer than spas at lower price ranges.
The opportunity to use salt water in your hot tub also comes into play with premium hot tub models like those in the Limelight® Collection from Hot Spring Spas. The FreshWater® Salt System is the simplest way to keep water clean and clear for up to a full year.* You'll enjoy soft, natural-feeling water without harsh odors. Spend less time maintaining your spa and more time enjoying it.
Popular Premium Hot Tub Models:
LUXURY & SALT WATER HOT TUB COST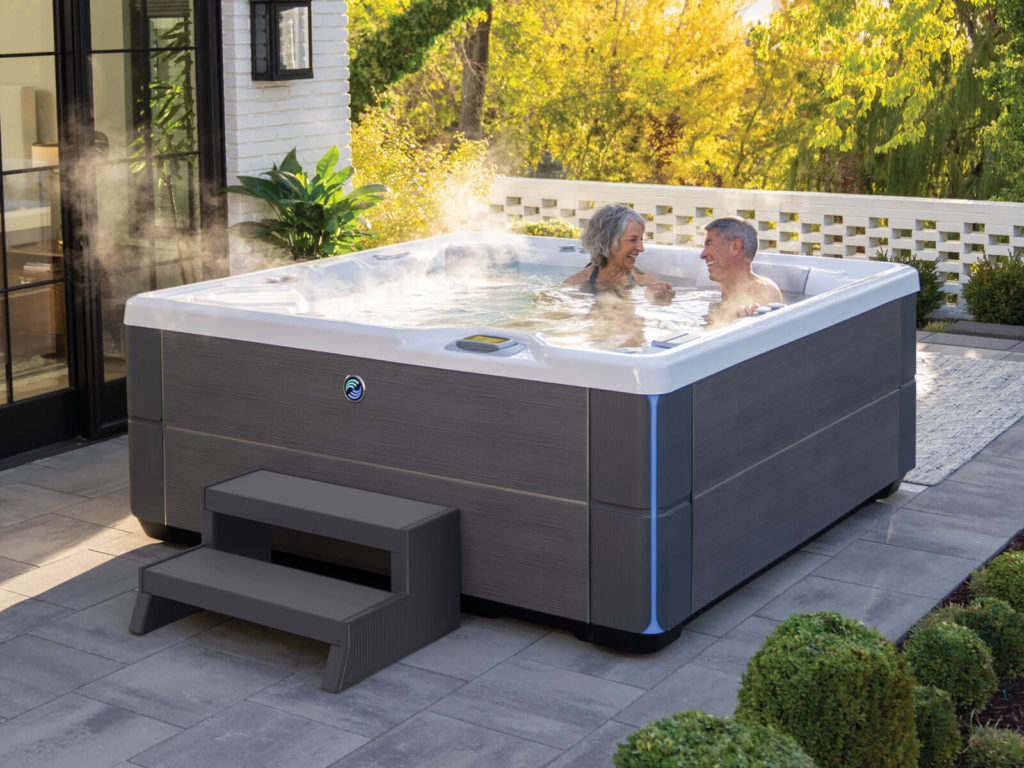 $14,000 and Up Starting Range
Spas in this range offer the very best ownership experience. At this level, the advantage of investing more in the upfront price is exceptional long-term enjoyment. Expect the very lowest energy costs, minimal maintenance, simple operation and quality components in a spa that can last up to 20 years or more! Salt water systems are also available on these high-end spas.
Models in this range are the very best hot tubs. In addition to robust features, high-quality components and durable construction, you can also expect some very special features. One-of-a-kind jet systems for the very best hydrotherapy massage, leading-edge design that makes the hot tub a beautiful backyard focal point, top-of-the line filtration systems for the cleanest spa water possible, and other innovations that help separate spas in this range from other models.
High-end hot tubs like those in the Highlife® Collection from Hot Spring Spas are salt system ready. The FreshWater® Salt System is a revolution in worry-free water that is the simplest way to keep your water clean, clear and feeling natural.
Popular Luxury Hot Tub Models:
FACTORS THAT AFFECT THE PRICE OF A HOT TUB
Now that you have a general idea of how much a hot tub may cost, we'll explain some of the model-specific factors that influence hot tub pricing.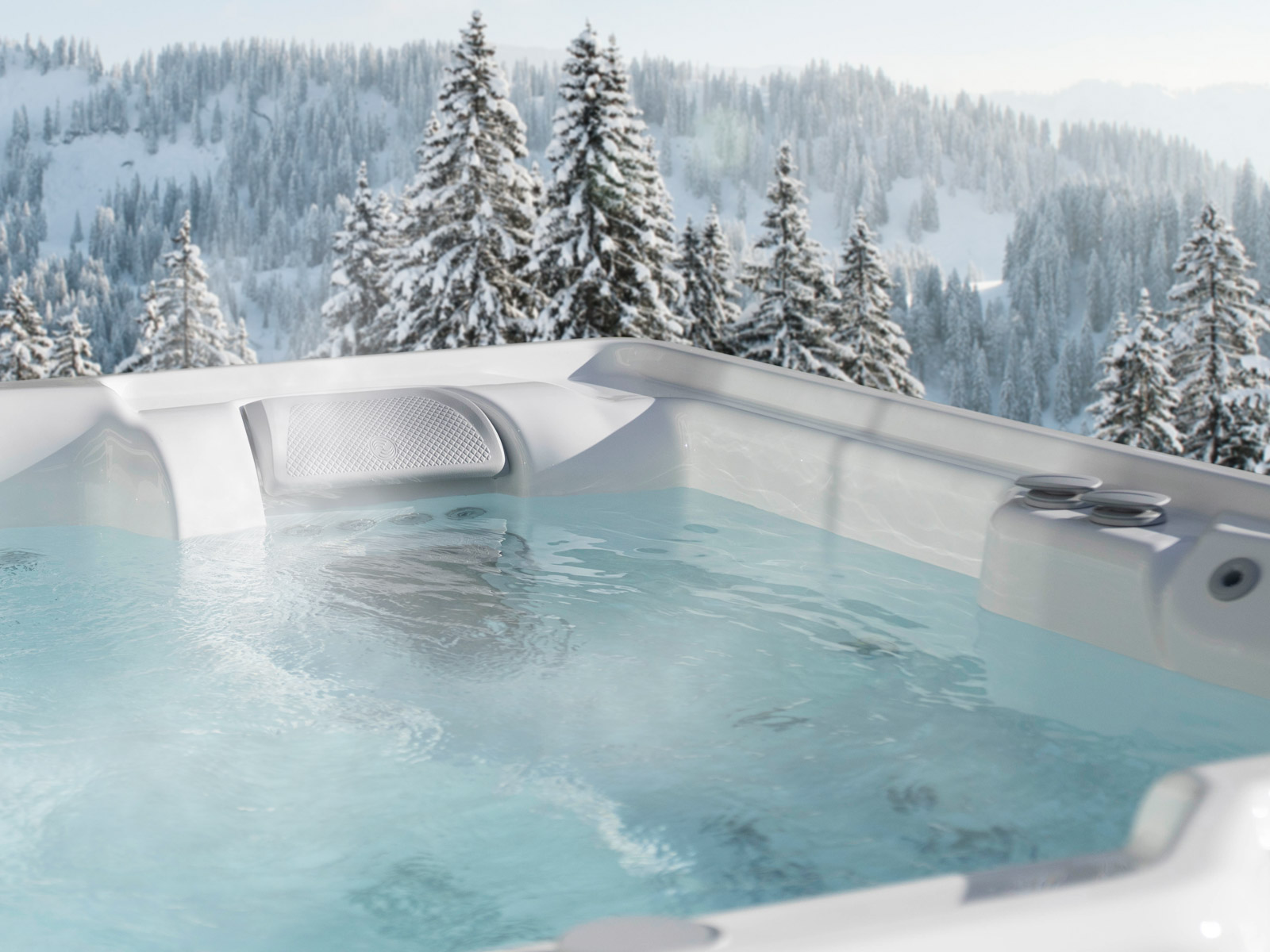 A quality hot tub is an investment, and options and upgrades can increase the price of a particular model. Once you've done your research, it's possible you'll determine that a more basic hot tub, without a lot of "bells and whistles," is right for you. First though, you deserve to have the right information to make an educated decision. It will help you to understand why prices can vary widely and why it may be worth it to not simply shop for the lowest price. Ultimately, as an educated shopper, you'll be able to decide for yourself what type of hot tub, and what type of hot tub ownership experience, will be best for you.
Some of the important factors that can drive the price of a hot tub up or down include:
Size
Features
Engineering
Quality
Design
These model-specific variables probably make some sense to you already. It's obvious that better quality, or a larger hot tub, will cost more. But there are additional price factors, and it's important that we cover those too.
Don't be caught off guard by unexpected fees. Some spa pricing variables are not only based on the hot tub model you select. They are also based on considerations like locale. It's actually not uncommon for the same hot tub model to cost more in one place than another, and that is typically due to factors like:
Dealer location and freight costs from the manufacturer
Dealer overhead and other store costs
Dealer-provided services included with the sale
FINANCING OPTIONS
Many shoppers do not realize that hot tub dealers often offer financing as an option. If you consider a hot tub as an investment in your family's health and well-being, you may want to invest in a model that offers the best long-term value. By financing all, or a portion of the purchase price, you may be able to get the model that has everything you want and pay a low monthly payment that you can afford. Talk to your hot tub retailer about hot tub financing options available. You can also visit our hot tub financing page, to learn more about the available finance options.
WHERE CAN I GET EXACT PRICING ON A HOT TUB?
The best place to get information about models, features, upgrades and costs for a hot tub of your own is your local hot tub dealer. If you live in the U.S., you can enter your zip code on our website to find the authorized Hot Spring® dealer nearest you.
We encourage you to visit your dealer in person or shop virtually here. Bring a swimsuit and enjoy a test soak! Your dealer can answer all of your questions – even the ones you haven't thought of yet – about models, features, options… and, of course, pricing.
RELATED CONTENT