Exceptionally designed. Generously appointed. The Highlife Collection is everything a hot tub can be.
FreshWater® Salt System Ready
A revolution in water care that helps you spend more time enjoying your spa and less time maintaining it.
Learn More
100% No-Bypass Filtration
All the water is filtered all the time, and exclusive, high-flow Tri-X® filters help keep water crystal clear.
Moto-Massage® DX Jet
Patented moving jets provide two powerful water streams that sweep up and down your back for a massage like no other.
Super Energy Efficient
High-density, full-foam insulation and the comprehensive Energy Smart® system makes these our most energy-efficient hot tubs.
Wireless Remote Control
Operate spa functions from any seat in the spa and up to 30 feet away with this unique, easy-to-read color touchscreen.
Polymer Structure and Base Pan
Built for durability and long life with a structure that will never rust or rot.
Shown with Driftwood Cabinet and Alpine White Shell
Shown with Walnut Cabinet and Alpine White Shell
Envoy® Model Shown with Alpine White Shell
Shown with Walnut Cabinet and Alpine White Shell
Shown with Brushed Nickel Cabinet and Smoke Cover
Shown with Bronze Cabinet and Ivory Shell
Shown with Walnut Cabinet and Alpine White Shell
Features
Legendary Hot Spring® Massage
Comfortable seats with purposefully arranged jet systems work together to target specific muscle groups. The result is a distinctive massage from your neck to your shoulders, back, wrists, calves, and feet.
Personalized Control 
The Comfort Control® system lets you dial in your ideal experience—from a soft touch to a powerful massage. Use the SmartJet® system to customize water flow to different jet groups and seats throughout the spa.
Back Massage Like No Other 
The patented Moto-Massage DX moving jet delivers two streams of water that sweep up and down your back while four Precision® jets massage your neck and shoulders, creating an unparalleled hydrotherapy experience.
Easy Water Care
Crystal clear spa water is essential to a great spa experience. Highlife Collection spas offer exclusive innovations that keep your water clean with less effort. 
FreshWater Salt System
This system automatically generates chlorine from salt for soft, natural-feeling water without harsh odors, itchy skin, or irritated eyes. Keep your hot tub water clean and feeling great for up to a full year.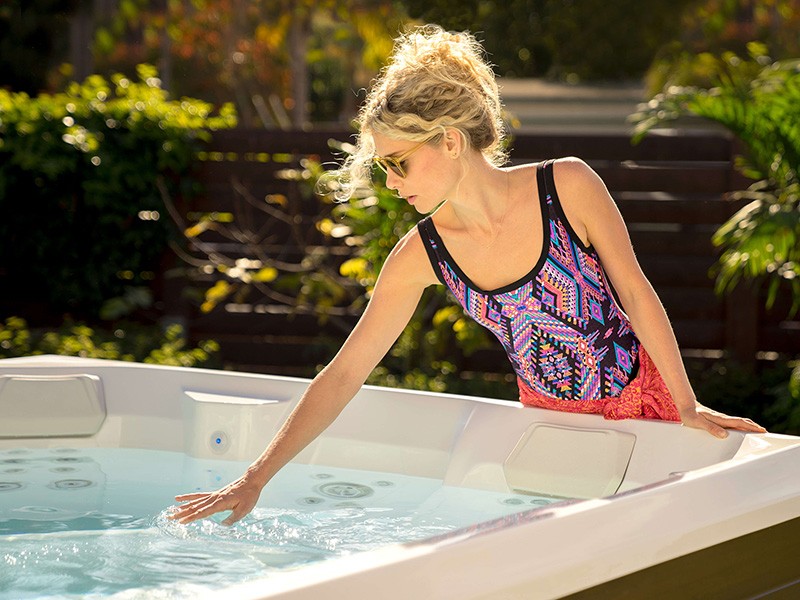 100% No-Bypass Filtration
All the water is filtered all the time. In other spas, water bypasses the filters while the jets are on, when you need it most. Tri-X filters provide more effective filtration area to filter significantly more water.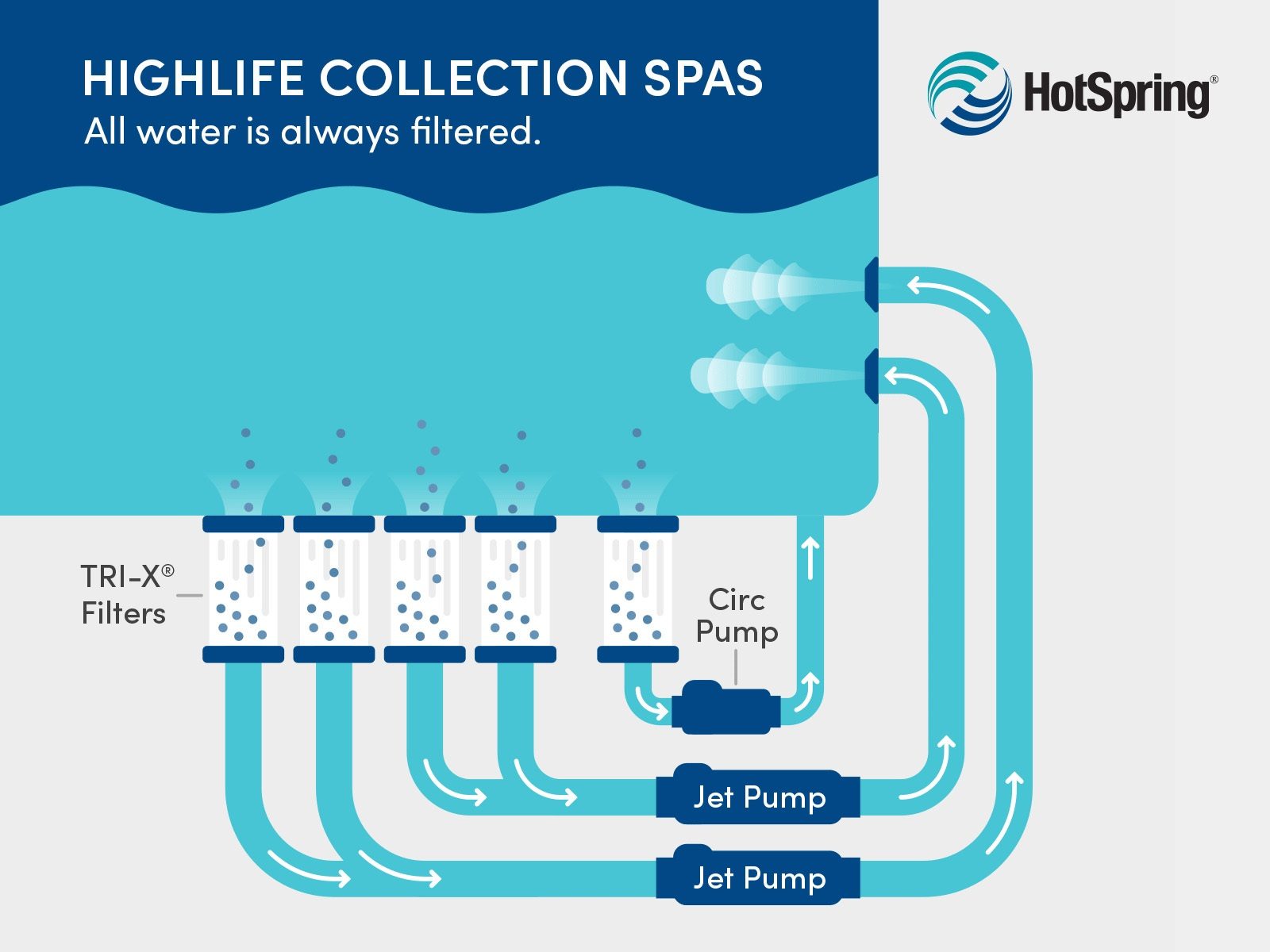 Super Energy Efficient
Highlife Collection spas offer our very best in energy-saving design with a comprehensive Energy Smart® system. Your spa will be hot and ready when you are, while keeping energy costs low. 
Energy Smart System Features
Layers of high-density polyurethane foam insulate the spa shell.
An insulated base pan creates insulating air space against cold ground. 
Proprietary spa covers ensure a tight fit to keep heat from escaping.
Energy Smart System Features
A low-energy pump circulates water using less energy than a 40-watt light bulb.
The titanium heater maximizes heat transfer.
A pump shroud captures heat from the equipment compartment to minimize water cooling.
The Absolute Best Hot Tub Ownership Experience®
You can count on lasting quality and unparalleled customer care from a global network of dealers dedicated to providing you with an extraordinary ownership experience.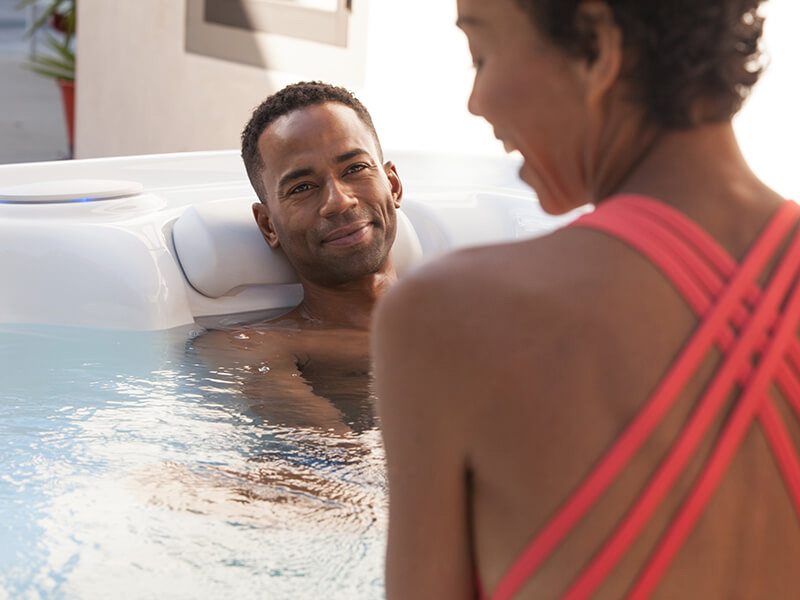 Polymer Structure and Base Pan
The lightweight, polymeric substructure provides an outstanding support structure, integrated with the sealed base pan, that will never rust or rot.
Visually Stunning
The Highlife Collection redefines how a hot tub can look. Comfortable, sculpted seating and stylish design details work together to create a design that's more like furniture than a hot tub. 
Distinctive Color Palette
Choose from six cabinet finishes and a variety of shell colors to create a look that's just right for you. 
Customizable Zone Lighting
Create the perfect ambiance inside and outside the spa from subtle to spectacular with the multi-zone LED lighting system.
Shop Other Hot Tub Collections
With three different hot tub Collections, you'll find one that's just right for you. 
Highlife Collection Reviews
See what real people have to say about their Hot Spring spa experience.
We love the quality and comfort of our new Grandee spa with the FreshWater Salt System. The Moto-Massage DX jets are great and feel like a real massage up and down your back. The hot tub has plenty of room, lighting is perfect and having a wireless remote is a big bonus!
Hot Spring spa owner, New York
Highlife Product Aggregate Reviews
is rated out of
5
by
3970
.
Rated

5

out of

5
by
mrsLB
from
Luxurious and our favorite home feature
My husband and I have always dreamed of having a hot tub at home. We moved into our house and enjoyed the hot tub that came with the house. But last year we decided to treat ourselves to a brand new tub that could accommodate more of our friends and family. The Grandee spa won us over immediately. It is so easy to maintain and operate. I love that we have the easy-open feature that let's me lift the cover with one hand, so I don't have to "undo" the relaxation by straining to pull the cover back on after a soak. The light features are meditative and always wow our guests. We are so very happy with this purchase and have recommended this model to our friends and family.
Date published: 2015-11-03
Rated

5

out of

5
by
ChrisnHollyB16830
from
Easy to Care For & A Joy For Our Entire Family
My husband & I made this purchase not only for fun, relaxation, but for my eczema. The delivery was easy, & setup was done before I got home from work.In four words, We love the spa. I'm in the spa at least every other day. The chemicals are easy to adjust. We love the moto seats, but I don't think there's a bad seat in the spa. We are extremely glad we went with the larger spa. We have had multiple friends & family use the spa. I think there all in agreement, why didn't We do this earlier. My husband has officially become the SPA Boy. He says, " The spa is easy to care for & a joy for our entire family. " We both have slept better since we've gotten the spa. I would highly recommend HotSpring Spa's to all my friends & family.
Date published: 2015-11-02
Rated

5

out of

5
by
RS42
from
Excellent Product
We have several friends with Hot Springs spas and they are all happy with them. At least two of them have had theirs for 10+ years. That helped us decide on the brand. We decided on the Grandee since it seats 7 comfortably and we often entertain. Everyone loves it. We often get compliments about the comfort, the size, and the lights. We get a lot of compliments on the water feature as well. Although I think it's a bit gimmicky everyone seems to love it. Some seats might be a bit deep for short people but if you are average height or tall it should fit you perfectly. It's no fun if you are in a shallow spa in the cold of winter and your shoulders are exposed because its not deep enough. No problem in this spa.
Date published: 2015-10-14
Rated

5

out of

5
by
Mark
from
Great Product/Great fun
I am extremely happy with our new Hot Springs Tub. We have enjoyed spending "hot tub" time with family and with friends. The experience from purchasing to installation and service has been great. We had a small issue with a water care reading, and they sent a tech out to fix. Other than that, it just takes a little time to get used to checking the chemical balance. We have enjoyed the tub almost every night since our purchase. I highly recommend Hot Springs tubs to anyone.
Date published: 2014-03-01
Rated

5

out of

5
by
Happy Couple
from
An oasiss in our own back yard.
This Prodigy spa, is our second spa from Hot Springs. Our first one we had in Florida and we enjoyed it so much we had to have another one. We stuck with the brand we knew and trusted and are extremely pleased.We have enjoyed it even on snowy nights here in the Pocono region of Pa. We have sat in the spa many nights even with the temperature as low as -18F, and have enjoyed the warmth of our spa. I am pleased with the thermal efficency of thi unit,and have estimated that thru the winter it has only cost us about a dollar a day to maintain this unit. (And we use it about 5 nights a week and it is outside on our deck right in the weather.) Sign us as happy owners....
Date published: 2014-02-18
Compare Hot Tub Collections
Each Hot Spring Collection features spas with different jets, features and number of seats.
Compare Now
Visualize That Perfect Spa in Your Space
Use the free Virtual View™ AR app to view and compare spa models.
Learn More