Hot Tub Steps
Get the most out of your spa experience with genuine Hot Spring spa steps designed to match your spa cabinet.
HIGHLIFE® COLLECTION STEPS
Textured treads and contemporary design matches the color of the spa corners.
Product Dimensions: (33.25"L X 24.375"W X 15.125"H)
LIMELIGHT® COLLECTION STEPS
Made from the same material as the cabinets and available in colors to match each spa.
Product Dimensions: (32"L X 21.75"W X 15.25"H)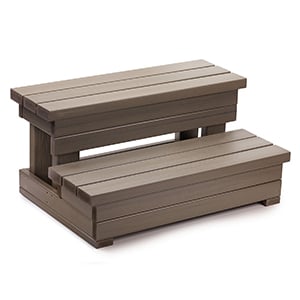 HOT SPOT® COLLECTION STEPS
Two-tone steps with treads in three different color options to match spa cabinets.
Product Dimensions: (32"L X 21.3125"W X 15.25"H)
Polymer Steps
Durable and lightweight, these steps are offered in multiple colors and are eco-friendly – made with 100% recyclable material.
Product Dimensions: (30.65"L X 24.31"W X 16.31"H)