The Hot Tub Store
705 E Bidwell St Ste 4
Address:

705 E Bidwell St Ste 4

Folsom

,

CA

95630


Get Directions

Store Hours:

11am-6pm, 7 days a week.

Phone:

Email:

Website:
Get Pricing
GET A PERSONAL QUOTE
Pricing varies based on size, options, accessories, promotional offers and other local factors. Your dealer will help you select the right hot tub and options. Send your contact information for your personal quote.
"Greatest Value Ever! My husband and sons have back problems, some had back surgery. We have found in just a short amount of time, that the spa has given them relief and a morning boost to start the day."
RAMMY | Benicia, CA
Hot Tubs in Folsom, CA
We call ourselves The Hot Tub Store because we're the Sacramento area original. We've been selling hot tubs and spas in northern California since 1973, making us the oldest store around. We've been selling hot tubs manufactured by Watkins Wellness™ since 1977, about a year after they started making hot tubs. We've stuck with their brands for a simple reason: They're the best in the business. If you're near Highway 50 in Sacramento or near Folsom, stop by our showroom for a no-pressure tour! Hot Tubs near Sacramento, CA. Why We Choose Watkins Wellness: One fine day in 1977, a man pulled up in front of our spa store hauling a trailer with a Watkins Wellness hot tub in it. We took a look, we plugged it in, and we decided he was onto something great. We've carried Watkins Wellness hot tub brands ever since then, and have never looked back. We love our Hot SpringⓇ spas as much as our customers do, and we love our customers as much as they love the spas we sell. Many have been enjoying their hot tubs for twenty years or longer, while others love their spas so much they've kept coming back, buying three or even four new models from us over the decades. Hot Spring spas last a long time, and they're made to be used. The reason people keep returning to us is because, over the years, their hot tub has become an essential part of their daily life. How We're Here to Help Our Sacramento Neighbors: We're from the Sacramento area, and so we care about the people in the Sacramento area. When you come visit one of our showrooms, it isn't our goal to fast-talk you into the flashiest spa on the floor. We want to listen to you, get to know you, and discover your needs, then find the hot tub that fits your lifestyle best. Finding the right hot tub is like finding the right partner; there's no rush, when you'll be together a long, long time. We think everyone deserves a hot tub, and we'll work with you to find a financing plan to match your ability. It's part of our mission to take care of our community and our customers. To further that mission, we go to great lengths to provide custom, lifetime service for every hot tub we sell. We think taking care of each other helps make communities great. At The Hot Tub Store, we believe a hot tub is as much of an experience as it is a product. With that in mind, we do all that we can to make your hot tub experience as pleasant as possible, from our no-rush showrooms to our lifelong service. If you'd like to learn a little more about the spas and services that we offer, check out our website, request a quote, or come visit our Folsom showroom today!
Areas Served
Cameron Park, Carmichael, Cool, El Dorado Hills, Elk Grove, Fair Oaks, Folsom, Granite Bay, Placerville, Pollack Pines, Rancho Cordova, Rancho Murietta, Sacramento, and Shingle Springs.
Gallery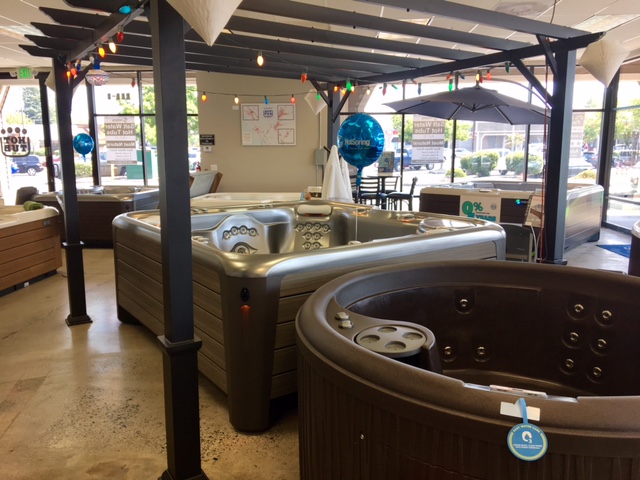 Services Offered

Backyard Consultation
We can meet with you to determine the best location for a hot tub in your yard.

Delivery Available
We can deliver your new hot tub right to your backyard.

Service Department
We're here to assist you after you purchase your hot tub.

Test Soak
Arrange a time to come in and give one of our hot tubs a try.

Watercare Analysis
We'll help you make sure your hot tub has the cleanest water possible.