Jetsetter®
Designed for small spaces and easy installation, the Jetsetter is a three-seat luxury spa that can operate on either 115 or 230 volts and fits through a standard doorway.
Size
7' x 5'5" x 29" | 213 cm x 165 cm x 74 cm
Water Care
FreshWater® Salt System Ready
Exclusive Moto-Massage® DX Jet
Optional Bluetooth® Music System
Exterior and Interior LED Lighting
Choose Your Colors
Cabinet
Walnut
Bronze
Sandstone
Driftwood
Brushed Nickel
Shale
Shell
Alpine White
Ice Gray
Ivory
Tuscan Sun
Desert
Alpine White
Ivory
Tuscan Sun
Desert
Alpine White
Ivory
Tuscan Sun
Desert
Alpine White
Ice Gray
Tuscan Sun
Platinum
Alpine White
Ice Gray
Alpine White
Ice Gray
Platinum
Actual colors and product may differ from on-screen representation. Please see your local dealer to verify.
Jetsetter Jet System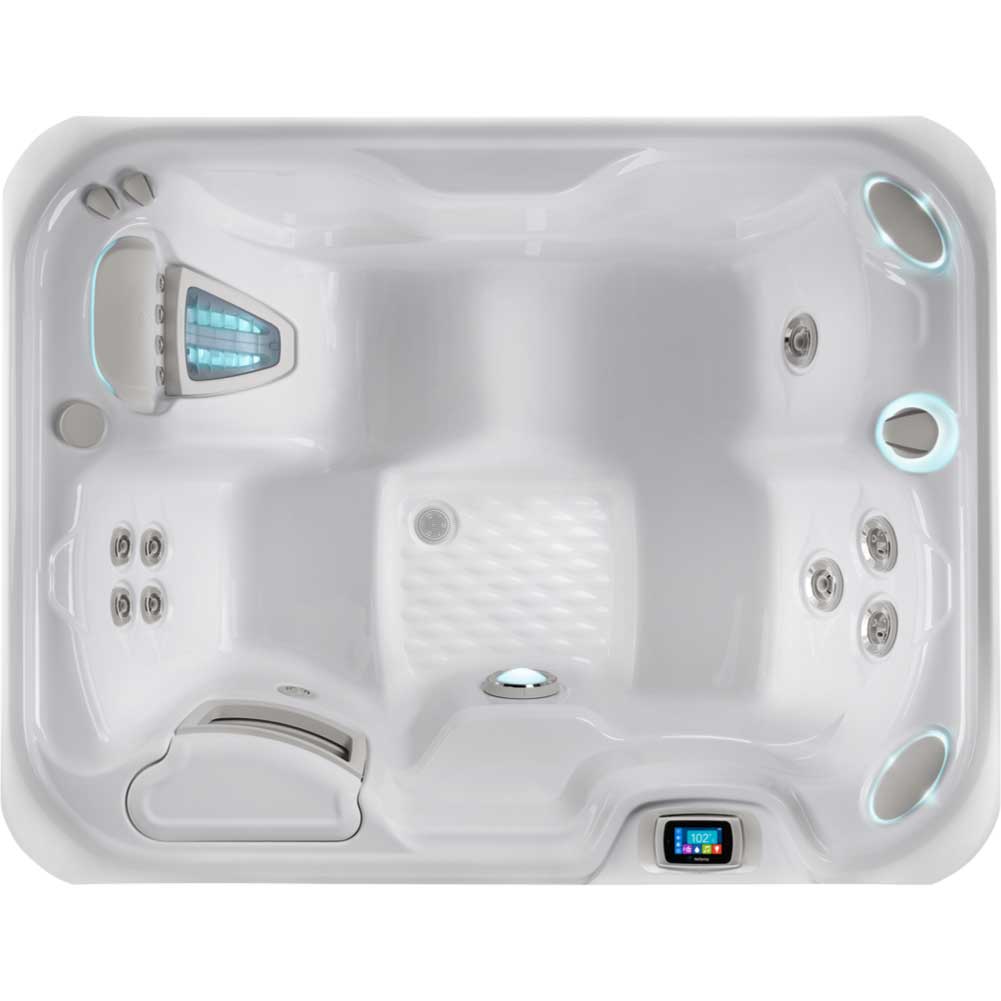 Click the + on each seat to learn more.
Moto-Massage® Lounge Seat
Reclined and contoured so you can lay back with your legs extended.
Moto-Massage® DX Jet
Two moving streams of water sweep up and down the length of your back for an unparalleled massage experience.
Directional Precision® Jet
Adjustable up, down, right and left for a pinpoint muscle treatment and targeted massage right where you want it.
JetStream® Jet
Adjustable directional jets provide a powerful stream for a deep and soothing massage. Personalize with ComfortControl®.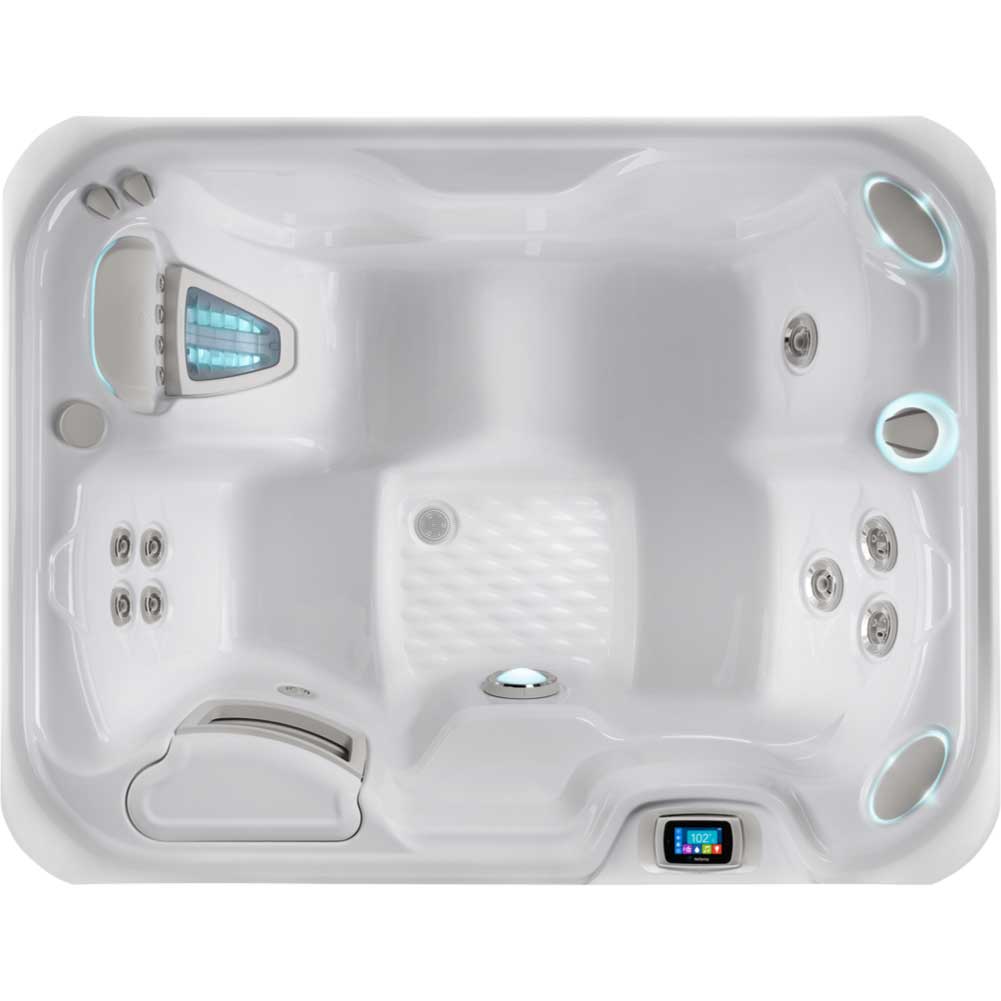 Click the + on each seat to learn more.
Bucket Seat
Shaped to comfortably cradle your body for a long relaxing soak.
Rotary Hydromassage Jet
Two large jet streams spin in a rhythmic circular motion for a deep muscle massage. Personalize with ComfortControl®.
Directional Hydromassage Jet
Adjust the large stream up, down, left and right for comfort right where you want it. Personalize with ComfortControl®.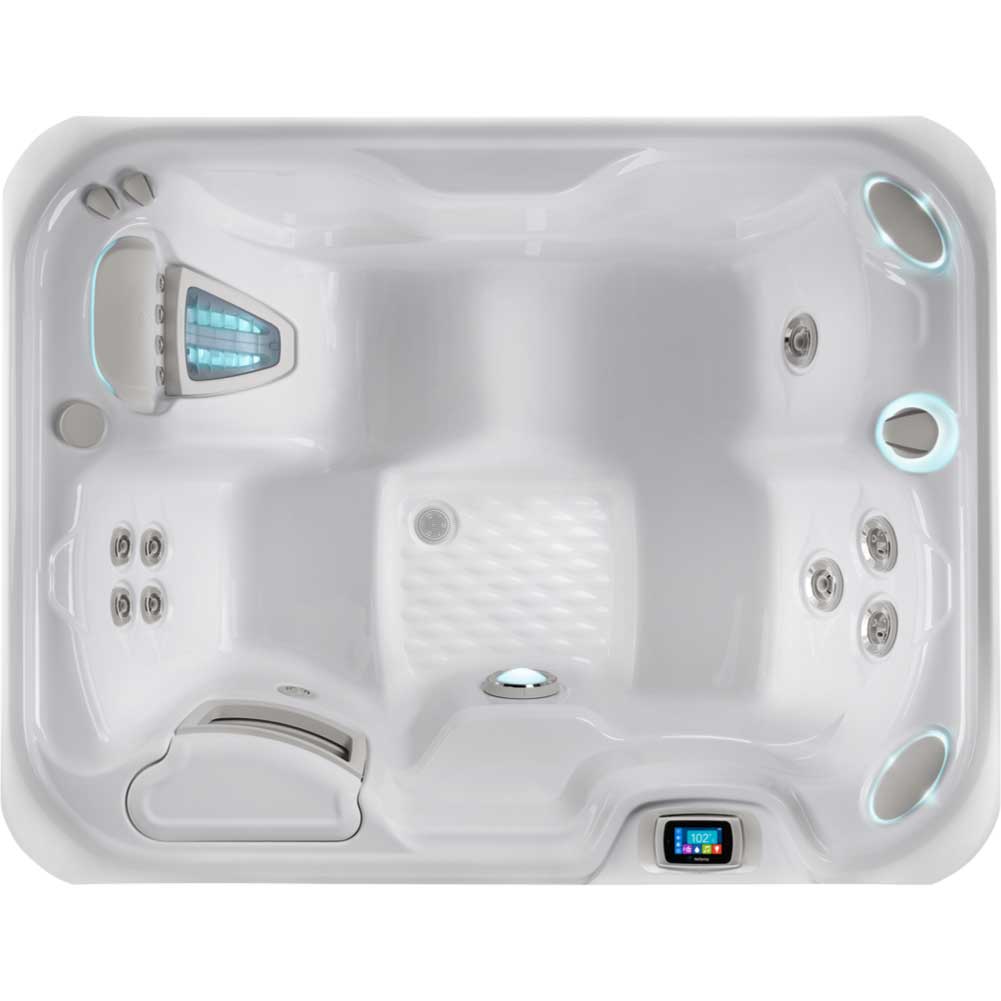 Click the + on each seat to learn more.
Bucket Seat
Shaped to comfortably cradle your body for a long relaxing soak.
HydroStream® Jet
Mid-sized jets with directional adjustment for personalized massage where you need it. Personalize with ComfortControl®.
Features
Legendary Hot Spring® Massage
Comfortable seats with purposefully arranged jet systems work together to target specific muscle groups. The result is a distinctive massage from your neck to your shoulders, back, wrists, calves, and feet.
Personalized Control 
The Comfort Control® system lets you dial in your ideal experience—from a soft touch to a powerful massage. Use the SmartJet® system to customize water flow to different jet groups and seats throughout the spa.
Back Massage Like No Other 
The patented Moto-Massage DX moving jet delivers two streams of water that sweep up and down your back while four Precision® jets massage your neck and shoulders, creating an unparalleled hydrotherapy experience.
Easy Water Care
Crystal clear spa water is essential to a great spa experience. Highlife Collection spas offer exclusive innovations that keep your water clean with less effort. 
FreshWater Salt System
This system automatically generates chlorine from salt for soft, natural-feeling water without harsh odors, itchy skin, or irritated eyes. Keep your hot tub water clean and feeling great for up to a full year.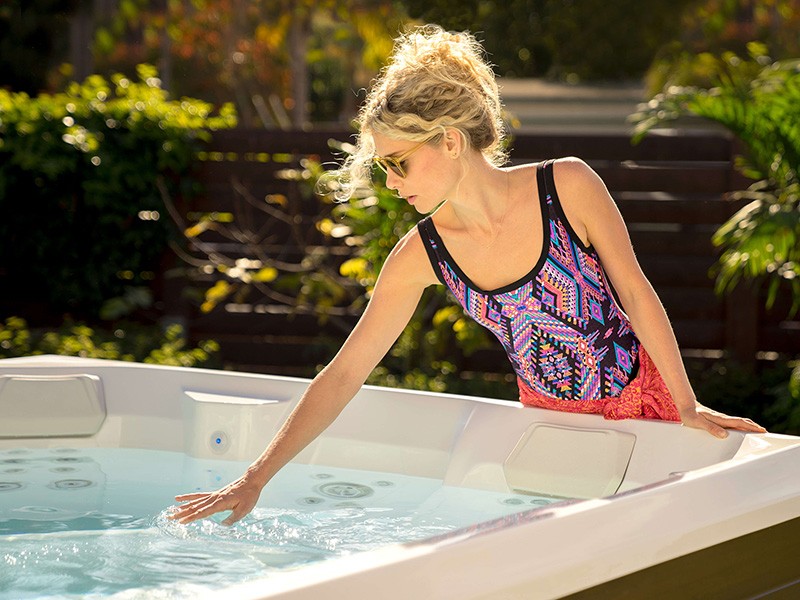 100% No-Bypass Filtration
All the water is filtered all the time. In other spas, water bypasses the filters while the jets are on, when you need it most. Tri-X filters provide more effective filtration area to filter significantly more water.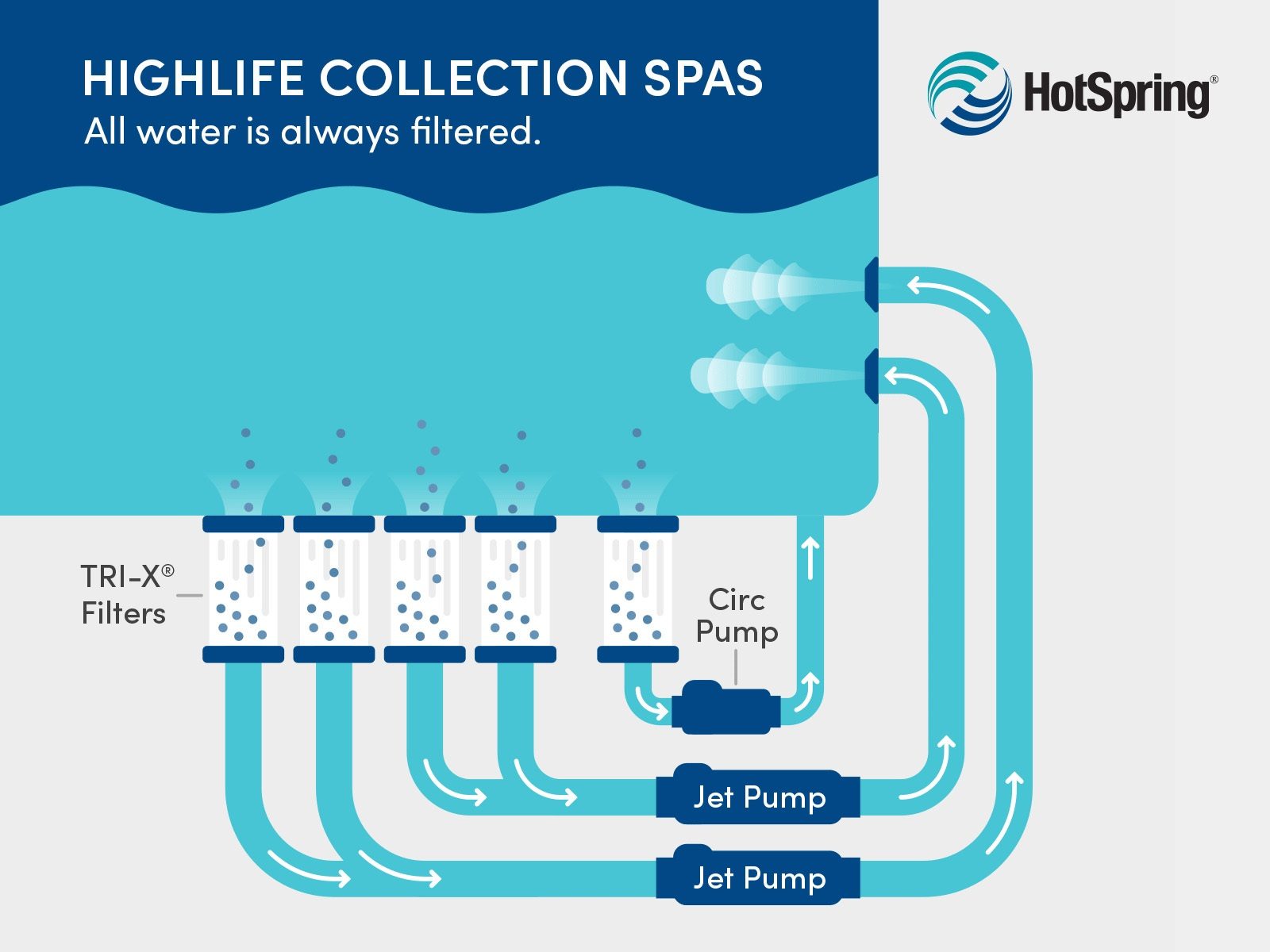 Super Energy Efficient
Highlife Collection spas offer our very best in energy-saving design with a comprehensive Energy Smart® system. Your spa will be hot and ready when you are, while keeping energy costs low.
Energy Smart System Features
Layers of high-density polyurethane foam insulate the spa shell.
An insulated base pan creates insulating air space against cold ground. 
Proprietary spa covers ensure a tight fit to keep heat from escaping.
Energy Smart System Features
A low-energy pump circulates water using less energy than a 40-watt light bulb.
The titanium heater maximizes heat transfer.
A pump shroud captures heat from the equipment compartment to minimize water cooling.
The Absolute Best Hot Tub Ownership Experience®
You can count on lasting quality and unparalleled customer care from a global network of dealers dedicated to providing you with an extraordinary ownership experience.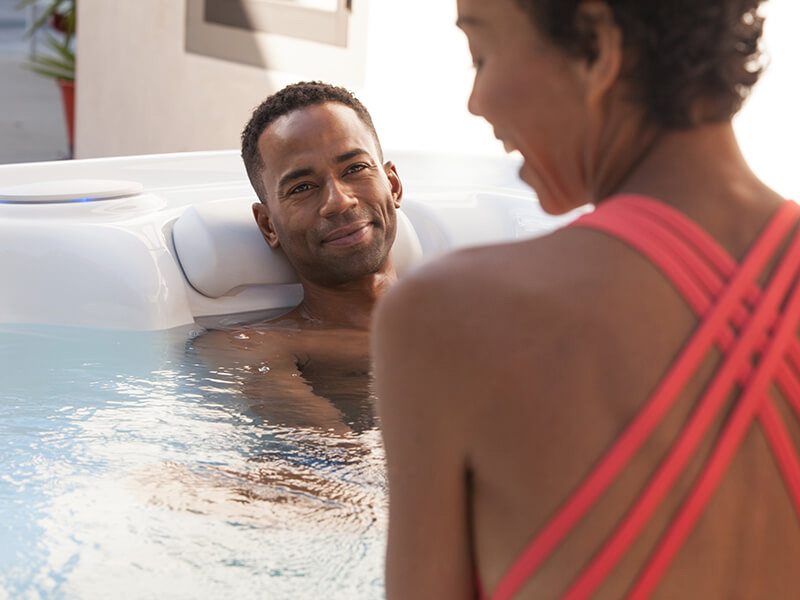 Polymer Structure and Base Pan
The lightweight, polymeric substructure provides an outstanding support structure, integrated with the sealed base pan, that will never rust or rot.
Visually Stunning
The Highlife Collection redefines how a hot tub can look. Comfortable, sculpted seating and stylish design details work together to create a design that's more like furniture than a hot tub. 
Distinctive Color Palette
Choose from six cabinet finishes and a variety of shell colors to create a look that's just right for you. 
Customizable Zone Lighting
Create the perfect ambiance inside and outside the spa from subtle to spectacular with the multi-zone LED lighting system.
Find a Dealer
We offer a nationwide network of certified Hot Spring Spas dealers to help you find a spa that's just right for you.
Model Specifications
Dimensions
7' x 5'5" x 29"
213 cm x 165 cm x 74 cm
Water Care System
FreshWater® Salt System Ready
Water Capacity
200 g
750 L
Dry Weight
455 lb.
205 kg
Filled Weight*
2,650 lb.
1,200 kg
*Includes water and an adult weighing 175 lb. for every seat.
Jet Types
1 - Moto-Massage® DX
1 - JetStream®
2 - Rotary Hydromassage
1 - Directional Hydromassage
4 - HydroStream®
4 - Directional Precision®
Jet Pump 1
Wavemaster® 7000
One-Speed
1.65 HP Continuous Duty
3.5 HP Breakdown Torque
100% No-Bypass Filtration
Polyester Filters with Free-Flow Core
Effective Filtration Area
195 sq. ft.
Water Care System
FreshWater® Salt System Ready
Circulation Pump
SilentFlo 5000®
Insulation
Multiple Layers of Urethane Foam
Proprietary Heater
Titanium No-Fault® 1,500 W / 115 V or 6,000 W / 230 V
Custom-Fit Insulated Cover
3.5" to 2.5" Tapered, 1.5-Pound Density Foam Core with Hinge Seal
Bottom Seal
Insulated Polymeric Base Pan
Energy Standards
Meets California Energy Commission (CEC) and APSP 14 Energy Efficiency Standards for Portable Spas
Control System
IQ 2020® with Wireless Remote Touchscreen
115 V / 20 amp, 60 Hz
Includes G.F.C.I. Protected Power Cord
or 230 V / 50 amp, 60 Hz
G.F.C.I. Protected Subpanel Required for 230 V Mode
Cabinet Colors
Walnut
Bronze
Sandstone
Driftwood
Brushed Nickel
Shale
Shell Colors
Alpine White
Ice Gray
Ivory
Platinum
Desert
Tuscan Sun
Cover Colors
Chocolate
Smoke
Lighting System - Interior
Customizable LED Zone Lighting
Lighting System - Exterior
Multi-Color LED Lighting with Timer
Cover Lifters
CoverCradle®
CoverCradle II
UpRite®
Lift 'n Glide®
Steps
Highlife® Collection Step
FreshWater® III Ozone System
Component Warranty
5 Years
Interior Light Assembly
2 Years
Wireless Remote Control Battery
1 Year
Jetsetter Reviews
See what real Hot Spring spa owners are saying about their hot tubs.
I love my Hot Spring spa. The FreshWater Salt System makes it so easy to care for and makes our soaking so nice. No more chemical smell and the water is always beautiful. I enjoy it with coffee in the morning, and enjoy connecting with my wife without our devices in the evening. It's the best!
Hot Spring spa owner, California
Jetsetter
is rated out of
5
by
585
.
Rated

5

out of

5
by
oceaneastcoast
from
We Love our Hot Tub
We decided to go with a smaller tub as there is just the two of us who use it now (kids have moved out), and we are very happy with it. We use it year round and the winters are cold here. Nothing like watching the stars in 8 degree weather!
Date published: 2022-02-19
Rated

2

out of

5
by
Ron
from
Worst purchase ever
The foam is excessive. The number of chemicals and the amount of chemicals the hot tub requires is non stop. Never had any information when shopping for a hot tub when decided on a Hot Spring. This hot tub was to be almost chemical free. It doesn't end with required chemicals.
Date published: 2021-12-14
Rated

3

out of

5
by
Bob
from
Only a warm tub
I've had hot tubs for many years, this is the first new one I've bought. The new regulations limit the temperature to 104°f. This is just not even warm enough to enjoy in the winter. Never gets you hot. Very expensive and not very satisfying.
Date published: 2021-11-30
Rated

5

out of

5
by
Randi
from
15 year old Jetsetter
I've owned my Jetsetter spa for 15 years and have moved it once 10 years ago. Other than replacing the heater twice it's been a super value. I'm sure they've improved everything in 15 years but I'll keep mine til it dies a final death! You'll never go wrong with Hot Springs!!!⚘
Date published: 2021-10-29
Rated

5

out of

5
by
RWK
from
Best hot tub there is
I have had this Jetsetter for 5 years great value and easy to use and low running costs
Date published: 2021-09-12
Rated

5

out of

5
by
Jethrodoeshottubbing
from
Love the hot tub!
Whenever I have questions about hot tub maintenance, Tony has been there and helped me do the problem solving! Highly recommend!
Date published: 2021-09-02
Rated

5

out of

5
by
Jordan
from
Only hot springs!
This is my 3rd hot tub in over 30 years! I would never consider getting any other brand. Service, comfort and reliability are superb! The new salt system takes ease of maintenance to a whole new level!
Date published: 2021-08-26
Rated

1

out of

5
by
Jacko13
from
GARBAGE!!
Have had nothing but trouble with this spa. Having previously owned a Hot Spring spa for 13 years with few problems I replaced it with this LEMON 3 summer ago. The dealer has been out multiple times and replace almost every working part. We've just had a 10 month run without breakdown, but sadly all good things come to an end!! Very disappointing an frustrating.
Date published: 2021-08-06
Rated

1

out of

5
by
Rob
from
Very Disappointed Hot Springs Spa owner
Very disappointed with my poorly constructed Hot Springs Jetsetter. After 3.5 years on my prestine screened pool deck in Florida the entire wood frame dry rotted. Still under warranty, but Hot Springs said it's not covered. My local Mr Pool dealer did nothing to help me, VERY DISAPPOINTED Hot Springs spa owner. Never again. Warranty is worthless.
Date published: 2021-07-19
Rated

5

out of

5
by
Cassetti
from
Worth the wait!
I waited nearly two years to publish this review as I wanted to ensure I had no major complaints about the spa before sharing my thoughts. From a young age, hot tubs have fascinated me. I always loved bathing in hot water and never missed a chance to enjoy a hottub soak on vacation at a hotel or cruise. For over twenty years I waited for the right time and opportunity to purchase my first spa. When the time came to start my search I had no clue where to begin since I knew practically nothing nor anyone with a spa. Given the costs and my budget, I originally thought I wanted to purchase something the leading "name brand". I knew before researching that I wanted a flagship model for various reasons, but wasn't 100% sold on any specific brand. During my research I was less than impressed as the other leading name brand spa designs which felt dated and over priced for the features they offered. Then I discovered the 2019 HotSpring Highlife collection and instantly fell in love with the sleek sophisticated styling which stood out among a crowd of boring spas which all looked the same. I knew I wanted a smaller spa for just the two of us, and the Jetsetter looked absolutely perfect in size. I was hesitant to invest in an HotSpring spa before conducting further research, so I continued to look at literally every other hottub brand on the market. I spent weeks pouring over every detail on literally every other three seater spa in the market, even though the Jetsetter was love at first sight I told myself not to get too excited. Despite weeks of research, nothing from any competing brand at any price point "excited" me like the Jetsetter. As an engineer, I like to peek behind the marketing and look at the specific materials and components used in construction of an appliance. Having viewed used spas in my initial research, I've seen what sort of wear and tear can happen to a spa over ten to twenty years of use and abuse. Minor details many first-time buyers overlook like the full foam insulation, polymeric substructure frame, and heavy-duty basepan were important features to me since I was looking for a product which could endure decades of frequent use while sitting outside exposed to the harsh elements (especially the stronger direct UV sunlight in my climate). While every hottub insulation type has it's pros and cons, I truly believe the multi-density spray foam insulation utilized by HotSpring not only increases energy efficiency but also helps secure the plumbing to reduce overall stress caused by jet pump activation thereby increasing the product's overall lifespan (assuming proper care/maintenance, natch). I did have concerns about the noise produced by a hottub since it would be less than five feet away from our bedroom. I thought the sound of this spa while running would prevent me from using it while my wife is asleep on the other side of the wall. However I am very pleased to report the spa is extremely quite when running and the sound with jets running is not very loud in the house. I also had hesitations about the lounge seat after reading so many reviews online regarding spa lounger seats in general. Some people claim to float out which is why lots of experts recommend you wet-test a lounger before buying one. I am happy to report that I fit extremely comfortably in the lounger (I should point out that the lounger is designed so you can sit comfortably facing either direction, which isn't always the case with loungers from other brands). I am average height (5' 11") and average BMI which seems to be just perfect for this lounger. My wife who is 5'10" also finds the lounger comfortable and does not float. I feel like the lounger could easily fit someone slightly taller without feeling "cramped". Perhaps a shorter person might have trouble using the lounger without a booster pillow or weighted belt but we haven't had any problems. Personally I find the lounger my most favorite seat in the spa, even with the jets off I like to lounge back and enjoy the starlight night sky! After extensively testing the spa my wife and I agree the MotoMassager is certainly our favorite, especially in a lounge position. In fact turning off all the other jets so you can send full power to the MotoMassager is almost TOO much pressure, I'm still amazed a 115AC spa is capable of such a therapeutic massage. Also note to some buyers, I had concerns about running the spa on 115v AC. There is a lot of confusion on the internet over 115AC spas leading people to believe they provide inferior jet pressure compared to a full size 220V spas and I can say without a doubt this is far from the truth. A well designed 115AC spa uses adequate insulation and a proper plumbing/jets to compensate for the limitations. True, my Jetsetter wired on 115vAC cannot power the heater and the jet pump concurrently, however I find this spa holds temperature extremely well in my climate. During the winter when temperatures are in the 40's and windy at night, I find that my spa will lose only one or two degrees. I have zero desire to run the Jetsetter on 220vAC because there's really no need to maintain that extra one or two degrees of temperature loss over the 30 minutes we soak. In terms of cons for the tub, I do feel like the wireless touchscreen control could benefit from a few additional features like a clock or timer so we could better monitor our spa usage, and perhaps a few extra preset LED color themes. Overall these are minor details which hopefully HotSpring can fix via software updates in the future. Lastly, I am extremely satisfied with my spa dealer. I visited nearly a dozen different spa retailers in my region before making a final decision. My local HotSpring dealer stood out above all the competition in every way possible from prices to service and support. They are a family-run business which has been selling HotSpring Spas exclusively for decades. I felt they were extremely knowledgeable, honest, and competitively priced. Not once did the sales rep need to trash other brands as there are plenty of good things to say about the HotSpring brand! Experts will agree the dealer is just as important as the spa you're buying, and that is absolutely true. I am confident my dealer will be there for all warranty or service related requests in the future for years to come. True the final cost was a bit more than I had budgeting originally for my "first spa", but I wanted to spare no expense to purchase the best spa on the market for my personal needs and there is nothing as cool and modern looking at this tub (or as I like to call it, my "SpaceShip Spa"). I also feel confident in saying that after months of researching every specification for every three seater spa on the market, this Jetsetter is currently the most powerful luxury 115vAC spa on the market, it's everything I wanted in my first spa purchase. Thanks HotSpring Spas for making the best spas on the market!
Date published: 2021-06-23
Rated

5

out of

5
by
Sue
from
Best Thing Ever
I previously had a blow up hot tub for 2 years. Being over 60 didn't want to spend a lot in case I did not get on with it. Loved it so much made me want a better one. I went to Hot Springs Derby met Jacquelyn. I purchased the Jetsetter 3 seater. Bonus was I tried before I purchased it. You are investing a lot off money in a hot tub, you need the one that suits you. Absolutely marvellous best thing I have purchased. It is the Salt system I have easy to use, perfect if you have aches and pains, very relaxing . In winter you can have 3 inches of snow on lid but just feel the heat of the water inside. I can't recommend Anita and Jacquelyn enough for all there help at Derby I would certainly purchase another Thanks Ladies
Date published: 2021-05-15
Rated

4

out of

5
by
Sheepherder307
from
Great hot tub!
We have only had our new hot tub for less than a month and so far it has been great! Not sure of how it all works yet but the salesman in Billings has helped me out with just about all the questions I have. Great place and people to work with!
Date published: 2021-03-08
Rated

5

out of

5
by
Shiner
from
Relax and Enjoy
One of the best lifetime purchases we have made! We use ours throughout the year with maximum winter use! Maintenance is a piece of cake. Buy one, you won't regret it.
Date published: 2021-03-05
Rated

1

out of

5
by
Max
from
Starts leaking days after warranty expires
Loved our jetsetter until it developed a leak somewhere behind a glued panel. Local dealer wants half the cost of the tub to repair. We thought we were paying for quality, but I guess not. Beware of expensive repairs right after the warranty expires! You would think for the price of these units they would last more than 5 years.
Date published: 2021-03-03
Rated

5

out of

5
by
Ramjet
from
Great Hot Tub
Very nice hot tub that is very energy efficient and really easy to care for. It is very well built and also attractive in appearance. Highly recommend.
Date published: 2020-10-25
Rated

5

out of

5
by
Ron
from
3rd jet setter that we have owned. This one is lower , super happy!
Bought the salt water version very easy to care for
Date published: 2020-09-22
Rated

5

out of

5
by
Mike
from
Jettsetter salt system
Easy to maintain, great dealer support and inexpensive to maintain,!
Date published: 2020-09-12
Rated

5

out of

5
by
Constantine
from
Second Jettsetter
We love our new Jettsetter freshwater salt system. It's a lot easier to take care of, my old Jettsetter was non salt system and had a lot of time keeping it up. It's nice not smelling chorine when taking a dip. Arizona hot tub is always there to answer questions when I have them, great team.
Date published: 2020-09-06
Rated

5

out of

5
by
davea2
from
third Hot Springs Spa
this is our third Hot Springs Spa. Home buyers keep insisting we leave the spa with the house so it has become a nice sales tool.
Date published: 2020-09-03
Rated

5

out of

5
by
Sue
from
Wonderful experience
I absolutely love my Jetsetter spa and use it almost daily. It makes my whole body relax and I feel great mentally as well as physically when I finish my session. I bought my hot tub particularly for neck issues which led to daily headaches, and occasional back issues. The moto-massage jets are at the same time most relaxing and invigorating! All of the jet positions massage different parts of the back and neck. You have to experience it! The local dealer, Recreational Warehouse, was terrific and included all the important features for a reasonable price.
Date published: 2020-08-24
Rated

5

out of

5
by
DesertDweller
from
Luvin' It
Even in the hot weather, the water can be temped at low to be refreshing in the evening. Jets are very relaxing and the size is perfect. Easy to maintain, good quality and looks nice in the yard. Height is just right for us.
Date published: 2020-08-12
Rated

4

out of

5
by
DennisS
from
Jetsetter - The Villages, FL
I am not going to give a long review at this time because we have only had the spa for five days. I can say that I am already feeling the therapeutic effects.
Date published: 2020-07-21
Rated

5

out of

5
by
MattDC
from
Perfect for our space
We have a small patio in the city, so space is limited. The Jetsetter is perfect for our needs!
Date published: 2020-07-18
Rated

5

out of

5
by
CZW
from
Life changing
We have wanted a hot tub for years. And while ours is not brand new, our HotSpring store manager made it brand new for us. The previous owner turned it in for an upgrade. Clearly our tub was sheltered since it looks brand new despite being 14 years old. He replaced and repaired parts. The point is, what a gift of right time and place because we know this will serve us for many years to come. Thank you for making a quality product.
Date published: 2020-05-12
Rated

5

out of

5
by
Sparty
from
Better than earlier models
New in 2019 and it is considerably better than the earlier model. I use it daily and love every day in the 'tub'.
Date published: 2020-03-24
Rated

5

out of

5
by
Daz
from
Fantastic product will excellent customer service
Really enjoying our Jetsetter. Exceptional quality, easy to maintain and looks great. Just spoken to Paul at the Mappleborough Green store regarding servicing and general care. He couldn't have been more helpful. Lots of useful tips and advice. If you're thinking of investing in a hot tub, in my opinion there is only one place to go. Darren A Worcester
Date published: 2020-03-12
Rated

5

out of

5
by
BlossomTree43
from
Love the Saltwater System
I start every day with a soak in my Hot Spring spa. It's the best way to start the day. My wife and I soak each evening. We have the best conversations and it helps us to have a good nights sleep. We love our hot tub. The saltwater system makes it super easy to care for and the water is always crystal clear and ready to use. We can't imagine life without our Hot Spring spa and always miss it when we are away from home. Thank You.
Date published: 2020-03-04
Rated

5

out of

5
by
Sam59
from
Jettsetter Life
Absolutely Wonderful ! Should have gotten one a long time ago !
Date published: 2020-02-28
Rated

5

out of

5
by
Usa123
from
Easy install
Nice tub..........................................
Date published: 2020-02-21
Rated

5

out of

5
by
BigDaddy
from
Well Worth the $$
Should have bought a spa years ago. It's a great stress reliever!
Date published: 2020-02-13
Specifically designed for your Hot Spring spa, these additions help you get the most out of your experience.
Browse More 3-Seat Hot Tubs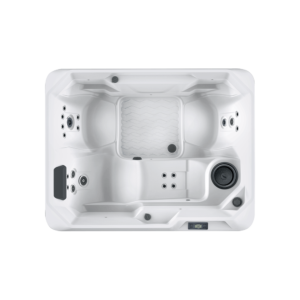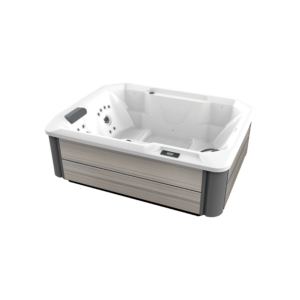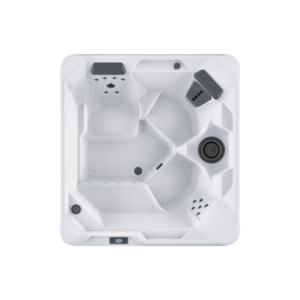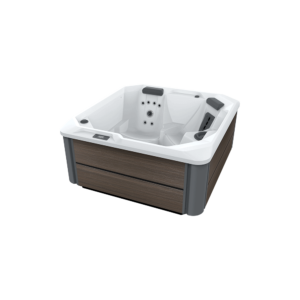 Shop Other Hot Tub Collections
With three different hot tub Collections, you'll find one that's just right for you. 
How to Buy a Hot Tub
Get information on pricing, installation, and options for customizing your hot tub.
Learn More
Visualize That Perfect Spa in Your Space
Use the free Virtual View™ AR app to view and compare spa models.
Learn More
This site is registered on
wpml.org
as a development site.