Exceptionally designed. Generously appointed. The Highlife Collection is everything a hot tub can be.
FreshWater® Salt System Ready
A revolution in water care that helps you spend more time enjoying your spa and less time maintaining it.
Learn More
100% No-Bypass Filtration
All the water is filtered all the time, and exclusive, high-flow Tri-X® filters help keep water crystal clear.
Moto-Massage® DX Jet
Patented moving jets provide two powerful water streams that sweep up and down your back for a massage like no other.
Super Energy Efficient
High-density, full-foam insulation and the comprehensive Energy Smart® system makes these our most energy-efficient hot tubs.
Wireless Remote Control
Operate spa functions from any seat in the spa and up to 30 feet away with this unique, easy-to-read color touchscreen.
Polymer Structure and Base Pan
Built for durability and long life with a structure that will never rust or rot.
Shown with Driftwood Cabinet and Alpine White Shell
Shown with Walnut Cabinet and Alpine White Shell
Envoy® Model Shown with Alpine White Shell
Shown with Walnut Cabinet and Alpine White Shell
Shown with Brushed Nickel Cabinet and Smoke Cover
Shown with Bronze Cabinet and Ivory Shell
Shown with Walnut Cabinet and Alpine White Shell
Features
Legendary Hot Spring® Massage
Comfortable seats with purposefully arranged jet systems work together to target specific muscle groups. The result is a distinctive massage from your neck to your shoulders, back, wrists, calves, and feet.
Personalized Control 
The Comfort Control® system lets you dial in your ideal experience—from a soft touch to a powerful massage. Use the SmartJet® system to customize water flow to different jet groups and seats throughout the spa.
Back Massage Like No Other 
The patented Moto-Massage DX moving jet delivers two streams of water that sweep up and down your back while four Precision® jets massage your neck and shoulders, creating an unparalleled hydrotherapy experience.
Easy Water Care
Crystal clear spa water is essential to a great spa experience. Highlife Collection spas offer exclusive innovations that keep your water clean with less effort. 
FreshWater Salt System
This system automatically generates chlorine from salt for soft, natural-feeling water without harsh odors, itchy skin, or irritated eyes. Keep your hot tub water clean and feeling great for up to a full year.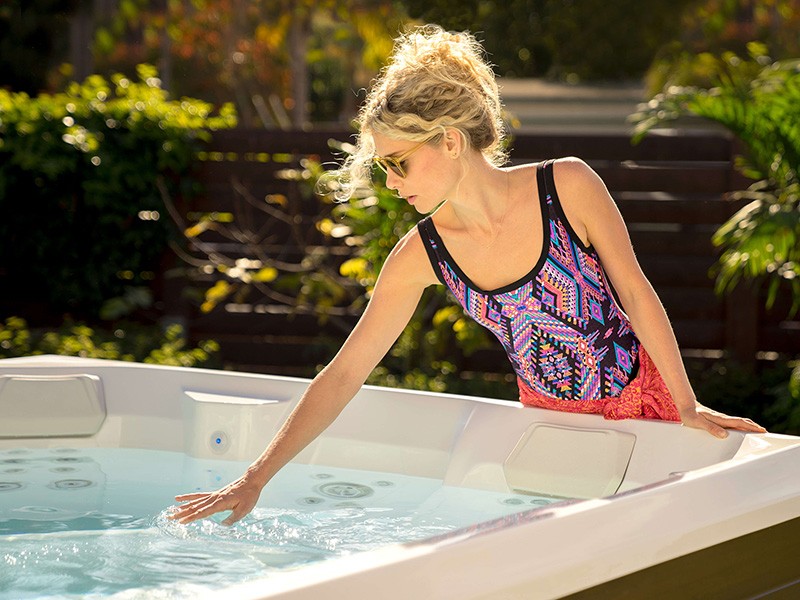 100% No-Bypass Filtration
All the water is filtered all the time. In other spas, water bypasses the filters while the jets are on, when you need it most. Tri-X filters provide more effective filtration area to filter significantly more water.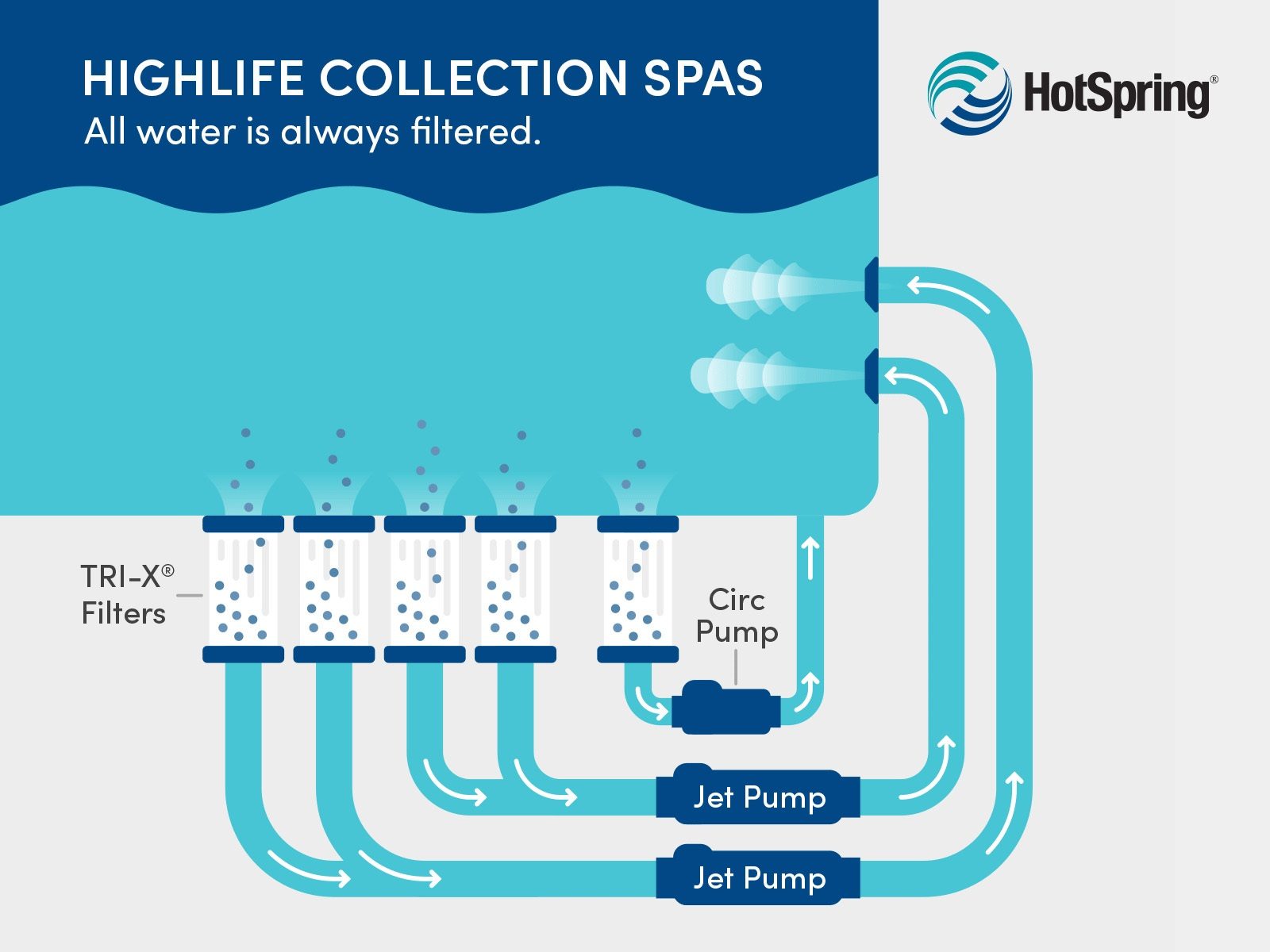 Super Energy Efficient
Highlife Collection spas offer our very best in energy-saving design with a comprehensive Energy Smart® system. Your spa will be hot and ready when you are, while keeping energy costs low. 
Energy Smart System Features
Layers of high-density polyurethane foam insulate the spa shell.
An insulated base pan creates insulating air space against cold ground. 
Proprietary spa covers ensure a tight fit to keep heat from escaping.
Energy Smart System Features
A low-energy pump circulates water using less energy than a 40-watt light bulb.
The titanium heater maximizes heat transfer.
A pump shroud captures heat from the equipment compartment to minimize water cooling.
The Absolute Best Hot Tub Ownership Experience®
You can count on lasting quality and unparalleled customer care from a global network of dealers dedicated to providing you with an extraordinary ownership experience.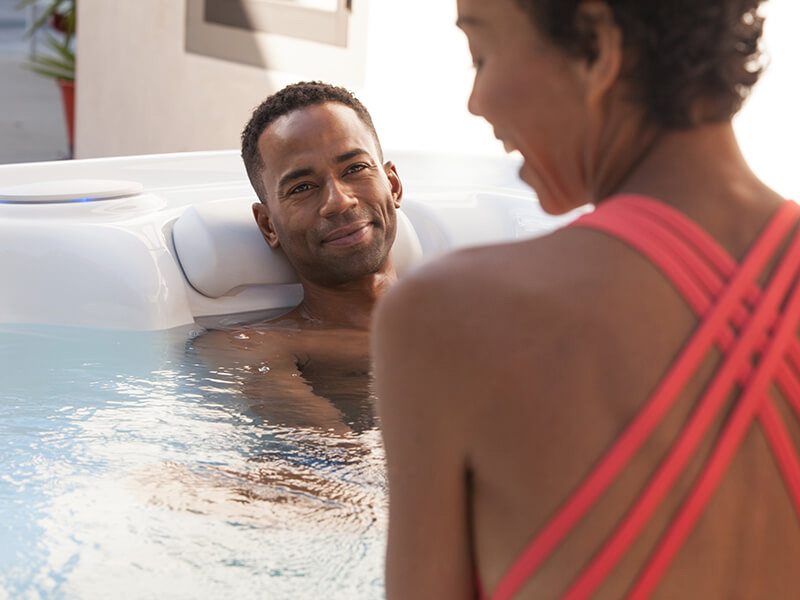 Polymer Structure and Base Pan
The lightweight, polymeric substructure provides an outstanding support structure, integrated with the sealed base pan, that will never rust or rot.
Visually Stunning
The Highlife Collection redefines how a hot tub can look. Comfortable, sculpted seating and stylish design details work together to create a design that's more like furniture than a hot tub. 
Distinctive Color Palette
Choose from six cabinet finishes and a variety of shell colors to create a look that's just right for you. 
Customizable Zone Lighting
Create the perfect ambiance inside and outside the spa from subtle to spectacular with the multi-zone LED lighting system.
Shop Other Hot Tub Collections
With three different hot tub Collections, you'll find one that's just right for you. 
Highlife Collection Reviews
See what real people have to say about their Hot Spring spa experience.
We love the quality and comfort of our new Grandee spa with the FreshWater Salt System. The Moto-Massage DX jets are great and feel like a real massage up and down your back. The hot tub has plenty of room, lighting is perfect and having a wireless remote is a big bonus!
Hot Spring spa owner, New York
Highlife Product Aggregate Reviews
is rated out of
5
by
3968
.
Rated

5

out of

5
by
GLDavis
from
Perfect Spa for the Winter
My wife and I have used the spa almost every night this winter. My favorite night using the spa, which sets on our outdoor deck, the temp was negative 8 and the moon and stars were beautiful. Has been great on our legs as we are both distance runners.
Date published: 2014-02-18
Rated

5

out of

5
by
Vanguard452
from
Worth Every Penny
We selected our Hot Spring spa after much research and we are glad to report that we were not disappointed! This winter has brought much snow to the northeast and after spending several hours after each snow storm shoveling snow it is so wonderful to sink into the relaxing waters of our spa! We have the salt-water system and so maintenance is minimal. We are looking forward to the summer months when we anticipate even greater use!
Date published: 2014-02-18
Rated

5

out of

5
by
Bamstatic1
from
I invested in a Aria!
Wow! Two months now of ownership and this spa is hot! I bought the ace system too and it is easy, water looks good, and I inquire ever now and then and the spa just does its job. I really enjoy the corner seat too in this spa, its really good at getting knots and pains out of my shoulders. Loving this spa!
Date published: 2012-02-17
Rated

5

out of

5
by
MikeZ
from
YOU WILL LOVE THIS PRODUCT
This is the second Hot Springs spa I have owned. The first one lasted 20 years and only had to be replaced after my deck was replaced, and the contractor told me he knew how to move the spa properly, but did not and broke it. This model is smaller then the first one we owned, but our family has shrunk with the kids now gone. My wife and I use it most nights and it really helps with the old age aches and pains. For the price it is a great value! I would recommend it to anyone looking for a spa that is cost efficient, superior quality, and craftsmanship.
Date published: 2011-05-26
Rated

5

out of

5
by
ray2009
from
Relaxing at its best!!!
We LOVE our Hot Spring spa and feel it was a wonderful purchase. We've had numerous compliments from family and friends, even from other spa owners, that it is the best spa they have ever used.
Date published: 2011-05-25
Rated

4

out of

5
by
KimJ
from
New Spa owner
We like the size and jet versatility for the 2 of us. Our only complaint is how noisy the jets are when running. Takes away the peace and quiet while relaxing.
Date published: 2022-12-01
Rated

4

out of

5
by
John
from
Fantastic
We're having a great time enjoying the spa. We're getting the hang of the cleaning n maintaining the water
Date published: 2022-11-30
Rated

5

out of

5
by
Mountainman
from
A hot tub a tall man can appreciate.
It's been a month since receiving our Vanguard NXT hot tub. Very impressed with the quality of construction, and comfort of the spa. It is very easy to use, but we are still dialing in how to use all controls for the jets. So many options! The tub heats up incredibly fast. The manual said to expect 18 to 24 hours to come to temperature from 58 F water to 104F. Ours took like 4.5 hours. Wow! When I realized 104 F was to hot for me, I turned it down to 101F, and it took about 3 days to cool down. That's an energy efficient tub!! I'm 6 Ft 4 in tall and I can stretch out diagonally and float. Very spacious and deep. But I would say it's really a 4 to 5 person tub if you are on the tall side. 6 would be very cramped unless a few occupants were small kids. I'm a environmental engineer with a Masters degree, and I am still dialing in the water chemistry. I was given a sheet by the dealer and sent on my way. After watching a ton of videos on You Tube, I think I finally have it figured out. I have a Ozone III and Bromine set up. May look at the Silver Ion system in the future. Filters are really efficient and after a cloudy water issue on weak 2 that a good shock took care of, I think I have things settled down. Water has been crystal clear since then. We have been using our hot tub almost daily and are really enjoying it. We are older athletes (Skiers, hikers, runners, bicyclists) and we have found recovery after a hard work out is much faster after a soak. And boy do you sleep better after a soak. I would highly recommend the Vanguard tub. But expect a bit of a steep learning curve during the first couple of months to get water chemistry dialed in.
Date published: 2022-11-30
Rated

4

out of

5
by
Sitka
from
Spa is GREAT, Controller is BAD
I love this spa. Great for just a few folks, mostly only me. Not a lot of water to fill it and therefore heats up quickly. Lots of seating and lounging options. The Salt Water system is easy to use and makes spa chemistry simple. What I feared when I bought the spa is that the wireless controller is the weak point. The first one was replace under warranty. I purchased a spare ($600+) because I live in remote Alaska. The second one failed, now the spare failed. Mine sit in the charger 99.99% of the time. My old school 1990 Hot Springs had buttons and knobs that ALWAYS worked. In my opinion Hot Springs listened to their Marketing Department instead of their Engineering Department.
Date published: 2022-11-28
Rated

5

out of

5
by
Karyn13
from
Perfect Saltwater Spa
Best saltwater Spa in the industry. Solid build insulated and very energy efficient. Racy temp control and holds temp as set and easy to care for. Highly recommended
Date published: 2022-11-26
Rated

5

out of

5
by
duck
from
our 3rd one
absolutely love it and depend on using it each day after a hard day.
Date published: 2022-11-24
Rated

5

out of

5
by
Scraps
from
We all make mistakes
I purchased my 2nd Hot Springs Vanguard from a dealer here in Minnesota. Marshall Spas is amazing to work with. The tub has a minor manufacturing mistake that causes me to temporarily wire the spa until it can be fixed in the spring. The conduit feeds on both sides of the tub were left under the pump floor and cannot be accessed. Such a simple mistake but one that leaves my spa cosmetically unappealing. Not much to do other than hope we can find a solution when the weather improves.
Date published: 2022-11-21
Rated

5

out of

5
by
ElTigre
from
Vacation at home
Love my Envoy! If we are home I'm in it almost every evening. Only thing I would change is to be able to have all the jets on full blast because my wife and I fight over the jets. Ha! Best money I have ever spent. We sleep like babies!
Date published: 2022-11-20
Rated

5

out of

5
by
EC
from
Jet setter LX
So glad we made this purchase and treated ourselves! We get in it every morning it really is a great start to the day ! I have arthritis and my husband is newly diagnosed diabetic and it's so good for our circulation and of course comfort! It's amazing! And the salesperson was also ! And if we ever have any questions we just call and they're very helpful!
Date published: 2022-11-20
Rated

4

out of

5
by
Red
from
Bad start - Good ending
First spa delivered was a lemon. After numerous service visits to fix leaks at jet fittings (cutting holes and removing insulation etc), dealer (Pool World) offered to replace with new spa. We kept original spa after finally fixing leaks, until the new spa arrived. Replacement spa works perfectly. We are thankful we purchased a "Hot Spring" from Pool World rather than a bargain brand with no service, since we live in a small rural community 40+ miles from the nearest dealer.
Date published: 2022-11-18
Rated

5

out of

5
by
MJC
from
Hot Springs Spa
Simply the best! I have been a fan of this company for over thirty years. The amount of enjoyment is hard to describe. Totally Awesome…..
Date published: 2022-11-16
Rated

5

out of

5
by
Dan
from
Very nice spa. We'll thought out
Company was great that we bought it from. Easy! Install was easy and efficient. No problems at all
Date published: 2022-11-15
Rated

5

out of

5
by
JDD
from
VERY NICE
We love the size of the tub and the salt water system is so easy to maintain. Family really likes the two seat with the moving jets. It says the tub is for 7 people but we get the whole family in it - 6 adults and 5 kids!!!
Date published: 2022-11-14
Rated

5

out of

5
by
Lori65
from
Grandee spa
Best purchase we ever made. Heather at The Hot Tub store was the best and still is.
Date published: 2022-11-14
Rated

4

out of

5
by
AxSlash
from
Above standard
Jets are okay. Expected more comfort and direct jets to lower back in a more relaxed state. You have to sit up and apply pressure in order to experience direct jet message. Water is easily treated & hardly make any adjustments after 3 months. Heater is exceptional! Overall: expected more jet message action than actual. For example: Legs, jets only come up from below. Legs should be cradled and curved jet action around much of calf/knees/thighs would help my situation.
Date published: 2022-11-13
Rated

5

out of

5
by
Tony
from
High quality in all areas
A very good hot tub! Easy to maintain and quiet. The installation was made by super service minded staff that educated us in a very good way, not selling just saying what we need to have a good life!
Date published: 2022-10-28
Rated

2

out of

5
by
EricPMT
from
Great until the weather gets below ~35°F (Winter Usage)
Love the hot tub and it has met all expectations except for one. Winter usage. We love to soak for an hour or better in our Vanguard sometimes, and even more so in the winter with friends. Countless older hot tubs I've been in can at least maintain 102°F in winter conditions well below freezing, or even increase the temperature; but not ours. If it's below 35°F we lose about 1°F every 10-15 minutes or so. I'd say it's likely because the Vanguard has the 4kW heater and not the 6kW one you'd find in the Sovereign but who knows. When asking our dealer about this we generally get told that we should just set it higher to begin with or limit soaks in cold weather to 20 minutes or less - which is unacceptable for a hot tub this expensive.
Date published: 2022-10-27
Rated

5

out of

5
by
Scruffy
from
Worth every penny!
After talking about getting a hot tub for many years, Visiting Karen at our local hot tub dealer was amazing. She was informative and very kind. My order actually arrived earlier than expected. A minor leak was corrected quickly. For me, a nightly soak after dark brings on a relaxation that improves my sleep.
Date published: 2022-10-25
Rated

1

out of

5
by
Dmenzer
from
Cracked shell
Two years in to our 2020 model and the shell cracks. Hairline crack in the tub floor, near the heater. Very poor craftsmanship for this to happen in an expensive hot tub. The warranty department wants to repair, but I'd like a hot tub that doesn't leak after only two years. I didn't buy a new hot tub to have the shell repaired within the first five years, let alone two. So disappointed. Back to hot tub shopping.
Date published: 2022-10-24
Rated

5

out of

5
by
Gleninesco
from
Love my Jetsetter LX
I Love it. I had to wait 3 months for it but it was worth the wait. Each 4 seating locations have has been thoughtout very well with the jets placement. My usual routine is starting at one location then switching clockwise. This gets me a full back massage. Great build quality and customer service.
Date published: 2022-10-23
Rated

4

out of

5
by
Paradise
from
Quality Spa
Generally happy with my spa but I float up in the lounger thus the massage does not hit my lower back.
Date published: 2022-10-21
Rated

5

out of

5
by
BoldFinger
from
Classy, Comfort, Charm
This is my third Hot Springs Jetsetter spa and they just keep getting better! Tried the saltwater system but went back to ozone/silver sanitation for low cost, dependablity and long term water chemical endurance and stability. Had trouble keeping the salt system within range. My only objection is the cost shot up to $14k! I think I started at $6k but that was twenty years ago. Satisfied, highly recommend Hot Springs products and the dealers have just been great.
Date published: 2022-10-20
Rated

5

out of

5
by
DesertSoak
from
Great Soak
Nice looking in the backyard, very comfy. Love it!
Date published: 2022-10-19
Rated

5

out of

5
by
John27879
from
Hot tub that exceeds expectations
This is an extremely well designed product that exceeds all my expectations. The best feature is the Moto massage lounge and the captain's bucket seat. I love it so much that I use it twice a day. Once in the morning right after I wake up to tune up my mind and circulation. Once more before bed to fall asleep faster and sleep deeper.
Date published: 2022-10-18
Rated

5

out of

5
by
MBunz
from
Very Happy With Our New Hot Tub
My wife and I like everything about our new hot tub. It is so relaxing and enjoyable to use. The jets are easy to adjust. The cover lift mechanism is extremely easy to use. We should have upgraded years ago!
Date published: 2022-10-12
Compare Hot Tub Collections
Each Hot Spring Collection features spas with different jets, features and number of seats.
Compare Now
Visualize That Perfect Spa in Your Space
Use the free Virtual View™ AR app to view and compare spa models.
Learn More