Exceptionally designed. Generously appointed. The Highlife Collection is everything a hot tub can be.
FreshWater® Salt System Ready
A revolution in water care that helps you spend more time enjoying your spa and less time maintaining it.
Learn More
100% No-Bypass Filtration
All the water is filtered all the time, and exclusive, high-flow Tri-X® filters help keep water crystal clear.
Moto-Massage® DX Jet
Patented moving jets provide two powerful water streams that sweep up and down your back for a massage like no other.
Super Energy Efficient
High-density, full-foam insulation and the comprehensive Energy Smart® system makes these our most energy-efficient hot tubs.
Wireless Remote Control
Operate spa functions from any seat in the spa and up to 30 feet away with this unique, easy-to-read color touchscreen.
Polymer Structure and Base Pan
Built for durability and long life with a structure that will never rust or rot.
Shown with Driftwood Cabinet and Alpine White Shell
Shown with Walnut Cabinet and Alpine White Shell
Envoy® Model Shown with Alpine White Shell
Shown with Walnut Cabinet and Alpine White Shell
Shown with Brushed Nickel Cabinet and Smoke Cover
Shown with Bronze Cabinet and Ivory Shell
Shown with Walnut Cabinet and Alpine White Shell
Features
Legendary Hot Spring® Massage
Comfortable seats with purposefully arranged jet systems work together to target specific muscle groups. The result is a distinctive massage from your neck to your shoulders, back, wrists, calves, and feet.
Personalized Control 
The Comfort Control® system lets you dial in your ideal experience—from a soft touch to a powerful massage. Use the SmartJet® system to customize water flow to different jet groups and seats throughout the spa.
Back Massage Like No Other 
The patented Moto-Massage DX moving jet delivers two streams of water that sweep up and down your back while four Precision® jets massage your neck and shoulders, creating an unparalleled hydrotherapy experience.
Easy Water Care
Crystal clear spa water is essential to a great spa experience. Highlife Collection spas offer exclusive innovations that keep your water clean with less effort. 
FreshWater Salt System
This system automatically generates chlorine from salt for soft, natural-feeling water without harsh odors, itchy skin, or irritated eyes. Keep your hot tub water clean and feeling great for up to a full year.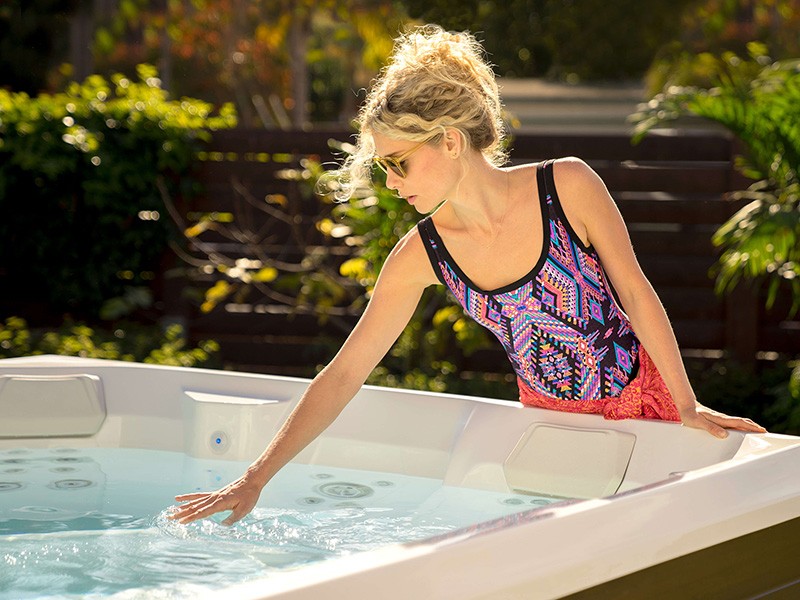 100% No-Bypass Filtration
All the water is filtered all the time. In other spas, water bypasses the filters while the jets are on, when you need it most. Tri-X filters provide more effective filtration area to filter significantly more water.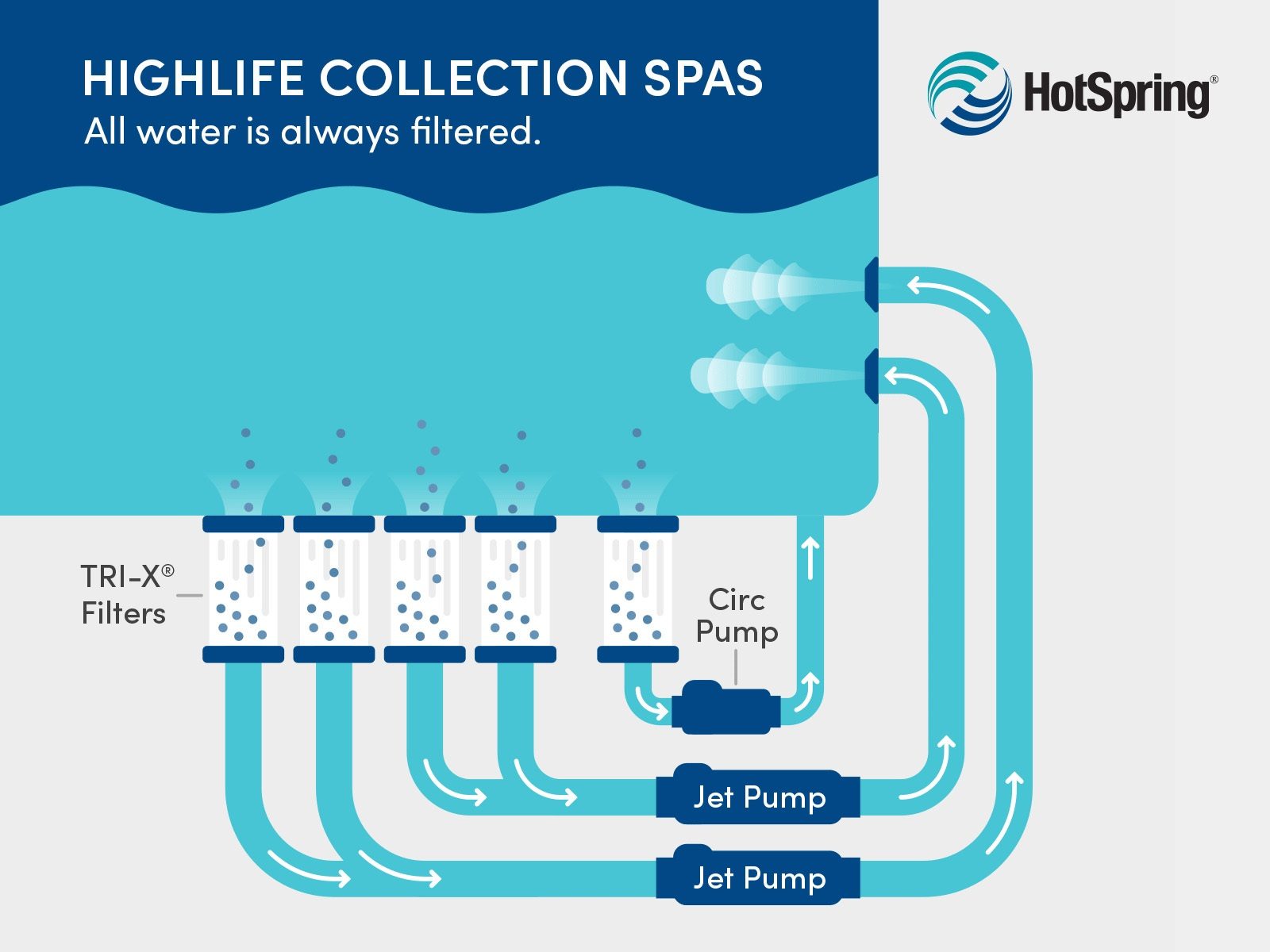 Super Energy Efficient
Highlife Collection spas offer our very best in energy-saving design with a comprehensive Energy Smart® system. Your spa will be hot and ready when you are, while keeping energy costs low. 
Energy Smart System Features
Layers of high-density polyurethane foam insulate the spa shell.
An insulated base pan creates insulating air space against cold ground. 
Proprietary spa covers ensure a tight fit to keep heat from escaping.
Energy Smart System Features
A low-energy pump circulates water using less energy than a 40-watt light bulb.
The titanium heater maximizes heat transfer.
A pump shroud captures heat from the equipment compartment to minimize water cooling.
The Absolute Best Hot Tub Ownership Experience®
You can count on lasting quality and unparalleled customer care from a global network of dealers dedicated to providing you with an extraordinary ownership experience.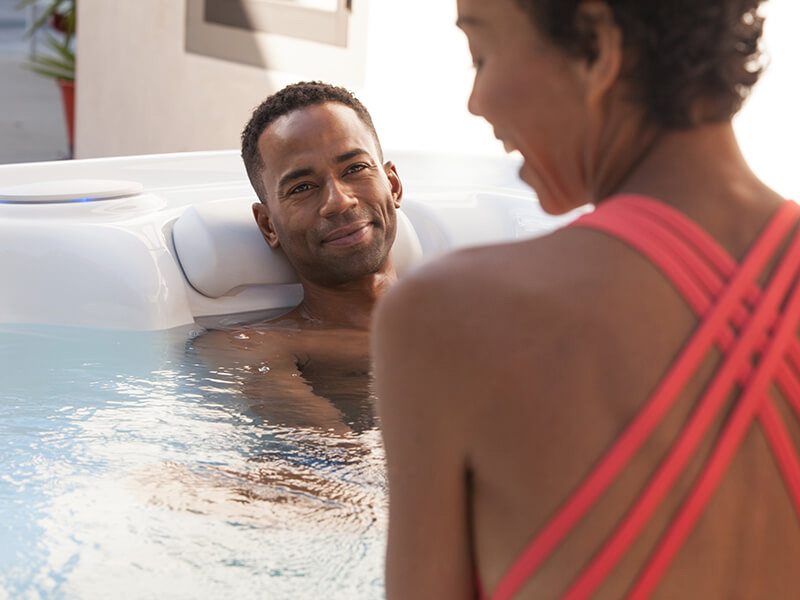 Polymer Structure and Base Pan
The lightweight, polymeric substructure provides an outstanding support structure, integrated with the sealed base pan, that will never rust or rot.
Visually Stunning
The Highlife Collection redefines how a hot tub can look. Comfortable, sculpted seating and stylish design details work together to create a design that's more like furniture than a hot tub. 
Distinctive Color Palette
Choose from six cabinet finishes and a variety of shell colors to create a look that's just right for you. 
Customizable Zone Lighting
Create the perfect ambiance inside and outside the spa from subtle to spectacular with the multi-zone LED lighting system.
Shop Other Hot Tub Collections
With three different hot tub Collections, you'll find one that's just right for you. 
Highlife Collection Reviews
See what real people have to say about their Hot Spring spa experience.
We love the quality and comfort of our new Grandee spa with the FreshWater Salt System. The Moto-Massage DX jets are great and feel like a real massage up and down your back. The hot tub has plenty of room, lighting is perfect and having a wireless remote is a big bonus!
Hot Spring spa owner, New York
Highlife Product Aggregate Reviews
is rated out of
5
by
4023
.
Rated

5

out of

5
by
GLDavis
from
Perfect Spa for the Winter
My wife and I have used the spa almost every night this winter. My favorite night using the spa, which sets on our outdoor deck, the temp was negative 8 and the moon and stars were beautiful. Has been great on our legs as we are both distance runners.
Date published: 2014-02-18
Rated

5

out of

5
by
Vanguard452
from
Worth Every Penny
We selected our Hot Spring spa after much research and we are glad to report that we were not disappointed! This winter has brought much snow to the northeast and after spending several hours after each snow storm shoveling snow it is so wonderful to sink into the relaxing waters of our spa! We have the salt-water system and so maintenance is minimal. We are looking forward to the summer months when we anticipate even greater use!
Date published: 2014-02-18
Rated

5

out of

5
by
Bamstatic1
from
I invested in a Aria!
Wow! Two months now of ownership and this spa is hot! I bought the ace system too and it is easy, water looks good, and I inquire ever now and then and the spa just does its job. I really enjoy the corner seat too in this spa, its really good at getting knots and pains out of my shoulders. Loving this spa!
Date published: 2012-02-17
Rated

5

out of

5
by
MikeZ
from
YOU WILL LOVE THIS PRODUCT
This is the second Hot Springs spa I have owned. The first one lasted 20 years and only had to be replaced after my deck was replaced, and the contractor told me he knew how to move the spa properly, but did not and broke it. This model is smaller then the first one we owned, but our family has shrunk with the kids now gone. My wife and I use it most nights and it really helps with the old age aches and pains. For the price it is a great value! I would recommend it to anyone looking for a spa that is cost efficient, superior quality, and craftsmanship.
Date published: 2011-05-26
Rated

5

out of

5
by
ray2009
from
Relaxing at its best!!!
We LOVE our Hot Spring spa and feel it was a wonderful purchase. We've had numerous compliments from family and friends, even from other spa owners, that it is the best spa they have ever used.
Date published: 2011-05-25
Rated

5

out of

5
by
Annee
from
Product great/local dealer not helpful or knowledgeable
Good product, but make sure you purchase it from a dealer that can help you. Local Palm Desert dealer (Outdoor Living Concepts) was not a good choice. I have spent countless hours researching the information I need to balance water, and generally taking care of my spa. If you're a newbie, like me, everything is more difficult. You will need someone that's knowledgeable to help you out.
Date published: 2023-01-29
Rated

5

out of

5
by
Rush2112
from
We love out hot tub
Weare not sure which hot tub we have. I has Hot Spring on it. Its been a lot of fun for our whole family. We especially love the lights and the waterfall. The water says very hot just like we want it. The kids love the little duck. One troubling spot is for me it's difficult to get in and out of the tub. I hope I never fall getting out. We use our tub almost every night. We prefer the night so the lights can take full effect.
Date published: 2023-01-29
Rated

5

out of

5
by
KCMOCraig
from
Great Tub
First - this is the top of the line tub. So it's not the cheapest tub you will find. Quality is great. Maintaining water quality is easy. Easily accommodates 4-5 people and can handle up to 7 people, but 7 is a little snug. Be sure to spend the time ( and money) to get a really good base for it to sit on. Ours is a base of 4" concrete with 1 1/2 " pavers on the concrete. The 1 big negative was the amount of time it took yo get the tub. We ordered it in January and it was delivered in November. Yep - over 10 months. Delivery , setup and support from dealer on getting it started was excellent. Before buying a tub be sure yo check out the dealer. Having a great dealer to work with is as important as buying a quality tub.
Date published: 2023-01-28
Rated

2

out of

5
by
Timmay
from
Poor quality frame construction
I have owned Grandee for 5 years. The lights stopped working correctly within a year, the massage jets within 2 years. Now, the frame is pulling apart causing the siding to fall off. The frame is NOT a polymer as advertised. It is a series of 20 inch 1x3 pine slats (not even pressure treated) stapled end-to-end to create long frame members. Now these staples are pulling apart. Customer service just told me to find a carpenter. Happy to send photos to anyone interested.
Date published: 2023-01-26
Rated

5

out of

5
by
Barb52
from
Best Purchase I've Ever made for Myself !
I've never owned a Hot Tub, and this is the best purchase I've ever made for myself. In the last 4 years I've had full knee replacements in both knees. Recovery has been slow and I thought having a Hot tub might help ease the pain I've been suffering. It has helped so much!! I love my Hot Springs Vanguard Hot Tub!!
Date published: 2023-01-26
Rated

5

out of

5
by
Jimmy54
from
Greatest hot tub
The jets, the lounger, the lighting and the cover and lifter are all top notch, my local dealer luxury pool and spa in Fredericksburg Va do a great job and most of all are very helpful and professional thanks to all their staff!!
Date published: 2023-01-23
Rated

4

out of

5
by
Bobby
from
Too expensive to give you problems too soon!
This Hot Tub cost me a lot of money so that the LED Lights can go out so soon and then sometimes work. I maintain it very clean I don't let anyone use it but me. I have to turn on and off the breaker every time that I'm trying to use it which is so annoying. I really regret buying this expensive junk! Their warranty sucks. Buy a cheap one or just go to the gym!
Date published: 2023-01-19
Rated

5

out of

5
by
Jiminkauai
from
expsnsive but very nice
best jet package ever. 5 minutes at each seat pretty much gets your legs, hips, lower back, upper back outer back.
Date published: 2023-01-17
Rated

4

out of

5
by
mrjoeh
from
Many benefits & comfort! Salt water function disappeared from remote.
Spa is absolutely fantastic! Sore muscles, aches and pains, comfort and cleanliness a plus....Only issue is the ACE Saltwater system icon has disappeared from the remote leaving my water care salt system offline. I've re-paired the remote, removed battery, replaced the remote, emptied and re-filled the hot tub with perfect water testing levels but still no salt icon on the remote. It was fine for 7 months and now this seemingly unfixable issue. Getting service after scheduled valet appointments not easy. Cant even talk to a service rep directly at local dealer due to high # of calls. Have to leave message and hope to get a call back. They are available for Sales! Might be an isolated issue, and again the Spa is amazing, just stuck with issue that causing me to check levels and add more costly chemicals daily without proper system functions. Thank you!
Date published: 2023-01-17
Rated

5

out of

5
by
John
from
Very nice spa
This spa is the perfect combination of features and size for us. I do wish there was the ability to program energy use by time of day to better coordinate with the 4-9 pm reduced usage program.
Date published: 2023-01-17
Rated

3

out of

5
by
Mike
from
It's okay
I've had trouble keeping water balanced and clear. Using city water with good ph so I'm not sure what the issue is. I chlorinate after use according to the specs . Water is cloudy regularly.
Date published: 2023-01-16
Rated

2

out of

5
by
justin82
from
Almost 20k spa, that leaks from the get-go!
Having to have the entire spa replaced because it has leaked underneath the spa since the day it was installed. When you purchase a spa that is supposed to be the top-of-the-line with a matching price tag, you expect better! Where we purchased the spa from has been fantastic to deal with. Just highly disappointed with the product.
Date published: 2023-01-14
Rated

3

out of

5
by
Cathy1234
from
Jetsetter XL
Overall, I would only give my spa a 3 as since I've owned it, the water has yet to be balanced. I bought a salt water system because I was assured it was easier to keep clean and less chemicals. We put in a dedicated water line for our spa that is softened water. We were told that was the best thing we could do for the care of our tub. I have been to my dealer no less than 4 times with water samples, given instructions on what to do to get the ph level down and I have yet to get it to balance. We got our tub in June of 2022 and have hardly used it because of concern over the water chemical levels. We are draining it for the second time and starting over with fresh water and will have to once again, do all the salt and chemicals. What a hassle! I just want to be able to use the tub when I want to. This was an upgrade from our last Hot Springs Jetsetter, which we loved. We hoped to enjoy our retirement and use our tub often, but that has not been the case.
Date published: 2023-01-13
Rated

4

out of

5
by
Rj
from
Envoy Spa Experience
Enjoying the spa for a couple months now. We opted for the salt water system hoping for not only better quality of water but lower water maintenance. We ended up removing our saltwater system because it seemed to have no affect on reducing the need to add chlorine. Still we were having to add chlorine just about every other day and still had cloudy water not to mention the additional cost of maintaining the saltwater system.
Date published: 2023-01-08
Rated

5

out of

5
by
Koko1947
from
Love it!
Excellent product, courteous, helpful, knowledgeable personnel
Date published: 2023-01-07
Rated

5

out of

5
by
Woodchipper
from
Love our hot tub
From the minute we walked thru the door at Hot Springs Spa to the day it was installed, everyone was amazing, so friendly, not pushy, very knowledgeable & efficient. The Aria hot tub has really helped relax our muscles after a long day of working in the yard.
Date published: 2023-01-06
Rated

1

out of

5
by
MTH75
from
Nothing but problems
We have now owned the Grandee for a 6 years and it's been one headache after another. It's beautiful and comfortable, but a real service nightmare. We have replaced the controller 3 times now and it's bad again. At $700 a pop, it's unacceptable. The lights have needed to be replaced twice. In the first 3 years the circulator pump went bad twice. This is our 4th hot tub, so we are experienced owners. We have never had so many issues with any other tub. Unfortunately it's our first and last Hot Springs tub, which stinks, because it's nice when it's not having issues. The company needs to get their act together with regard to the wireless control panel, or at least make a wired panel that can replace their problematic panel. There is a reason that the warranty on it is so short!
Date published: 2023-01-04
Rated

5

out of

5
by
PamInTampa
from
Perfect sized tub and strength, but needs grab handles in powerful seats!!!
Super therapeutic! Use it for rheumatoid arthritis and simple relaxation. Love my salt water spa! Perfect sized tub and strength, jets in the right places, couple of the seats weak, but the 2 powerful seats just about make up for it. Absolutely needs a captains seat style in the corner with armrests or grab handles in those powerful seats (corner & lounger) to take full advantage. I did not want the next larger tub for 2 of us…
Date published: 2023-01-04
Rated

5

out of

5
by
MacMurphington
from
Very Happy
This is my first jacuzzi and having one at your finger tips is a blessing. We utilize our spa 3-5 times a week. The only issue we are running into is foam. The water quality seems to be spot on but we can't seem to get stop it from happening at the moment.
Date published: 2023-01-03
Rated

5

out of

5
by
Kevin
from
Love the Jetsetter LX
This is the perfect size for me and my husband. We use the spa every morning to start our day and then again in the evening before dinner. Could not be happier with the spa and how it's enhanced our lives.
Date published: 2023-01-02
Rated

5

out of

5
by
Stephen77
from
The Jetsetter exceeded our expectations for comfort and use
We are very happy with our Jetsetter Spa but would love to be able to control the temperature and view salt levels via a Wi-Fi mobile app. In todays expensive world of electrical power been able to turn up and down when away from home would be very useful. Other than that we find the salt system extremely efficient and easy to use.
Date published: 2023-01-02
Rated

5

out of

5
by
Gaz
from
Our new hot tub for 2022
We have been looking for some time. Chloe was excellent in helping us to choose and arrange the delivery, as we also needed a crane to install the tub too. James and Stan our installation guys were great too We have thoroughly enjoyed our hot tub so far and would highly recommend Happy Hot Tubs
Date published: 2022-12-29
Rated

1

out of

5
by
Drew
from
Do Not Waste Your Money
this is our third hot tub, but this one is the last one that will be a Hot Springs. I get Covid has thrown a wrench into a lot of things, but we have been waiting over a year for a new cover, and then the heater went, and that was over 6 months ago. Then there was a leak, they took the hot tub to their shop to fix it, and they have had it for over three months!! This is unacceptable customer service. I would never waste my money on another Hot Springs Tub again.
Date published: 2022-12-28
Rated

1

out of

5
by
John71
from
No service, it leaks and they never came out to fix it
The tub has a slow leak around a jet. The Hot Springs dealer in my town has never even come out to look at the tub! I have talked with him several times but no follow up!
Date published: 2022-12-27
Rated

5

out of

5
by
Beth
from
High quality and comfort
We just love our Sovereign spa! We use it everyday and the water care is super easy. The digital remote gives a lot of different color choices for lighting. The one thing I would recommend is for the arm rests at each seat be a bit wider and longer.
Date published: 2022-12-27
Compare Hot Tub Collections
Each Hot Spring Collection features spas with different jets, features and number of seats.
Compare Now
Visualize That Perfect Spa in Your Space
Use the free Virtual View™ AR app to view and compare spa models.
Learn More