With a Hot Spot Collection spa, you can be confident your investment will help you maximize every day, for years to come.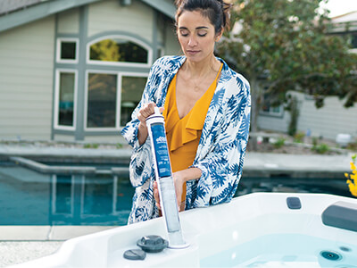 FROG® @ease® In-Line Sanitizing System
Prefilled cartridges automatically release SmartChlor® sanitizer and minerals to keep water soft, clean, and clear with less effort.
Learn More
Legendary Performance
Backed by a decades-long reputation for outstanding quality and value, you can count on years of enjoyment and reliability.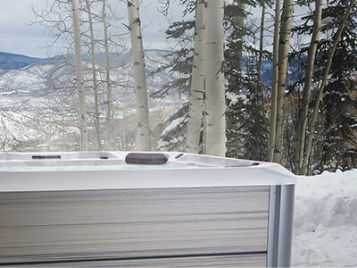 FiberCor® Insulation
Exclusive insulation with a density four times greater than the half-pound foam used in most spas helps lock in heat and save energy cost.
Gallery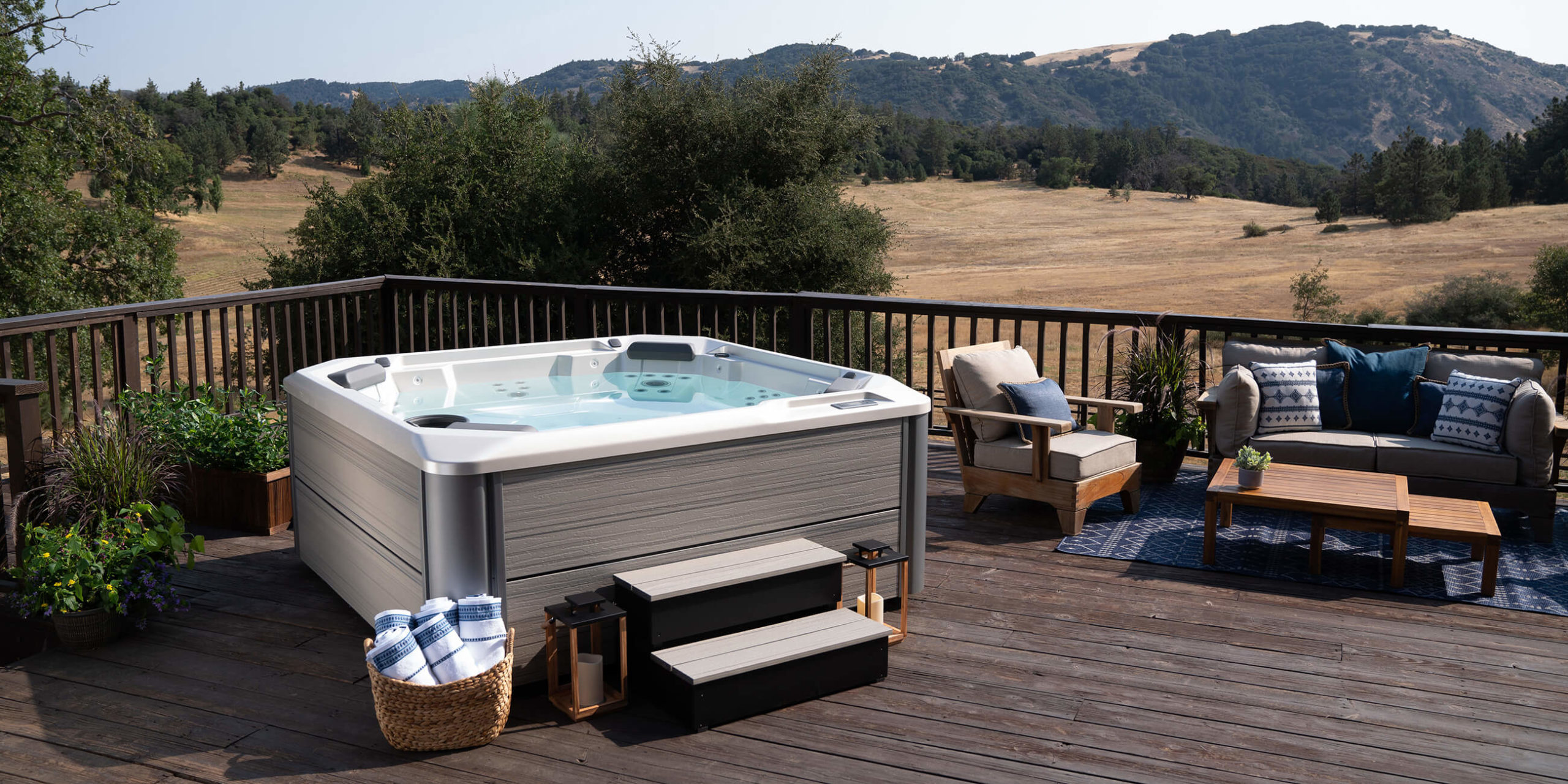 Shown with Almond Cabinet and Pearl Shell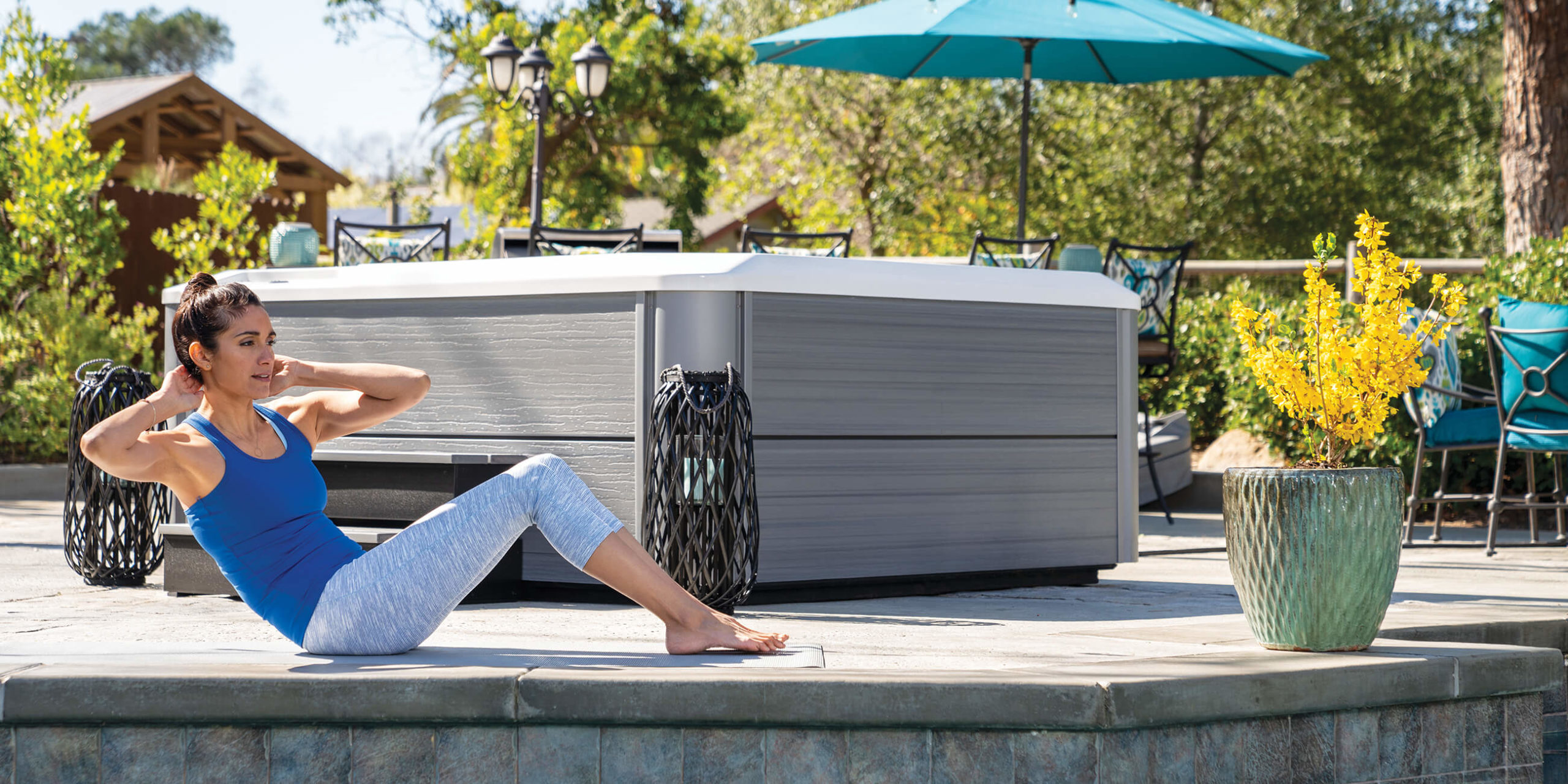 Shown with Storm Cabinet and Alpine White Shell
Relay® Model Lounge Seat Shown with Alpine White Shell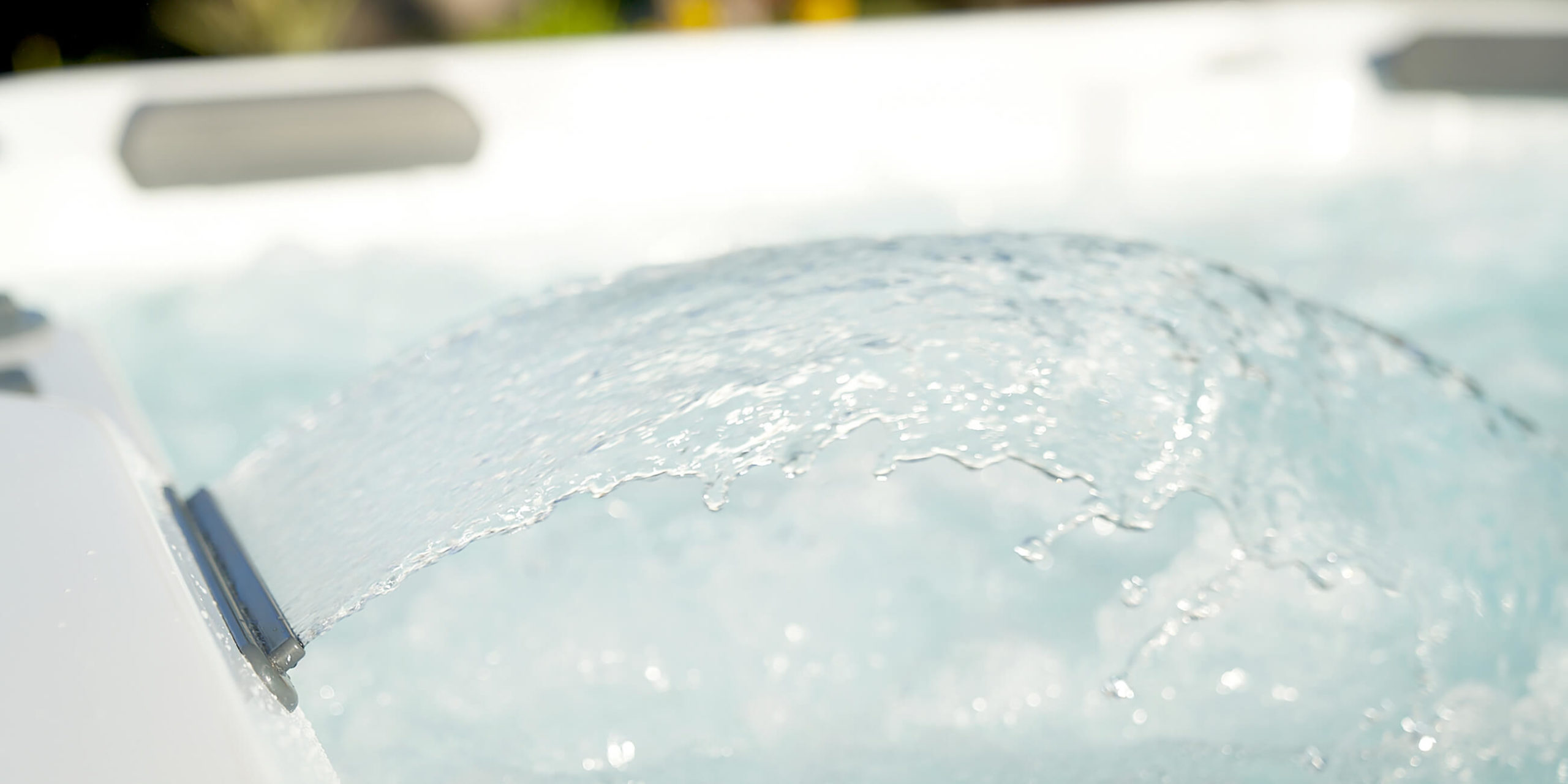 Relay® Model Waterfall Shown with Alpine White Shell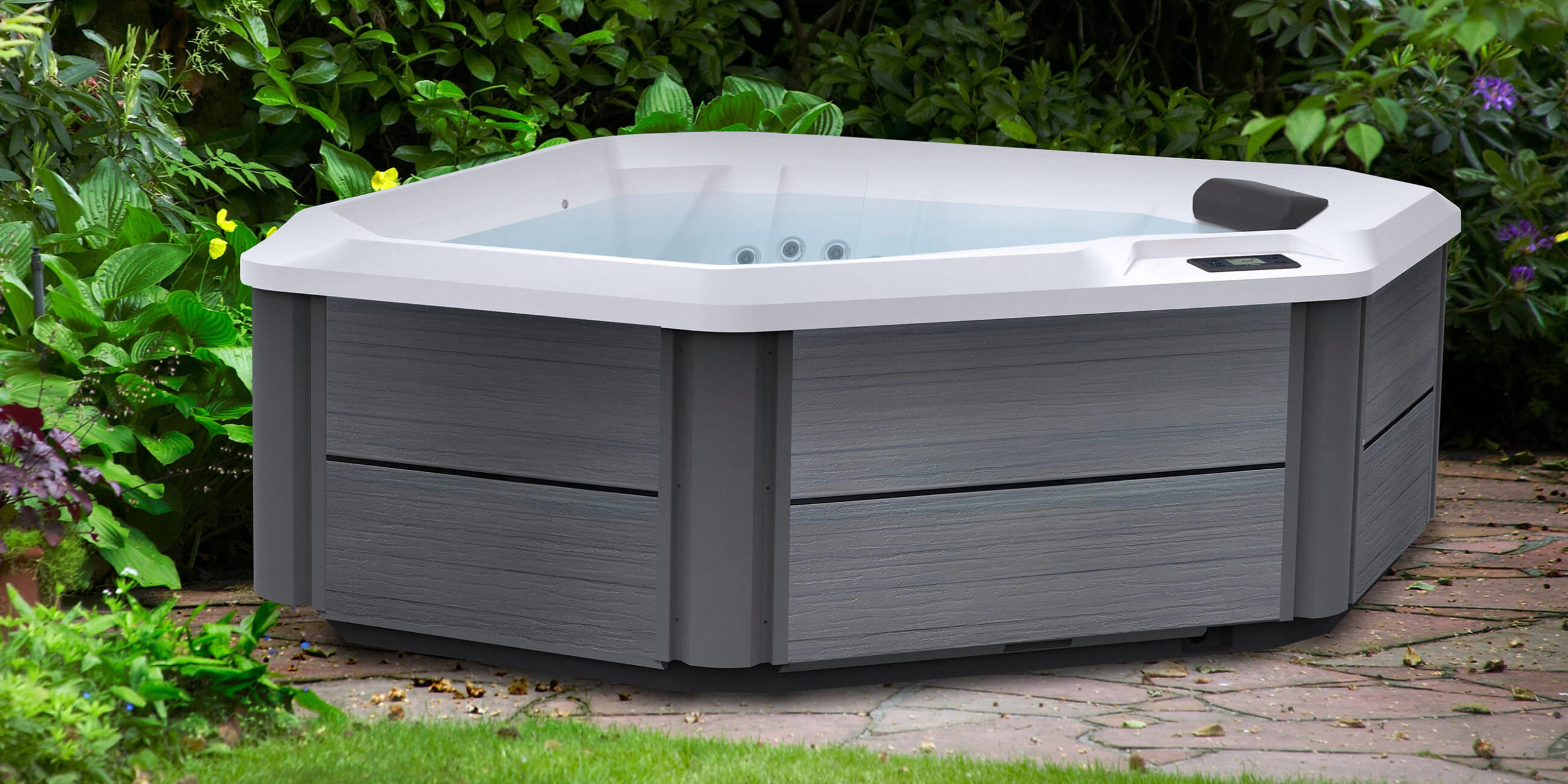 Shown with Storm Cabinet and Alpine White Shell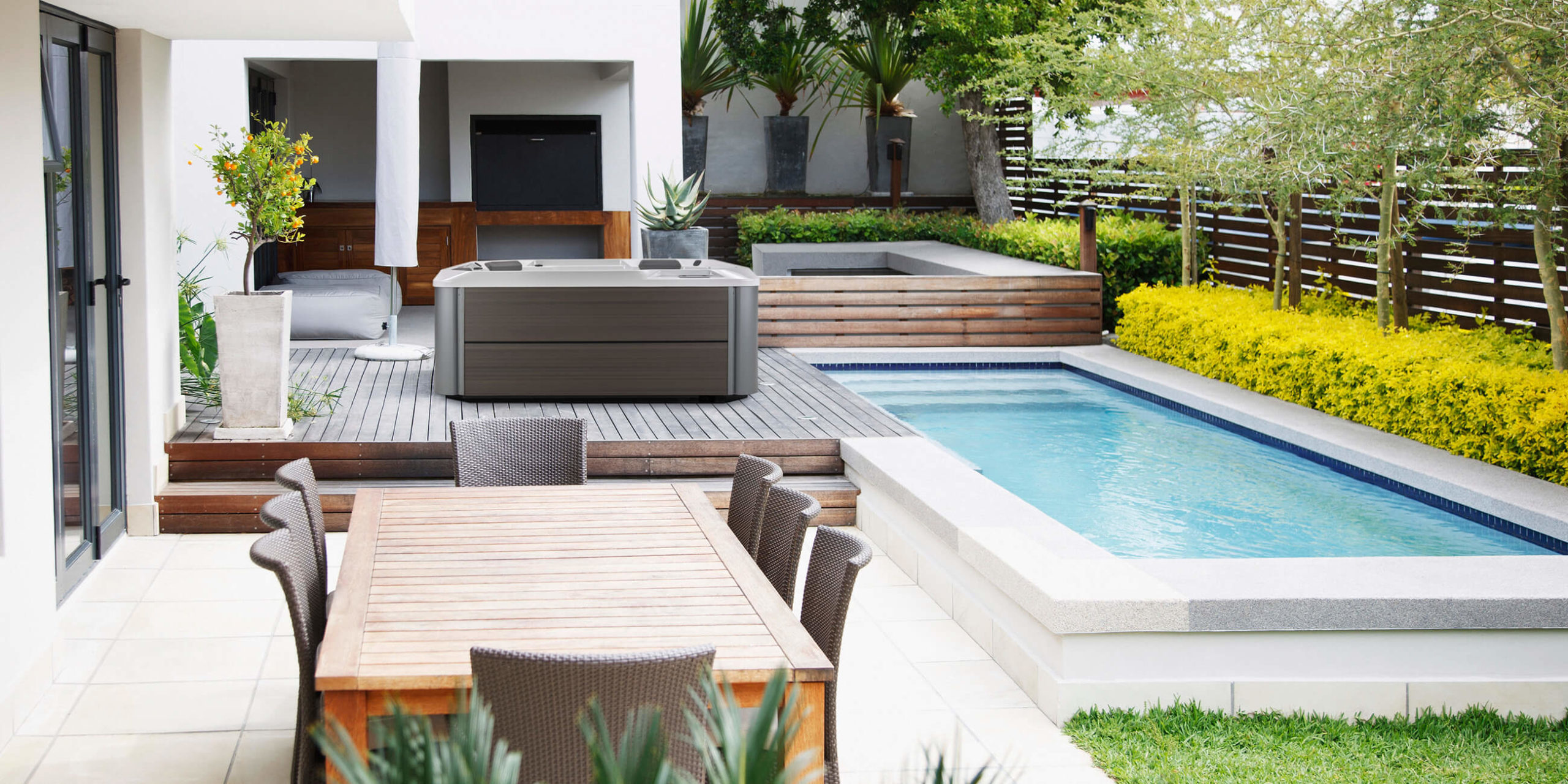 Shown with Havana Cabinet and Alpine White Shell
Shown with Almond Cabinet and Pearl Shell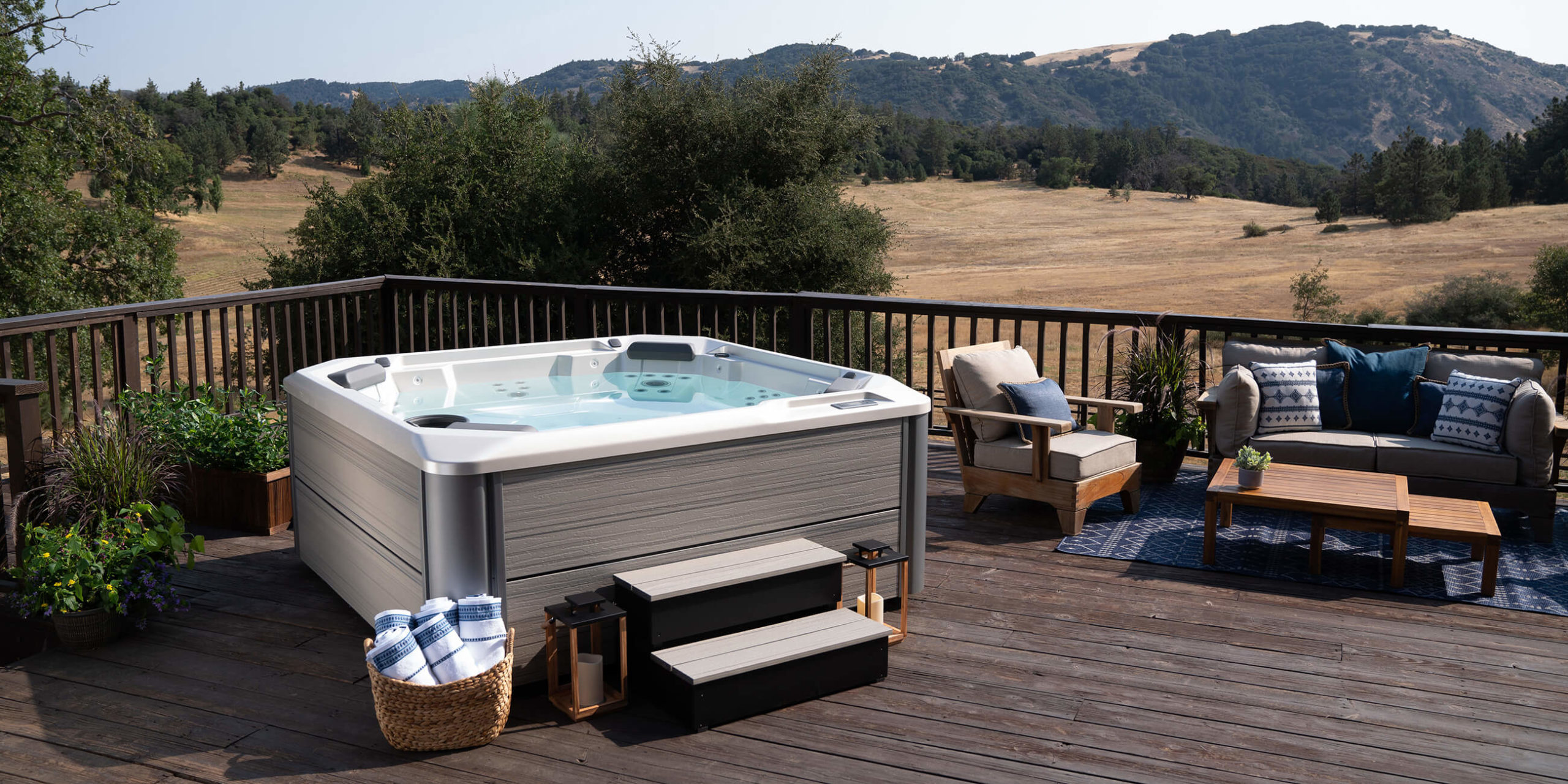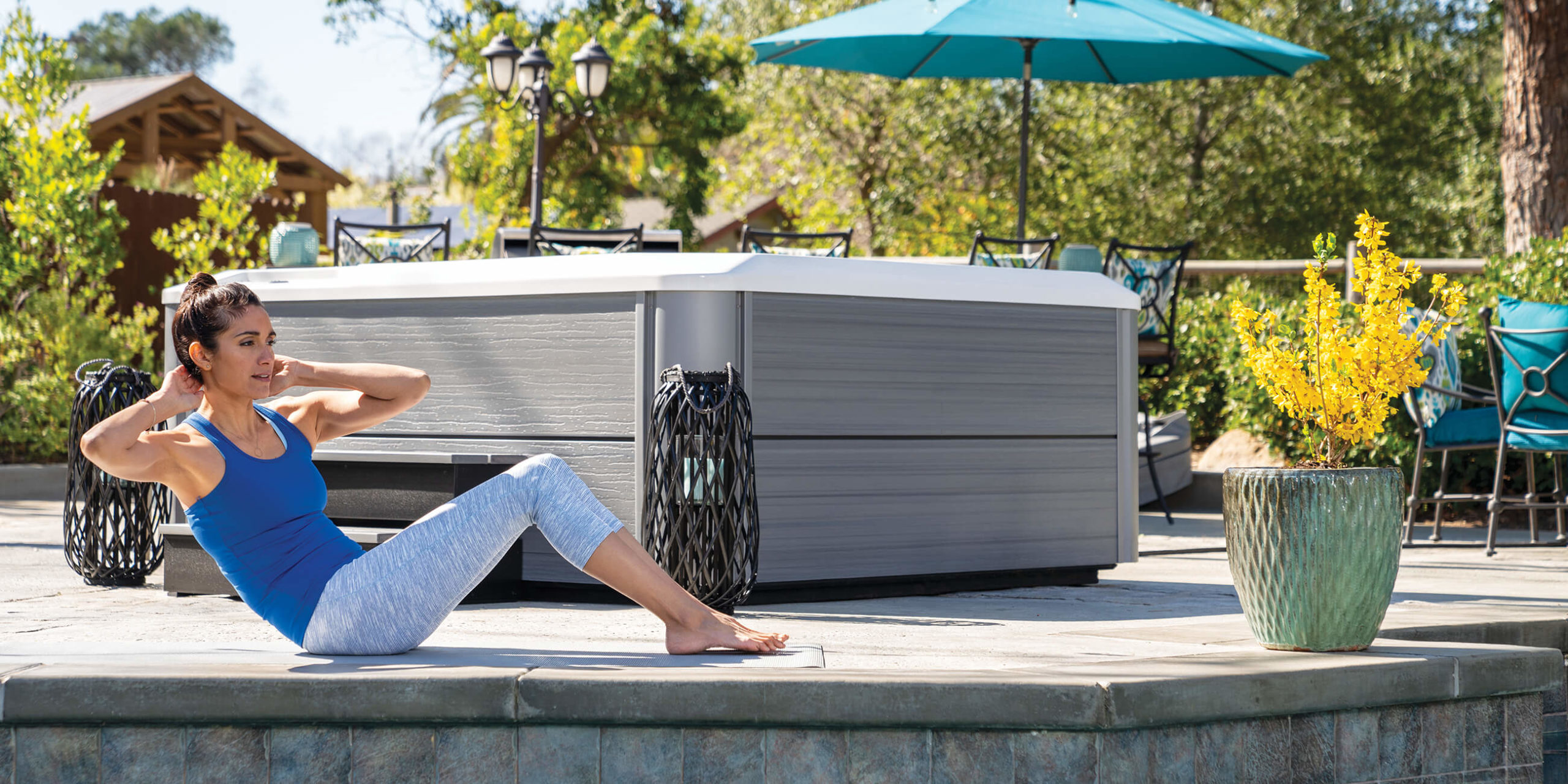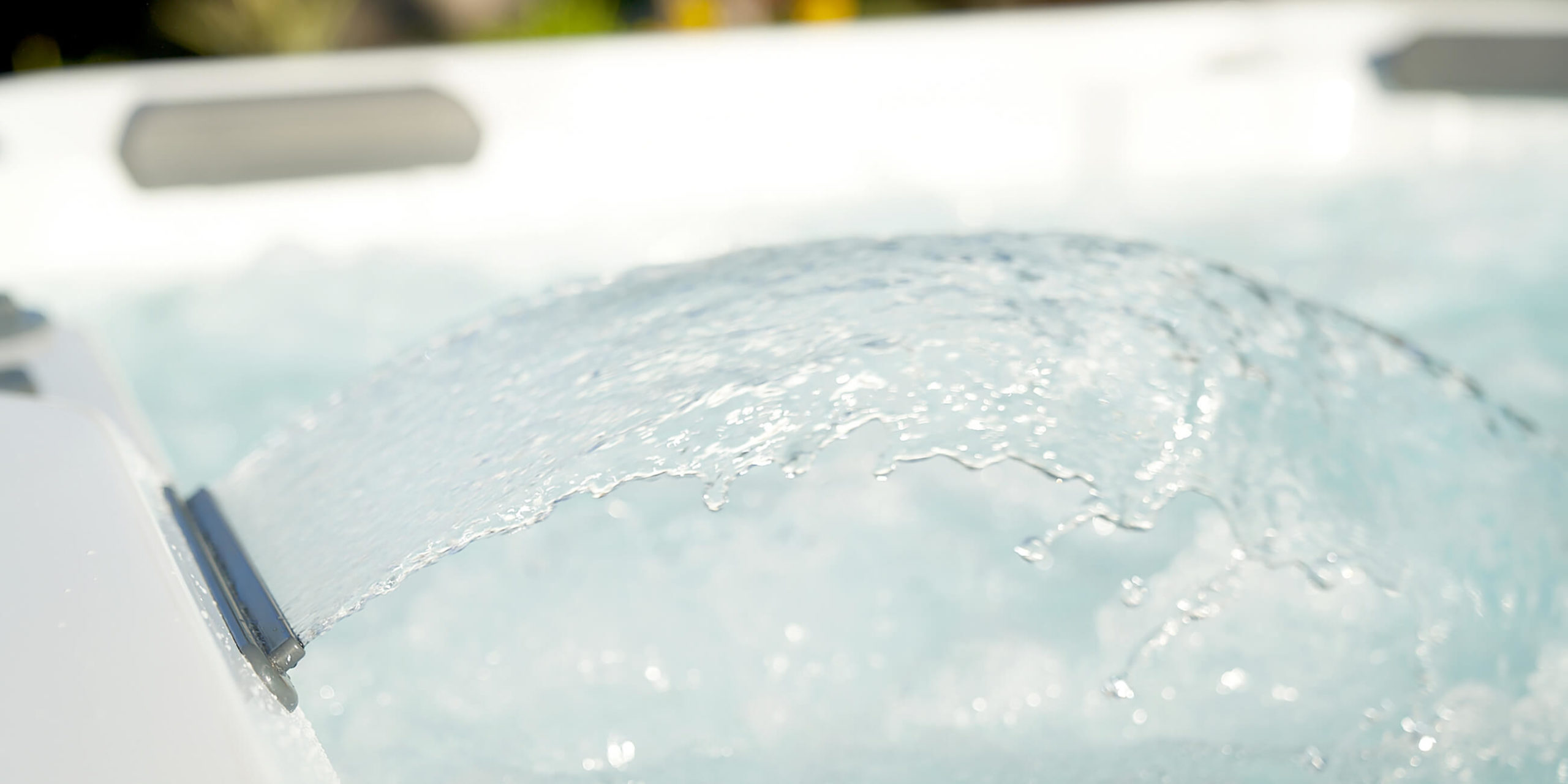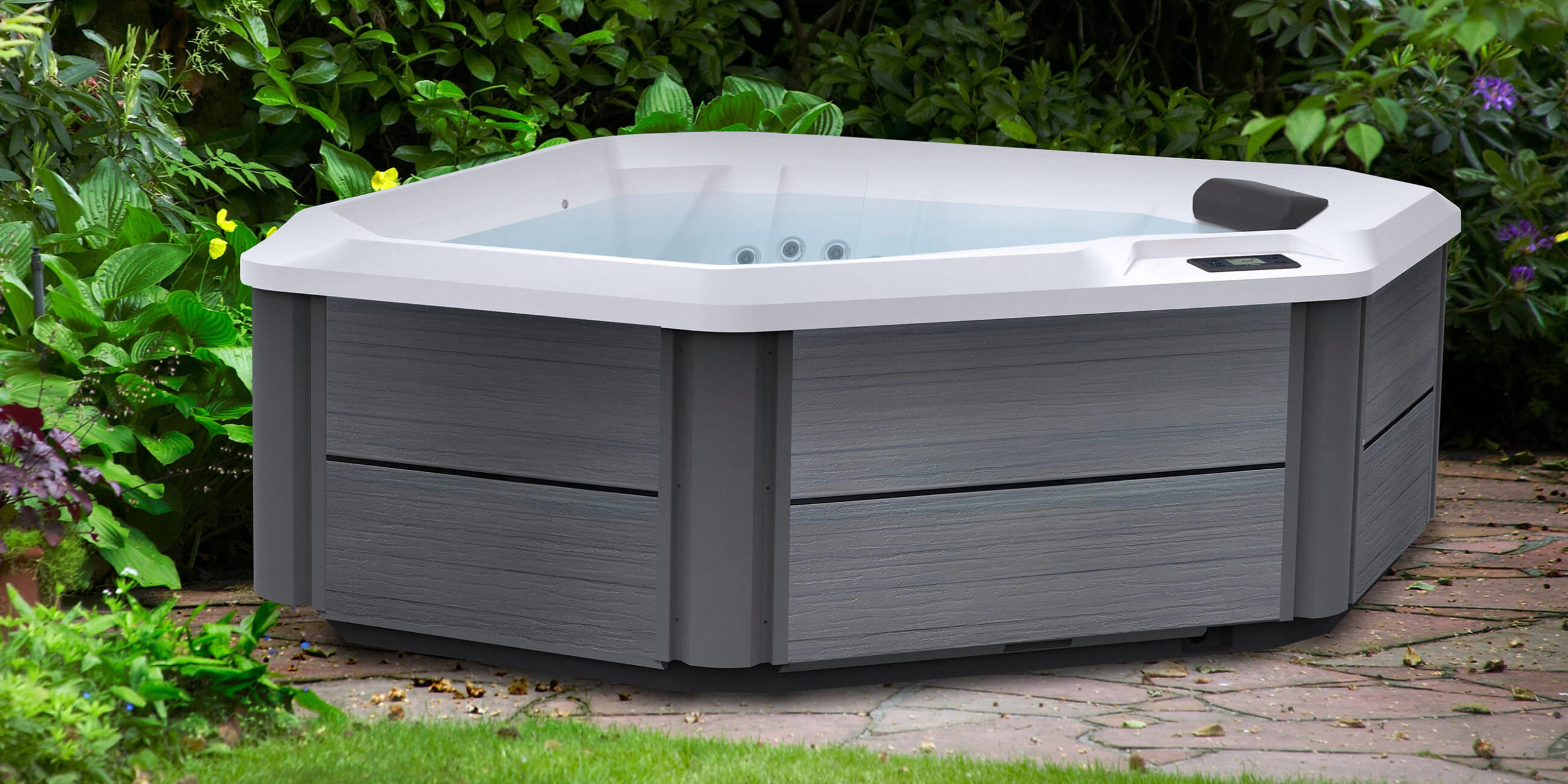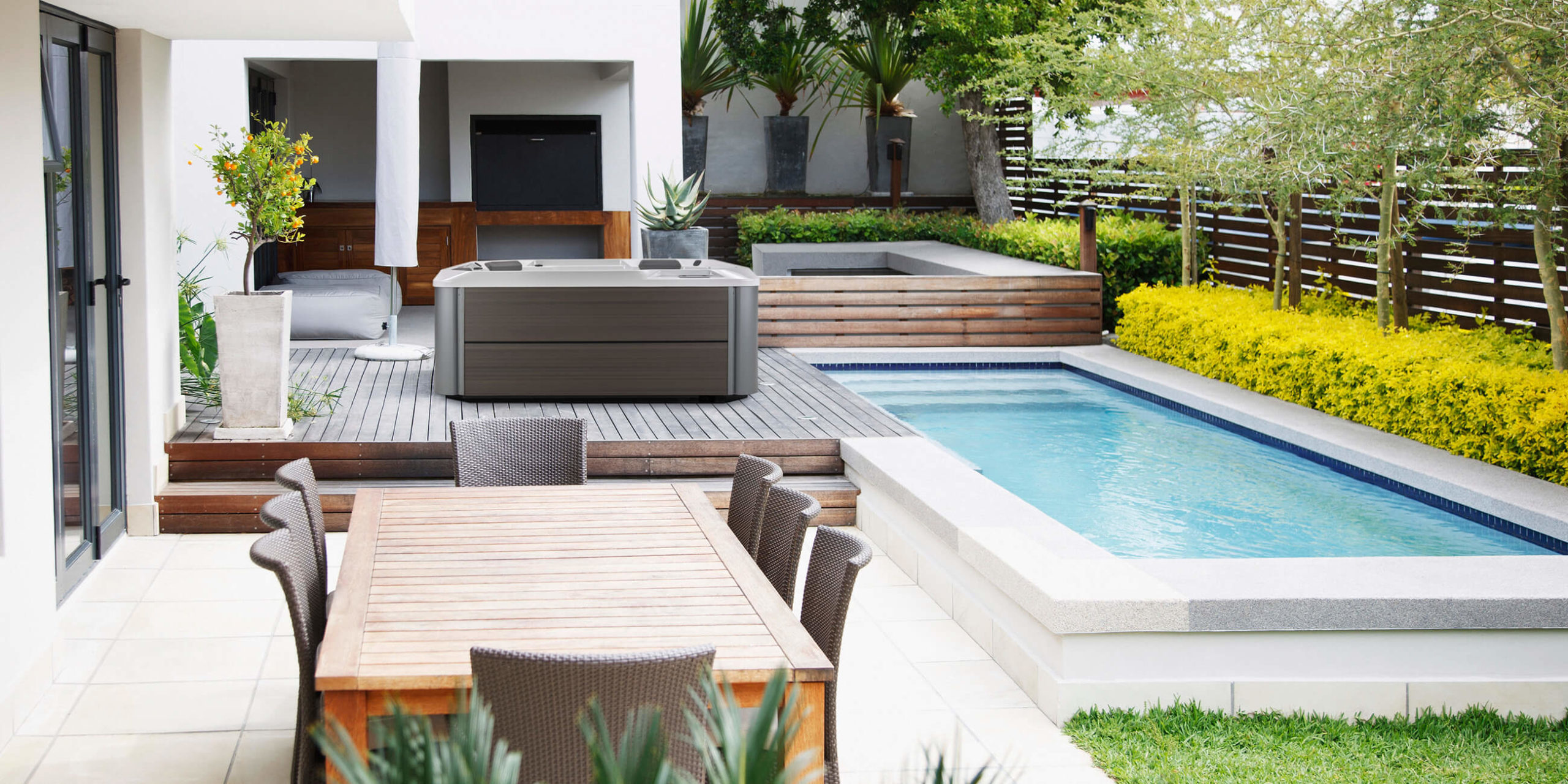 Features
LEGENDARY HOT SPRING® MASSAGE
Comfortable seats with purposefully arranged jet systems work together to target specific muscle groups. The result is a distinctive massage from your neck to your shoulders, back, wrists, calves, and feet.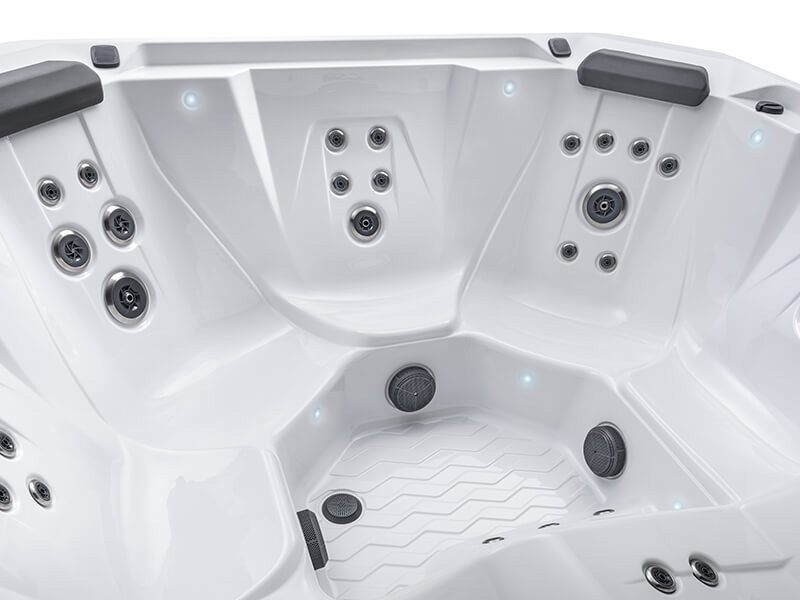 PERSONALIZED CONTROL
The Comfort Control® system lets you dial in your experience—from soft touch to powerful massage. Use the SmartJet® system, available on the Pace™ model, to customize water flow to different jet groups and seats.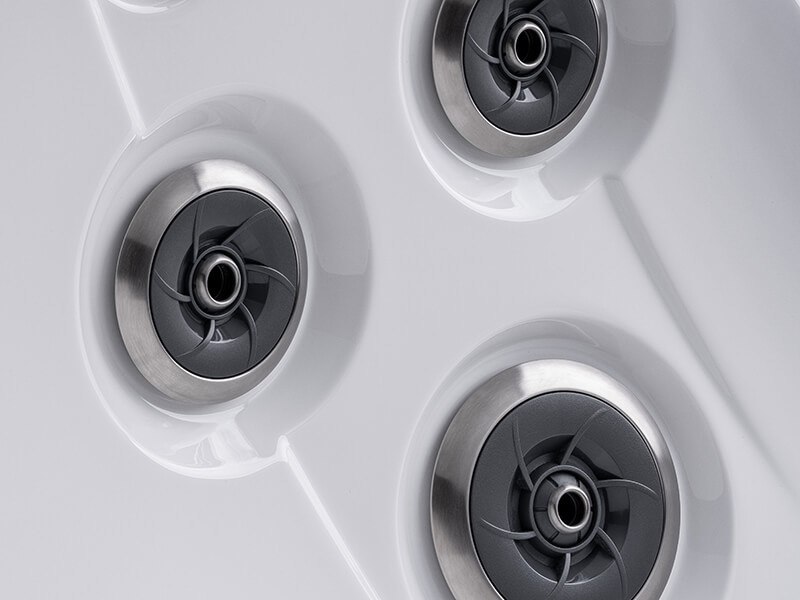 EASY WATER CARE
Crystal clear spa water is essential to a great spa experience. Hot Spot Collection spas come ready for the FROG® @ease® in-line sanitizing system (available in the U.S. only).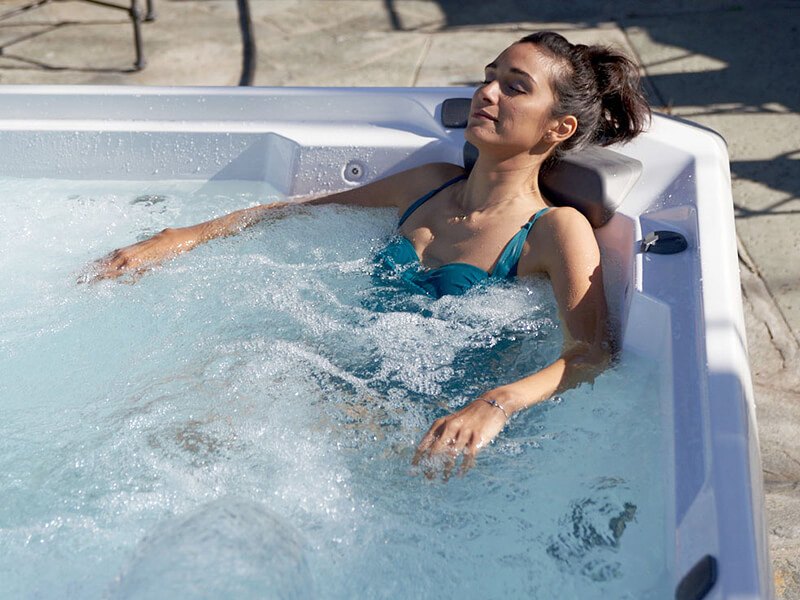 FROG® @EASE® IN-LINE SANITIZING SYSTEM
Pre-filled cartridges with SmartChlor® technology and minerals self-regulate to keep water crystal clear with less effort. @ease creates softer feeling water that's virtually free of chemical odors.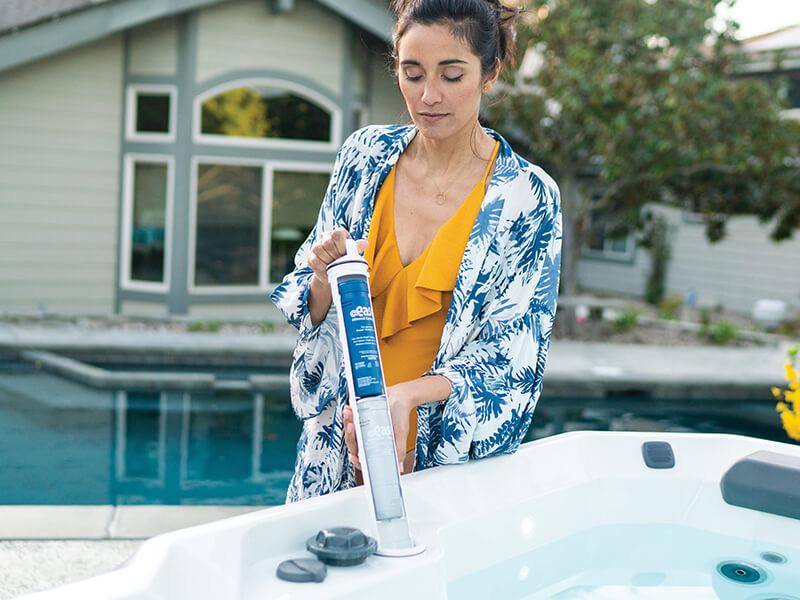 MONEY-SAVING ENERGY EFFICIENCY
Hot Spot Collection spas feature an Energy Smart® System to reduce energy consumption. You can have peace of mind knowing that your spa will be hot and ready when you are, while keeping energy costs low.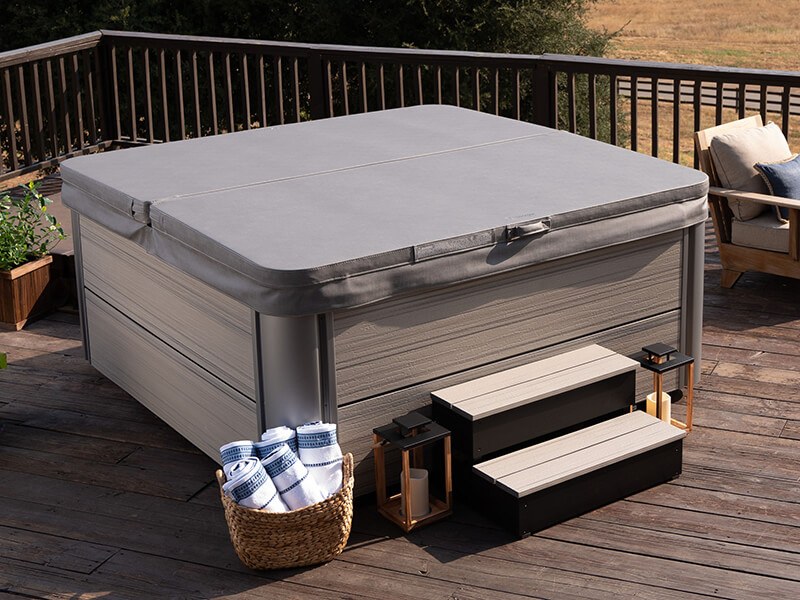 ENERGY SMART® SYSTEM FEATURES
FiberCor® insulation fills the cabinet completely with a density four times greater than the half-pound foam used in most spas.
Proprietary spa covers ensure a tight fit to keep heat from escaping.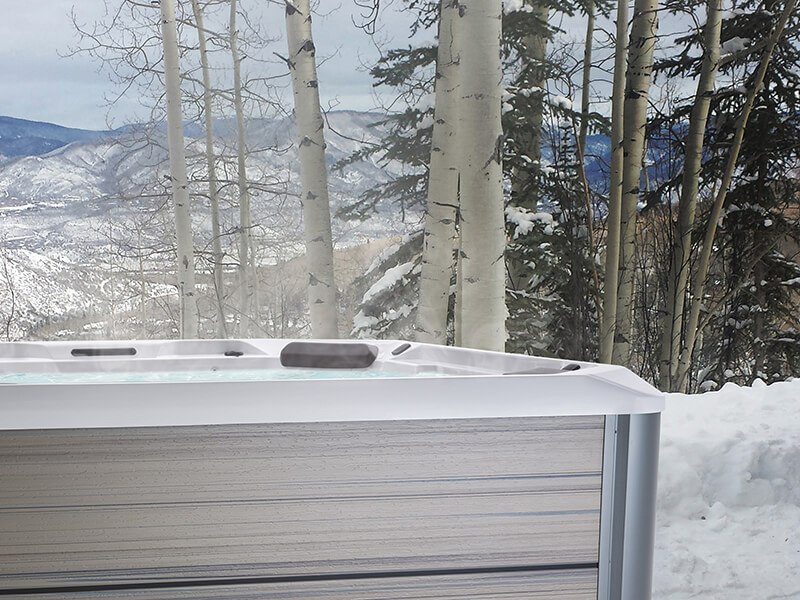 THE ABSOLUTE BEST HOT TUB OWNERSHIP EXPERIENCE®
You can count on lasting quality and unparalleled customer care from a global network of dealers dedicated to providing you with an extraordinary ownership experience.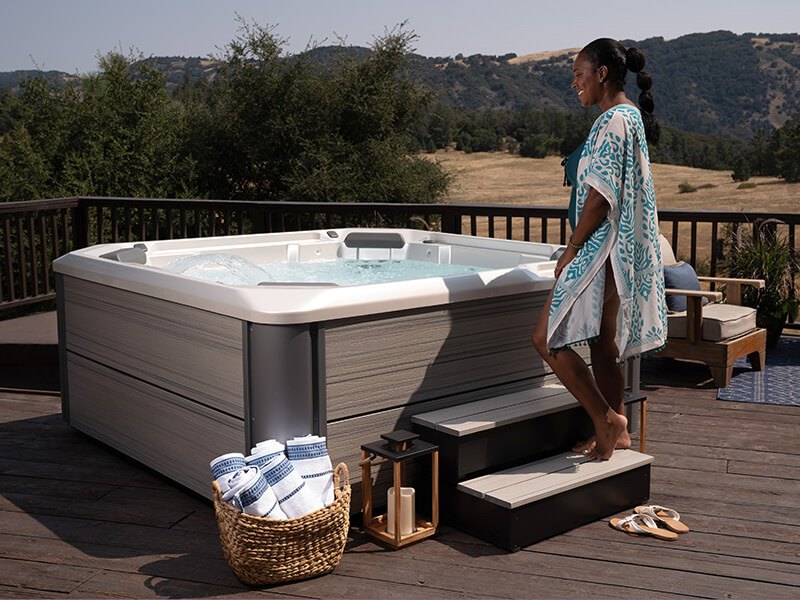 BEAUTIFY YOUR SPACE
Designed to delight the senses, each Hot Spot Collection spa features eye-catching finishes, dramatic LED lighting, sleek metallic corners, and distinctive design details.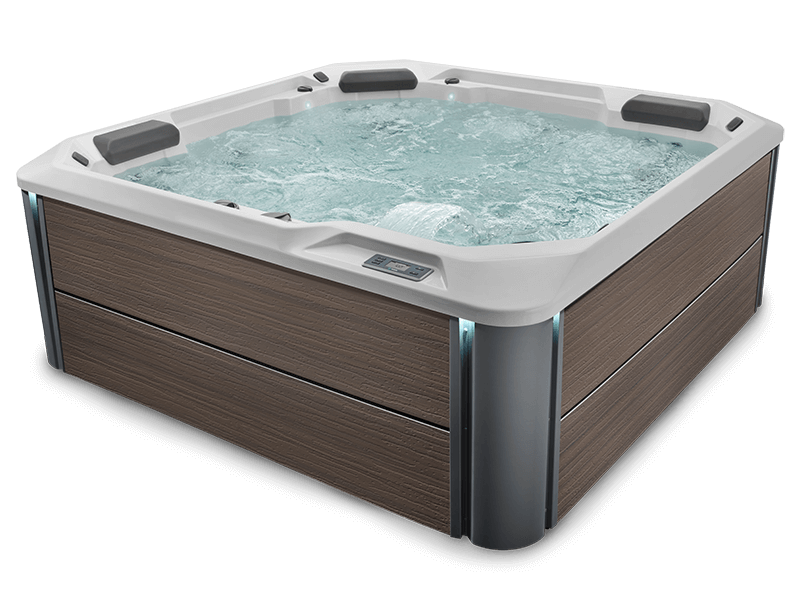 SOOTHING COLOR PALETTE
Subtly embossed cabinets evoke the beauty of natural materials with the durability of advanced composites to complement your indoor and outdoor space.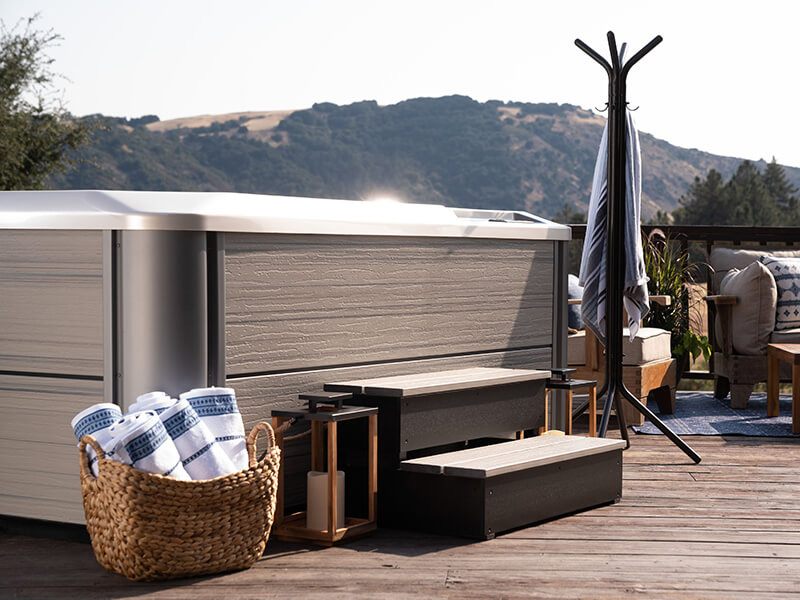 ON-TREND DESIGN
A large bar top, contoured seating, and integrated pillows complement the overall design for a unique look.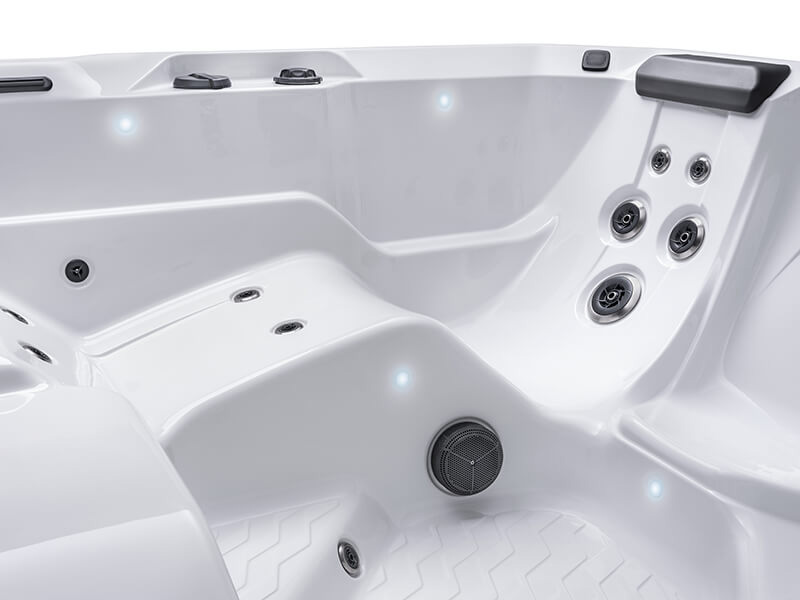 Shop Other Hot Tub Collections
With three different hot tub Collections, you'll find one that's just right for you. 
Hot Spot Collection Reviews
See what real people have to say about their Hot Spring spa experience.
My husband and I love our hot tub. We go in almost every night. It is something to look forward to and is a great way to unwind at the end of the day. I never thought I would have loved it as much as I do! I highly recommend it.
Hot Spring spa owner, Pennsylvania
HotSpot Product Aggregate Reviews
is rated out of
5
by
1456
.
Rated

5

out of

5
by
NDB
from
Best hot tub brand ever!
I am the former owner of a Hotsprings TX. We had ordered another TX at our new home but an SX was delivered instead abs after a6 mos delivery delay we decided to keep it. We really like it! The extra seat is nice and otherwise it is as nice a ton as we had before. Excellent quality!! Very comfortable. Love the upgraded lighting. I use it for medical purposes but my husband uses it to relax. We both love it!
Date published: 2022-11-22
Rated

4

out of

5
by
Momsoman
from
My Oasis and Rehab
Within the first month of owning my hot tub I had hand surgery. I got in the hot tub anyway, and credit it with having provided relief from the ache and pain of my recovery. I'm in it at least 5 days a week and feel like it was a smart purchase given my extensive arthritis.
Date published: 2022-11-21
Rated

5

out of

5
by
viking75
from
been a life saver
I have always loved a spa. It's been years without one until in August I said no more. Now I would have gone bigger maybe but I wanted it in my basement and the doorway controlled the size. It fit fine for me. I went on vacation in Sept and my back went out and I could just barely get home from Europe. The only thing that has saved me and made me feel better is my spa. I am in it all the time. Two or three times a day. I am so happy I can move now and that I made this purchase. It's been a life saver for me.
Date published: 2022-11-21
Rated

1

out of

5
by
PC
from
Water Leak within the first 2 years - a VERY EXPENSIVE TUB
This VERY EXPENSIVE Hot Tub has sprung a Leak within the first 2 years of ownership. It has been professionally maintained and cared for (at my expense) since the time of purchase. How a Leak is possible even at the start of its life is beyond me. Furthermore even though this happened 1 month shy of Warranty Expiration, because Dealer is located 2.5 hours away I am still required to pay a 'co-pay' to have them fix it (even though they are the ones I was advised to use because they are the ones who sold me the Hot Tub and are under legal contract with the Warranty company). Warranty period for an item like this should be greater than 2 years.
Date published: 2022-11-15
Rated

4

out of

5
by
Fishy
from
TX
Great Jets, moto massage is the best. easy to get into and take care of. Somewhat difficult to get into for me.
Date published: 2022-11-14
Rated

4

out of

5
by
Monie
from
Great Jets, Comfortable, but Tricky to Get In
This is our second spa purchase. Rhythm's jets are much better than our previous hot tub, and the seats are very comfortable. My only issue is getting in and out. We didn't buy the available handrail as we thought it was ugly but are reconsidering now. Also the outer edge of the hot tub is very narrow and difficult to sit on to cool off or to get in/out.
Date published: 2022-11-13
Rated

4

out of

5
by
northernmountainview
from
Good I guess
Kind of hard to rate a hot tub on efficiency and value when you just purchase it and you've never had a hot tub before? How are you supposed to compare it's energy efficiency?? The quality is less than perfect. Day 1 we had 2 of the lower jet covers fall off. Luckily those are just for aesthetics and not function. Again, hard to tell quality when you've only had it for a small period of time. Also, the bromine tubes that go inside the hot tub wall were indicated to last 3-4 weeks, both of ours lasted less than a week. Not worth the money to use those, we will continue to self adjust the bromine. We are still enjoying our hot tub. I really like the lounger, and the kids love being in the hot tub. I just hope that the hot tub lasts a long time!
Date published: 2022-11-04
Rated

5

out of

5
by
Happybathers
from
Fantastic service and customer support
As mature first time hot tub owners to -be Liene was amazingly supportive and the site visit reassuring. The delivery and set up went so smoothly and any questions have been quickly answered. Really pleased with the free flow azure model we now enjoy regularly and find easy to maintain. Thank you
Date published: 2022-10-22
Rated

5

out of

5
by
FrankFFrank
from
Simple and perfect
Very easy to maintain, large enough for my needs while keeping water and energy use at the easiest level. Had mine hard wired, heats up quick. I use it at least 5x a week since arrival. Helps me recover from hard days at work and working out. I sleep better and look forward to soaking in it every chance I get.
Date published: 2022-10-21
Rated

5

out of

5
by
Joy
from
No Regrets!
My Rhythm Hot Spring Spa has been my greatest investment yet! The only issue that I had was the SmartChlor cartridge was gone within two weeks and my water started turning green. Also, with the Frog Ease system, supposedly, as long as your test strip defects chlorine, there shouldn't be anything bad in the water. This strip could be measuring total combined chlorine and no free, available chlorine. After I figured out the water chemistry issues, I have no regrets! I believe everyone would love a Hot Spring Spa! I love mine! Thank you, Kathy!! Also, the delivery guys rocked it!!!
Date published: 2022-10-17
Rated

5

out of

5
by
Jimmyjam
from
Great tub
We just purchased this spa and it's truly relaxing. It's comfortable, spacious and the jets pack a punch. It heats up very fast and the light at night look great. The kids love it as well.
Date published: 2022-10-14
Rated

3

out of

5
by
Goailie
from
Low quality
Previously owned a jacuzzi brand hot tub for 6 years and sold it instead of trying to move it when we relocated to FL. Bought the SX brand hot tub once we moved in. The front panel clips are cheaply made, front panel does not stay on due to broken clips (broken by installers). Recent Hurricane Ian, my front panel blew away due to not being able to properly secure it in place. Would NOT purchase another one of these hot tubs.
Date published: 2022-10-10
Rated

3

out of

5
by
Nik
from
SX SPA
Have had this spa since 2018 and the casing /panels are falling apart. I contacted the store and the manufacturer with no solution, I just keep getting the run around. At this point legal action may be my only option
Date published: 2022-10-03
Rated

4

out of

5
by
Deb62
from
Great purchase
Easy care, clean and relaxing seats could be less deep.
Date published: 2022-09-07
Rated

5

out of

5
by
ElHeffe
from
Best first hot tub
Awesome, what more can I say! The Frog ease system is so easy and it keeps my spa in optimum operating condition! With 6 spots to choose from there's no bad spot in the spa! Probably one of the most electrically efficient spas on the market! Very pleased!
Date published: 2022-09-05
Rated

5

out of

5
by
Crappiekingman
from
HOT SPOT SX
This would be the second time owning a Hot Springs SPA. The first one from Faro North Dakota failed to correct a leaking issue. This SPA was purchase from Home Oasis in Watertown, South Dakota. The sales person stated if any kind of issue takes place they will correct it. This SPA will help me with some physical problems with legs and knees. This particular SPA had a leak in the drain. Home Oasis Technicians repaired it on the spot. I would suggest higher quality control at the production site. I understand this is an ongoing problem with manufacturing as I have been associated with the manufacturing industry for several years as a Supervisor.
Date published: 2022-08-25
Rated

5

out of

5
by
FrankysDad
from
Excellent 6 Person Spa for the Price
Love everything about it except the water fall feature is a joke. They would be better off just not including it.
Date published: 2022-08-24
Rated

1

out of

5
by
Robert
from
Worst purchase ever
Poor quality, LED lights did not work and after multiple service calls and visits, the main board had to been replaced. The front panel will not stay up and slides to the ground showing a gap up top. Poor design and workmanship.
Date published: 2022-08-22
Rated

4

out of

5
by
Sparky
from
Very powerful jets, nice hottub
Very nice hottub. Had for 2 months and no problems. Would rate higher but the headrest are not comfortable and the ease of water care can't get any easier but the chemicals are expensive. The jets are very powerful and very relaxing. My aches in my shoulders and neck area have disappeared! We use this product 5 nights a week.
Date published: 2022-08-17
Rated

5

out of

5
by
DigglaP
from
Let's get in!
This was a great buy you could tell before you ever got in to experience it. But once you do finally manage to have your stars align and get inside this thing it's like the angel of Spa's just embraced you and turned her second pump on and got you in the perfect spot in your back.
Date published: 2022-08-12
Rated

5

out of

5
by
Gerry806
from
can't live without it
Purchased TX July from Clearwater, Centre Hall, PA in July. Company was incredible service and hot tub is fantastic. I might be referred to as a Hot Tub fanatic as I get in hot tub every morning and frequently in evening. Firm believer in water therapy for physical and mental wellbeing. My gratitude to Clearwater for their prompt service, their reliable information, and their general professional approach to their product and service. Many happy days in the hot tub.
Date published: 2022-08-10
Rated

5

out of

5
by
KJ
from
Why did we wait so long??
This has been the best investment that we have made in the last year. I am in the hot tub everyday. It definitely helps my aches and pains and I sleep so much better. Wish we would have invested in one years ago.
Date published: 2022-08-10
Rated

5

out of

5
by
Jim248
from
Wow what a tub
We have always wanted a hot tub , so decided to take the plunge. Went to Magic City Hot Tubs in Hoover , Ala. The salesperson was very easy to deal with , No Pressure. We made the purchase and tub was delivered by owner. Gary is a super nice guy and made delivery and setup a breeze. Filled up tub , added chemicals , got tub to proper temperature . The tub was delivered May 12 and we have been in tub everyday since then. Highly recommend Hotspring Hot Tubs. Quality second to none. Best purchase ever.
Date published: 2022-07-31
Rated

5

out of

5
by
LoreyJimmy
from
Perfect option
My husband and I wanted to built a pool but then decided to have a hot tub instead . This was the best decision because We save money and room in our back yard , it looks beautiful and meet the propuse of relaxing in our own back yard , We live in Florida and some times use the tub with room temperature or cold water and the jets on this is a great massage as well . If it gets cold outside or at night We warm up the water and is good to relax sore muscles , this help me with my neck pain and relief tension . Definitely Love it
Date published: 2022-07-27
Rated

5

out of

5
by
Willy
from
Great hot tub
Our new hot tub is so relaxing! Easy to operate and maintain! Our last hot springs tub was going strong at age 22 years! Highly recommend
Date published: 2022-07-18
Rated

3

out of

5
by
Sue
from
Panels not holding up
Panels are warping and dealer won't send anyone out. Installation was not completed as cover clips were not installed and the first rain storm blew the automatic lifter off along with the cover. The lift was bent in half and broken. No offer to replace anything.
Date published: 2022-07-13
Rated

5

out of

5
by
Rbar
from
Love My Spa
My wife and I use it often. The jets are great and very helpful for my aching back.
Date published: 2022-07-11
Rated

3

out of

5
by
Bird
from
Quality of hot tub
Quality cabinet of hot tub is very poor. Flimsy, warping on every panel. Do not order by looking at colors on line miss leading.
Date published: 2022-07-02
Rated

5

out of

5
by
ElHeffe57
from
Best luxury purchase ever
I purchased a Strong Spa rotary molded 5 person 220 volt spa! After several days I noticed that it appeared to be leaking. I called Mr Pool of Pasco Florida which is where I bought it from. They sent their repair guy out, however he couldn't fix the leak because of design of the unit. Mr Pool informed us that they couldn't get the exact replacement from the manufacturer, but they could give us an upgraded spa! We agreed on the HotSpring Relay as the replacement! What an upgrade OMGosh! I know that there's better spas out there, but as far as we're concerned, the Relay is the best we could have ever imagined! Mr Pool said that HotSpring spas were one of the best spas on the market! We are sold on HotSpring spas completely! If and when we replace the spa, it'll definitely be a HotSpring! Thanks HotSpring and thanks Mr Pool!! Jeff H
Date published: 2022-07-01
Rated

4

out of

5
by
Bubbles
from
Finally Satisfaction
Spa. was finally delivered after four mounts, After power hook up could not use because of leaks. Two more weeks waiting for service and parts! Manufacture needs better quality control and dealer needs to check spa working properly before delivery. The good news, very satisfied and spa is very enjoyable. David
Date published: 2022-06-25
Compare Hot Tub Collections
Each Hot Spring Collection features spas with different jets, features and number of seats.
Compare Now
Visualize That Perfect Spa in Your Space
Use the free Virtual View™ AR app to view and compare spa models.
Learn More