Limelight Collection spas stand out from the crowd. Best-in-class features and a legendary Hot Spring® experience make these spas a cut above the rest.
FreshWater® Salt System Ready
A revolution in water care that helps you spend more time enjoying your spa and less time maintaining it.
Learn More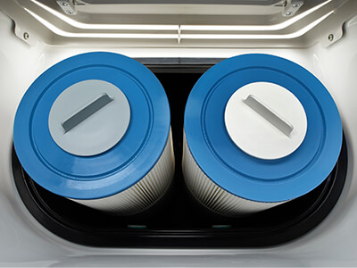 Dual-Action Filtration
The unique two-filter design provides for more effective and constant filtration to keep water cleaner with less maintenance.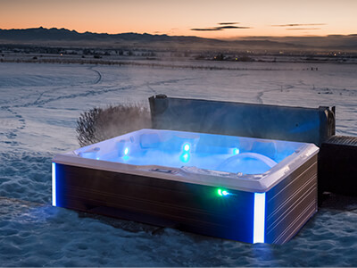 FiberCor® Insulation
Exclusive insulation with a density four times greater than the half-pound foam used in most spas helps lock in heat and save energy cost.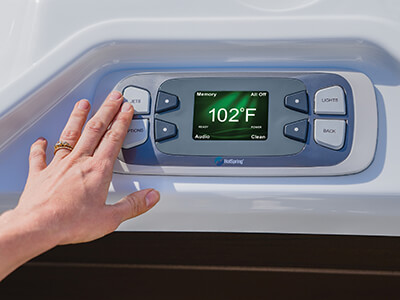 Color LCD Control
Adjust lights, temperature, jets, and more with the easy to use system. It's conveniently positioned to be accessible from inside or outside the spa.
Gallery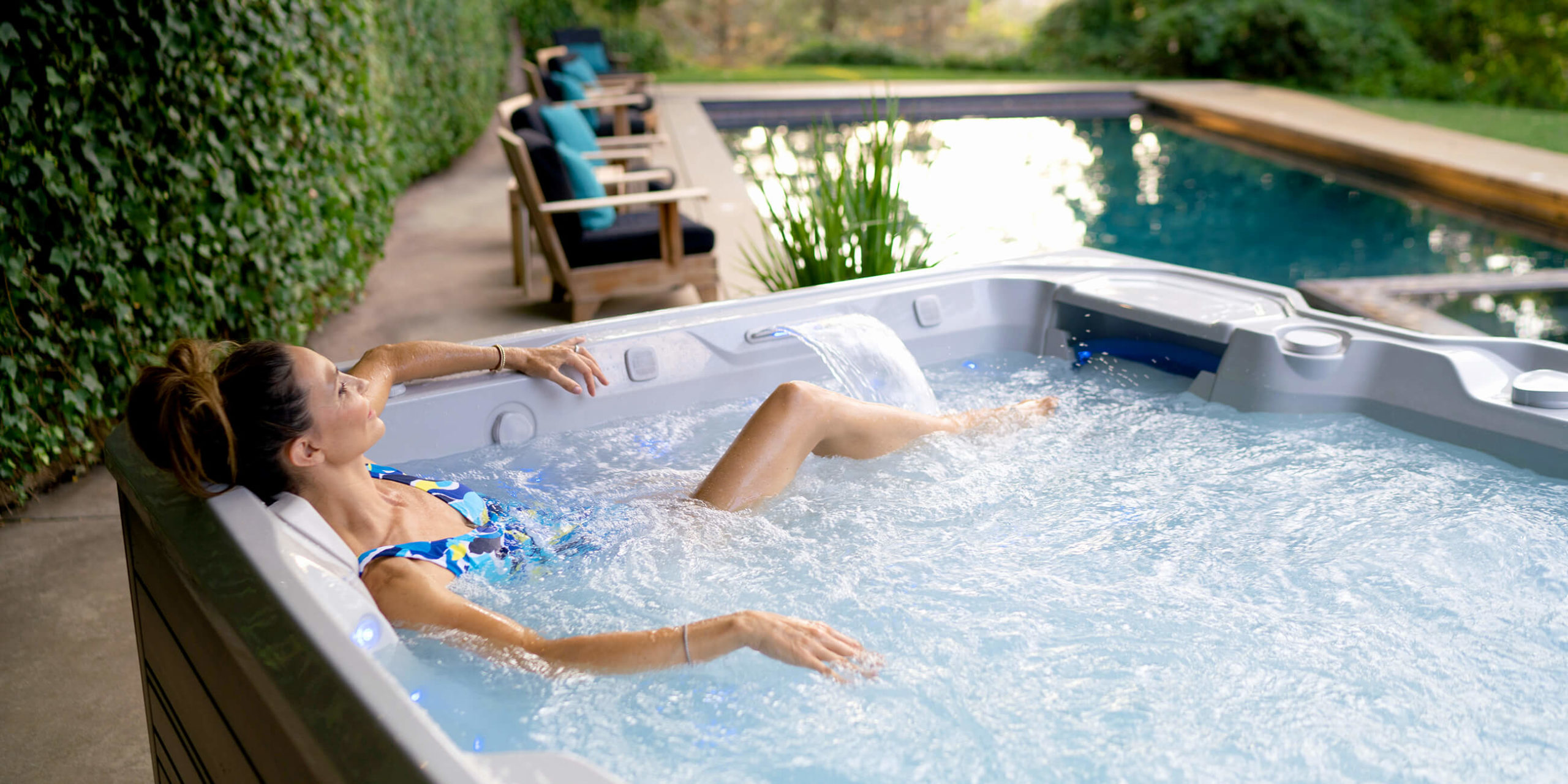 Shown with Coastal Gray Cabinet and Ice Gray Shell
Shown with Coastal Gray Cabinet and Ice Gray Shell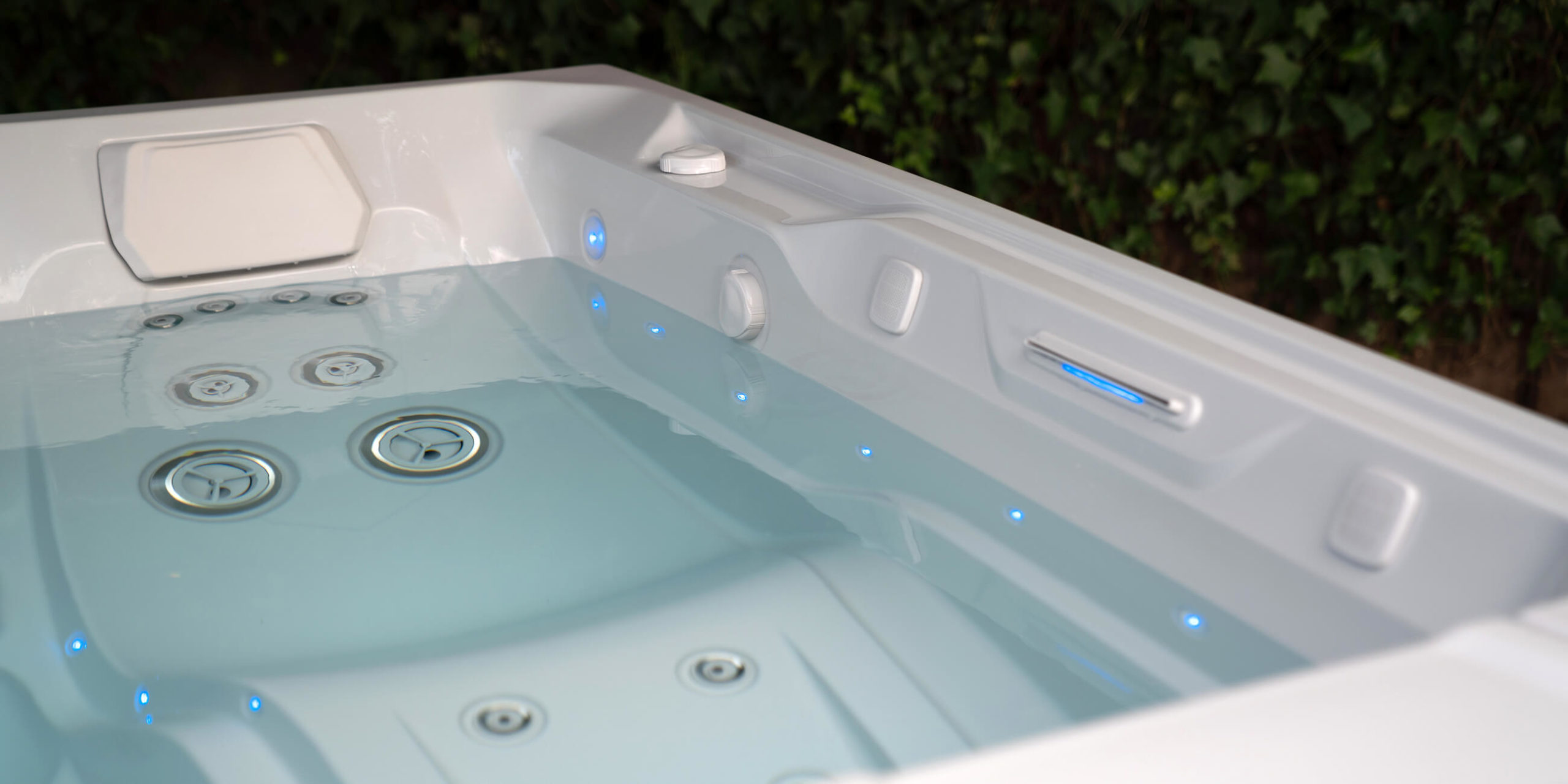 Flair® Model Lounge Seat Shown with Ice Gray Shell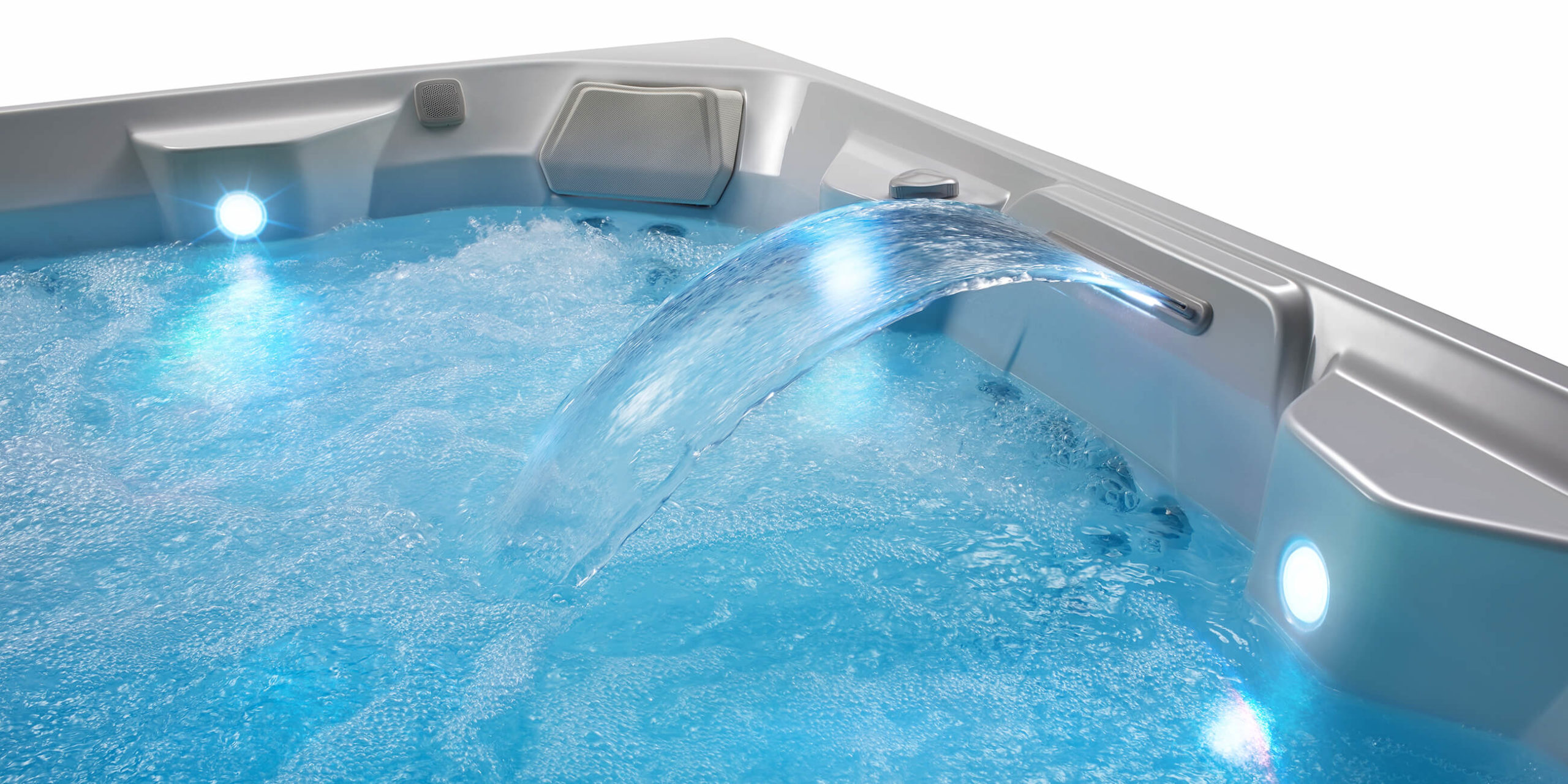 Flash® Model Shown with Vidro® Backlit Ribbon Waterfall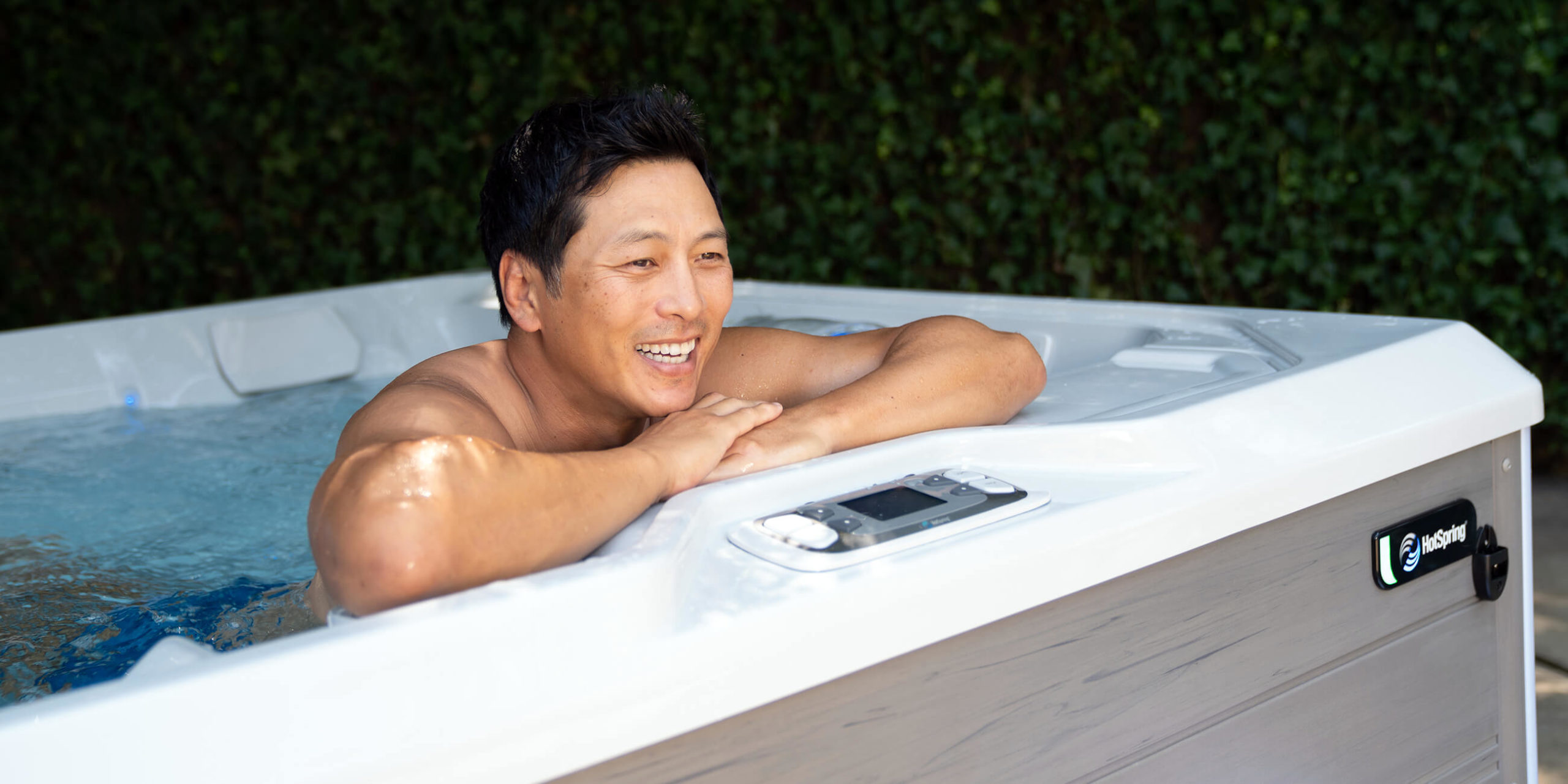 Shown with Coastal Gray Cabinet and Ice Gray Shell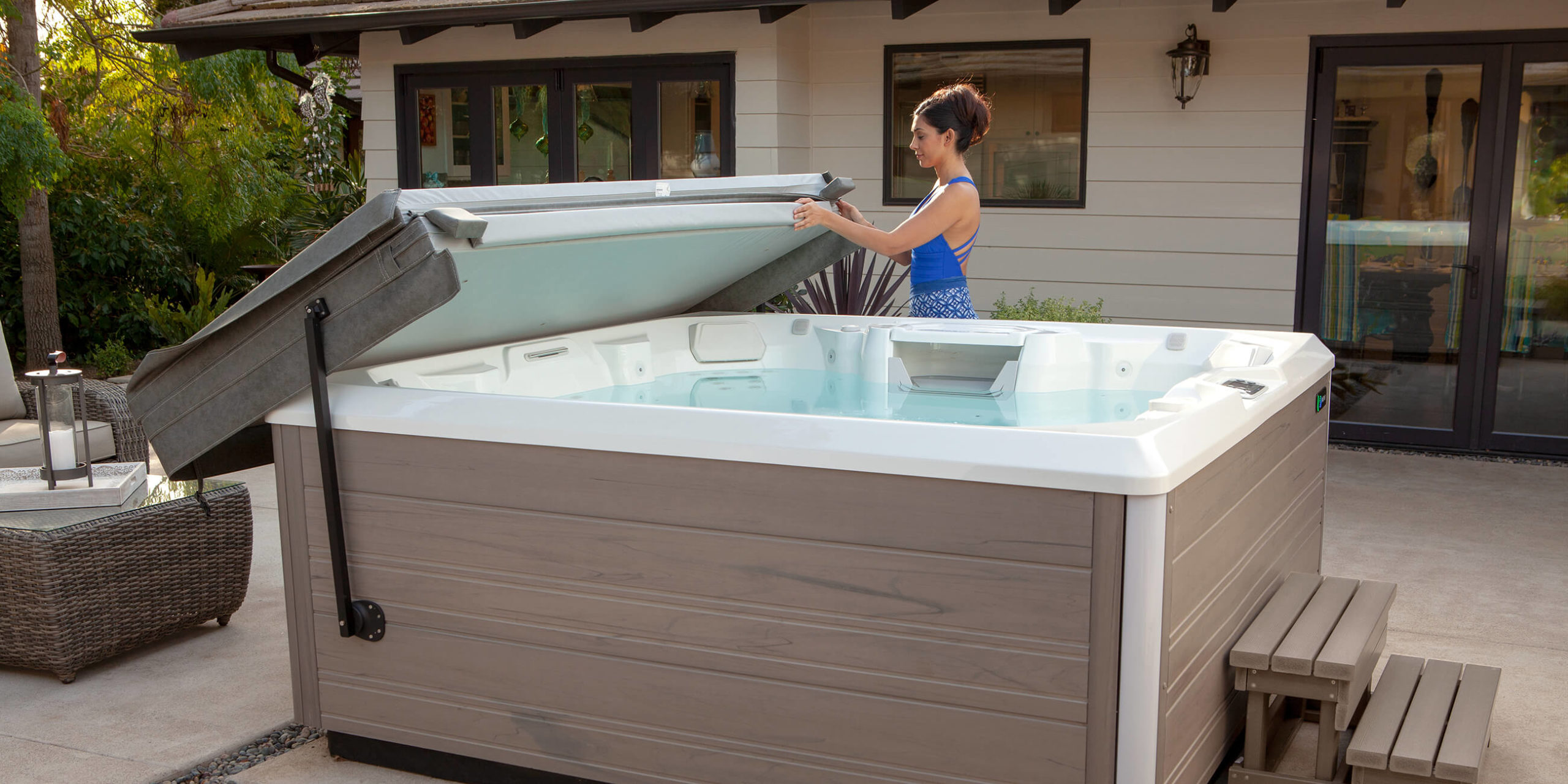 Shown with Coastal Gray Cabinet and Slate Cover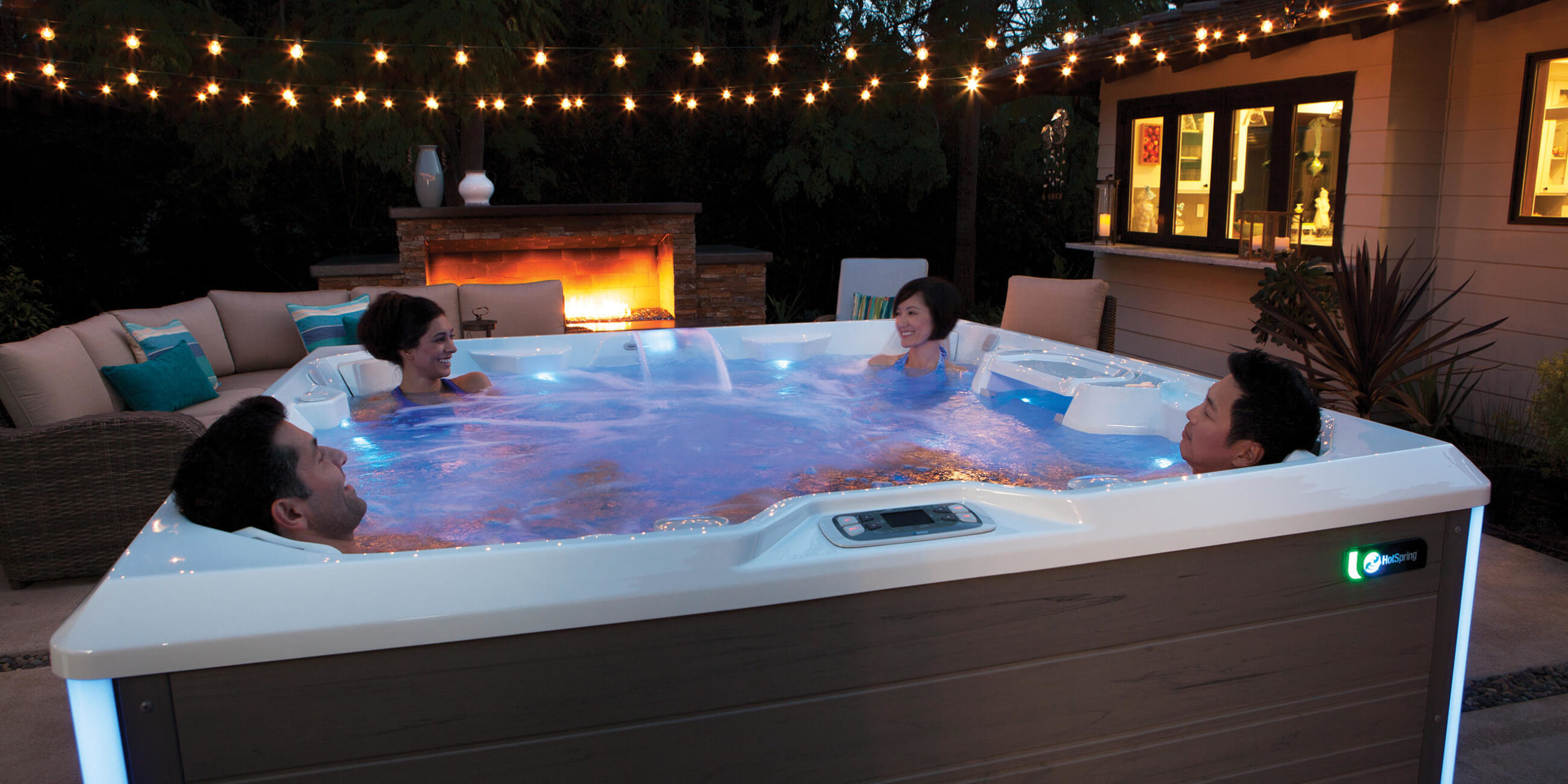 Shown with Coastal Gray Cabinet and Alpine White Shell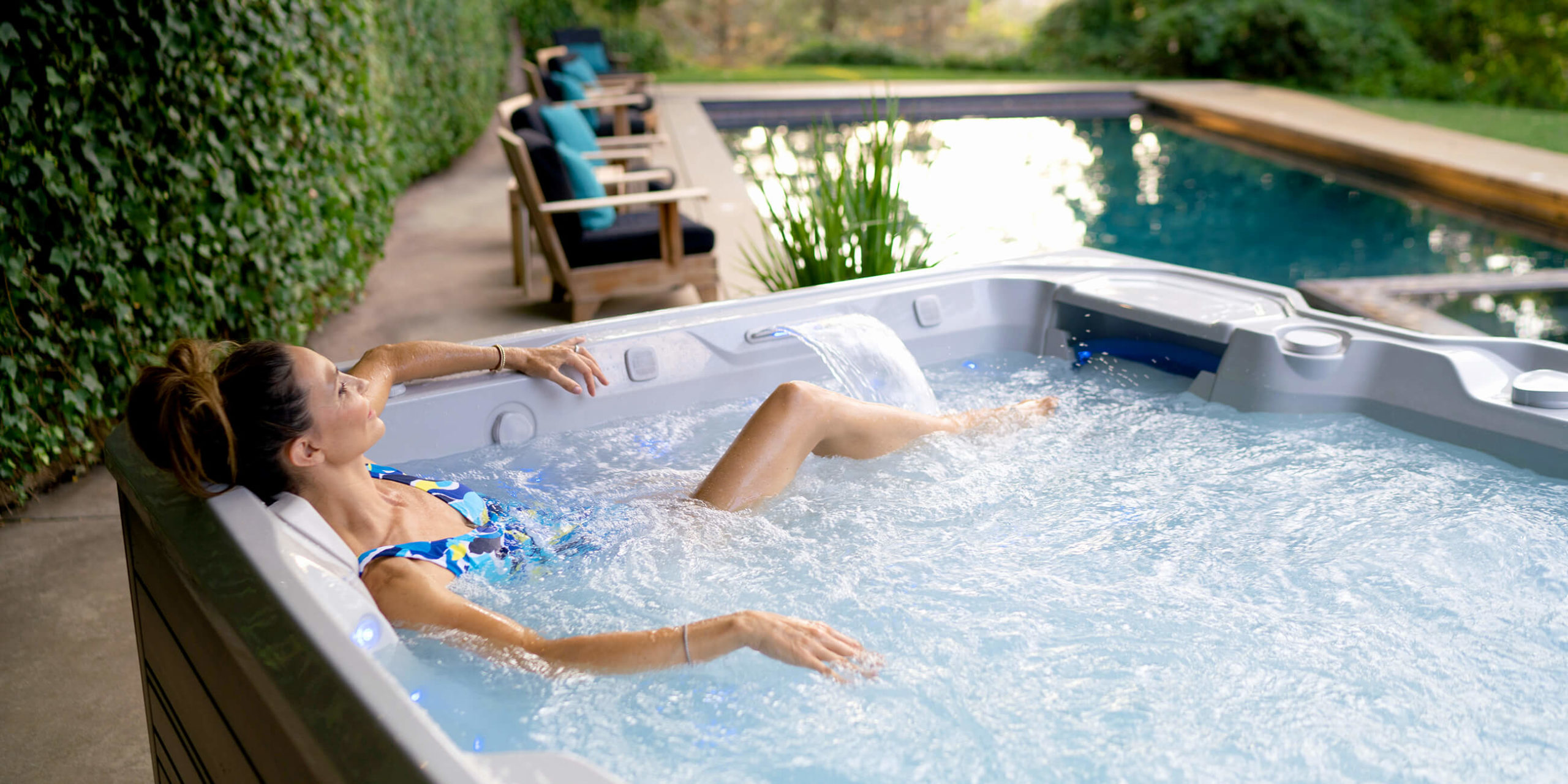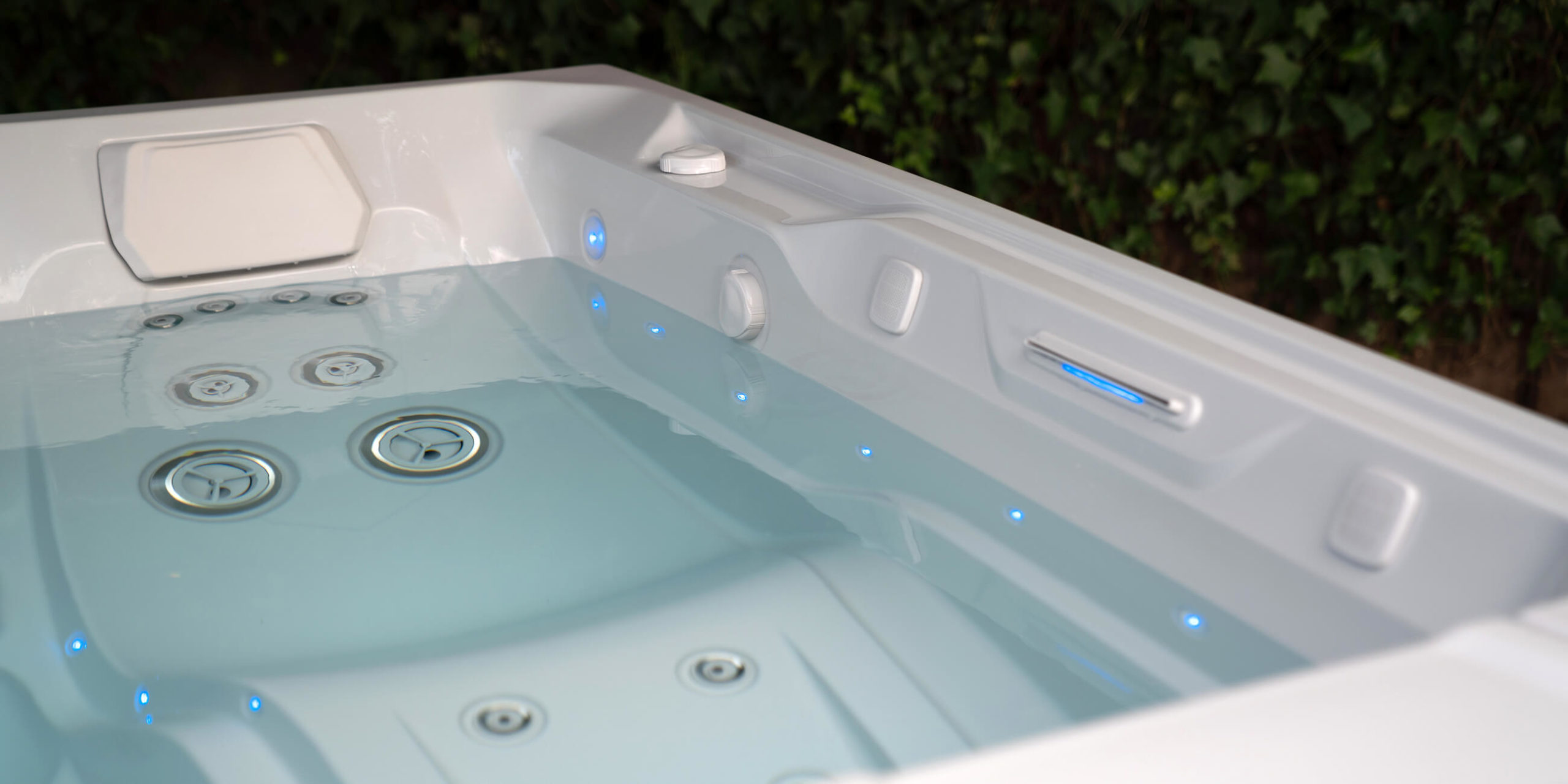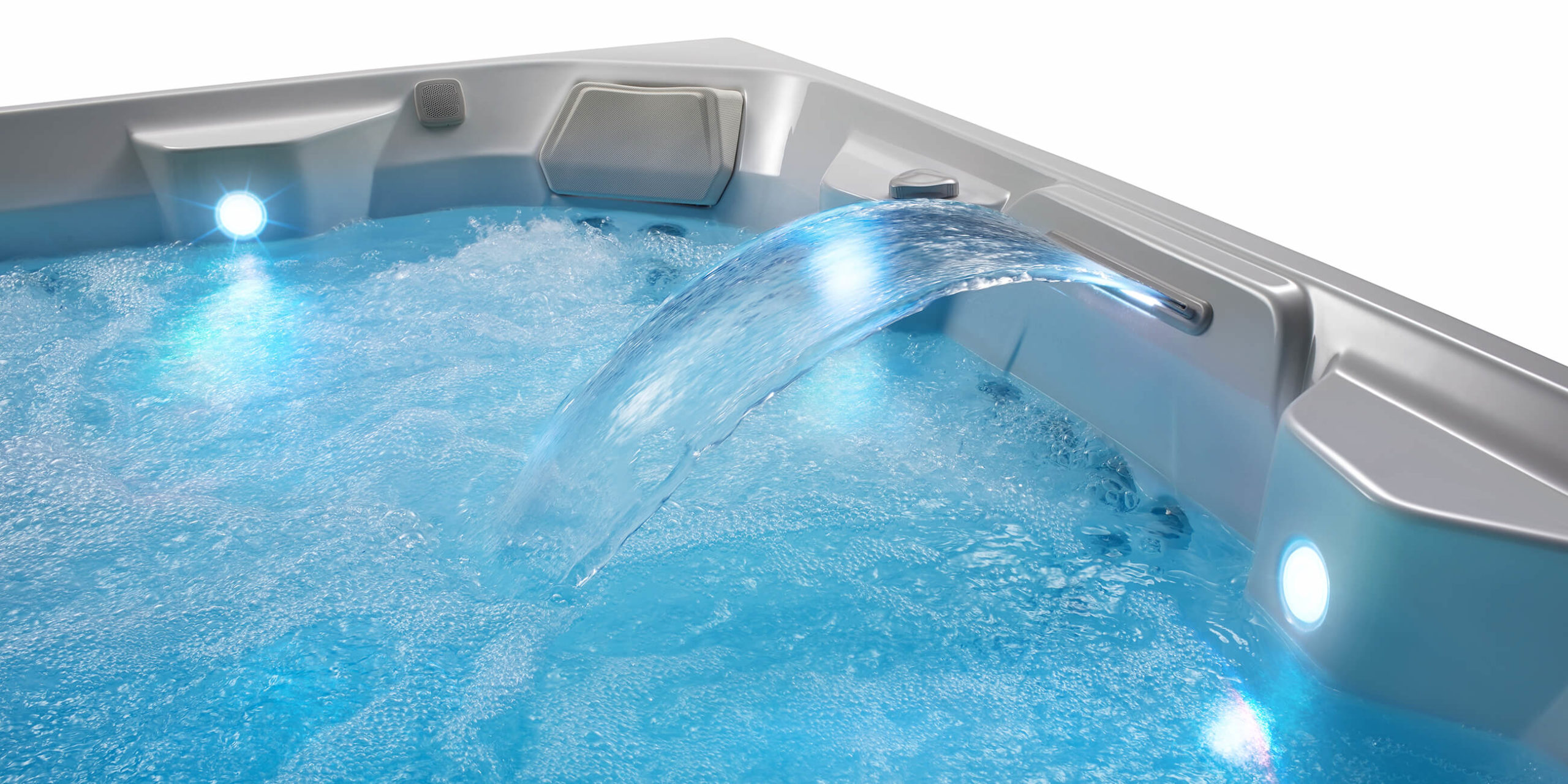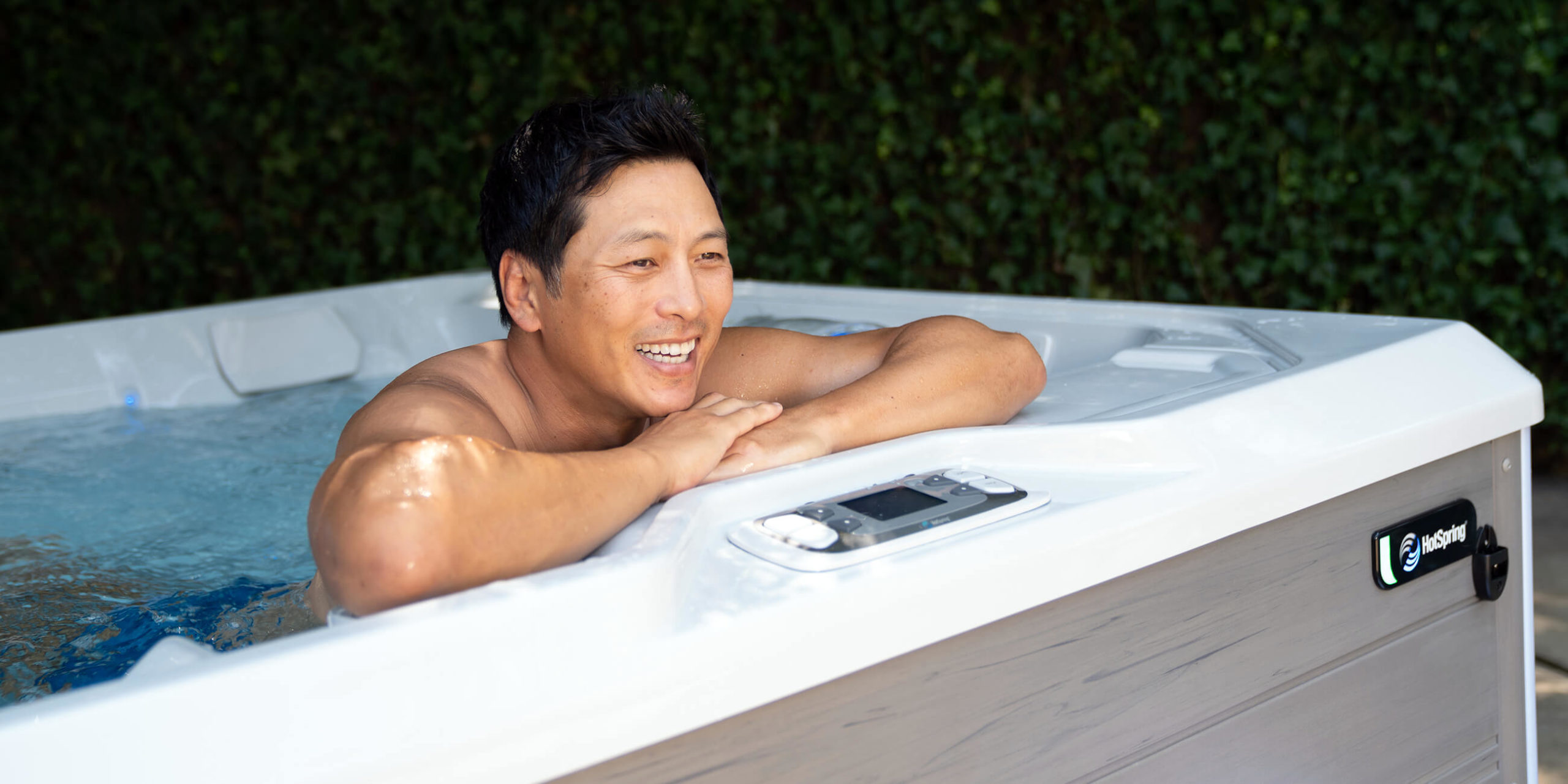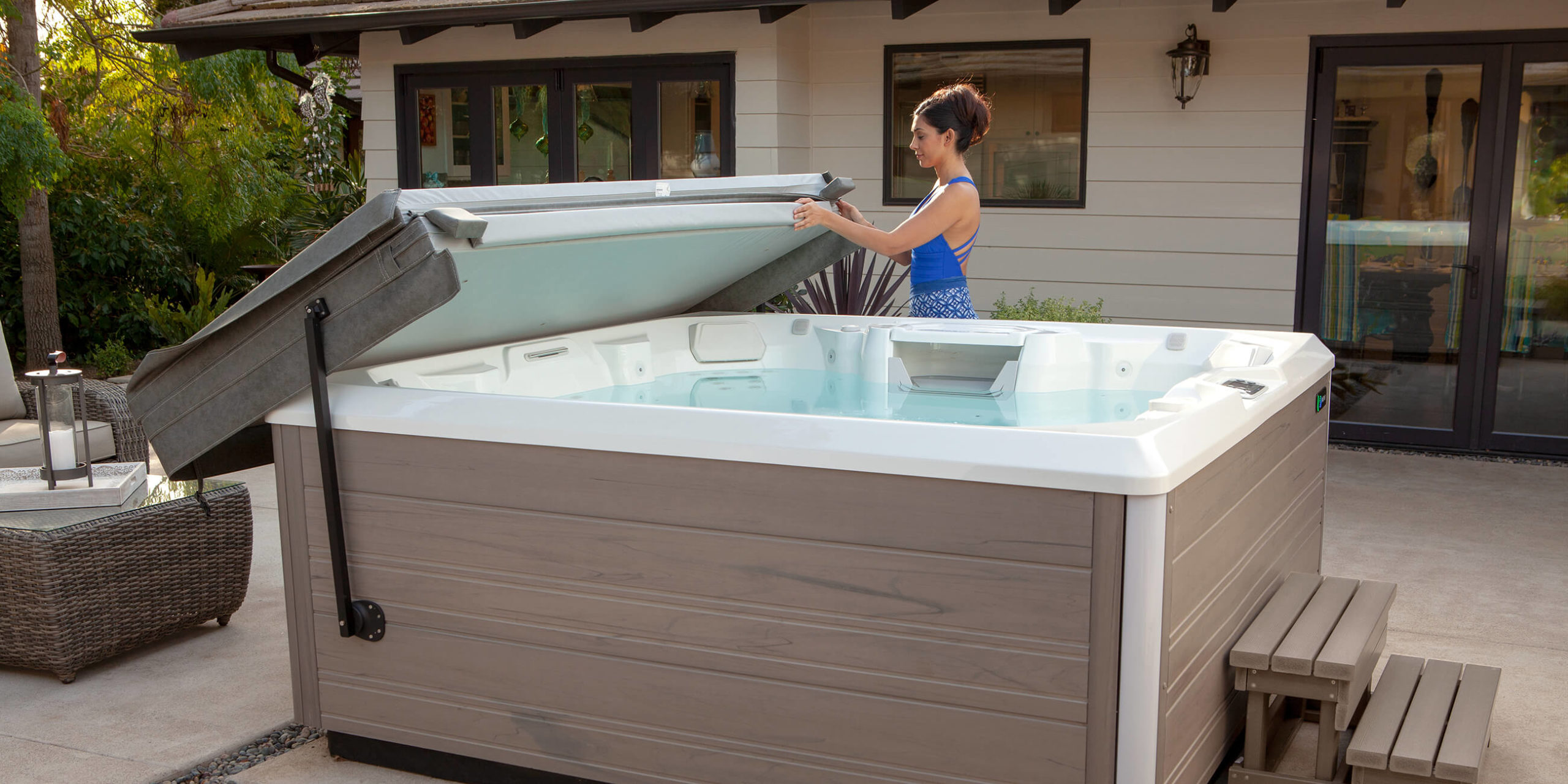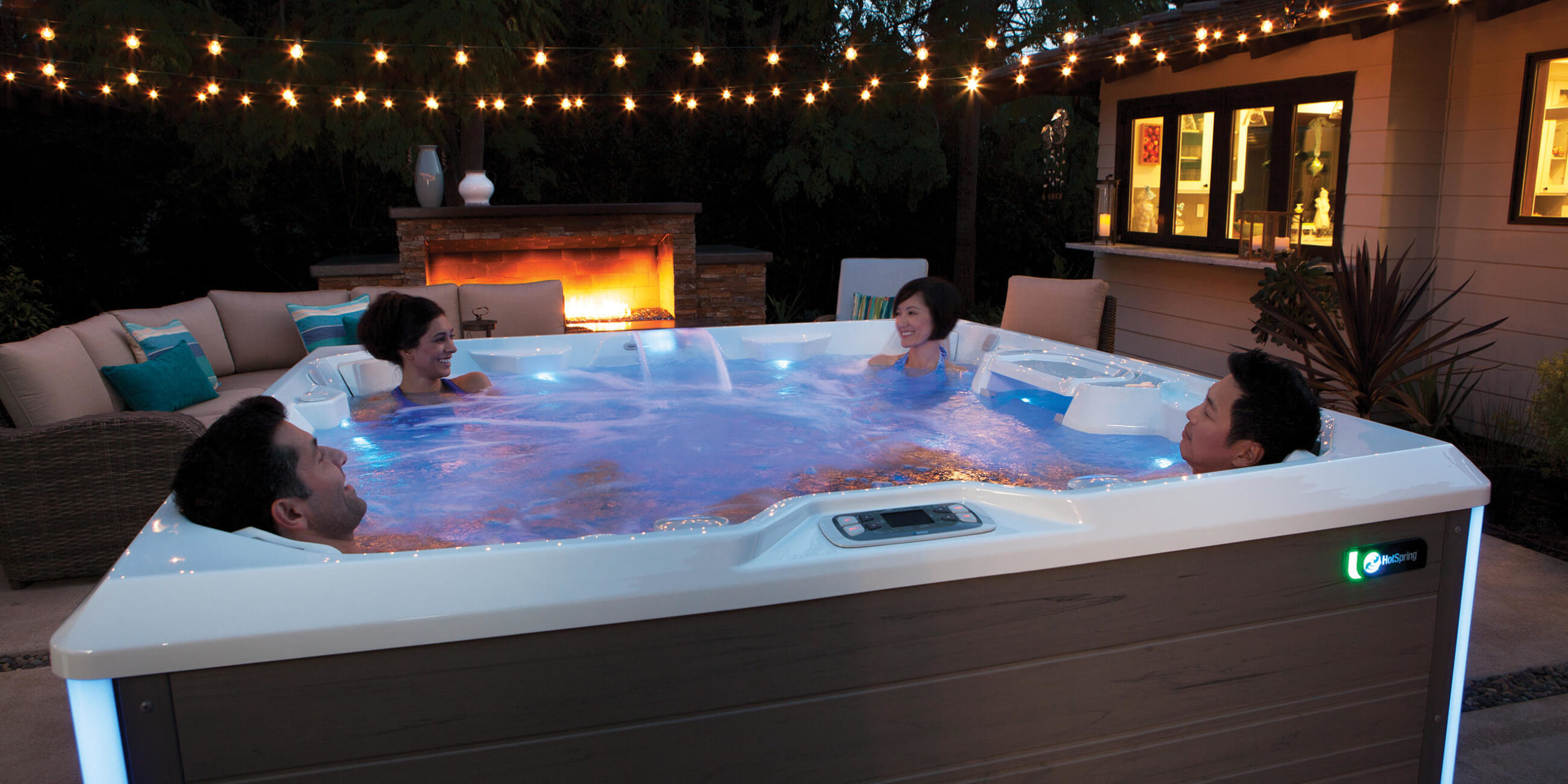 Features
LEGENDARY HOT SPRING® MASSAGE
Comfortable seats with purposefully arranged jet systems work together to target specific muscle groups. The result is a distinctive massage from your neck to your shoulders, back, wrists, calves, and feet.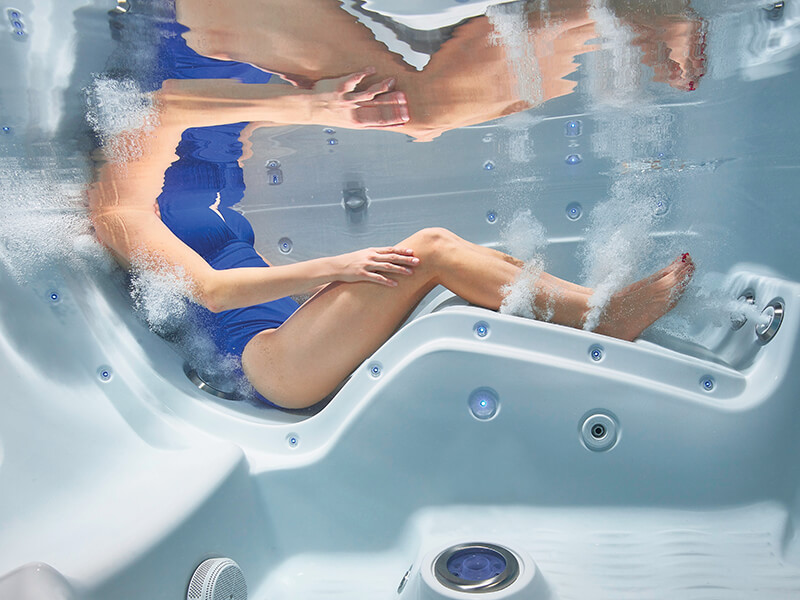 PERSONALIZED CONTROL
The Comfort Control® system lets you dial in your ideal experience—from a soft touch to a powerful massage. Use the SmartJet® system to customize water flow to different jet groups and seats throughout the spa.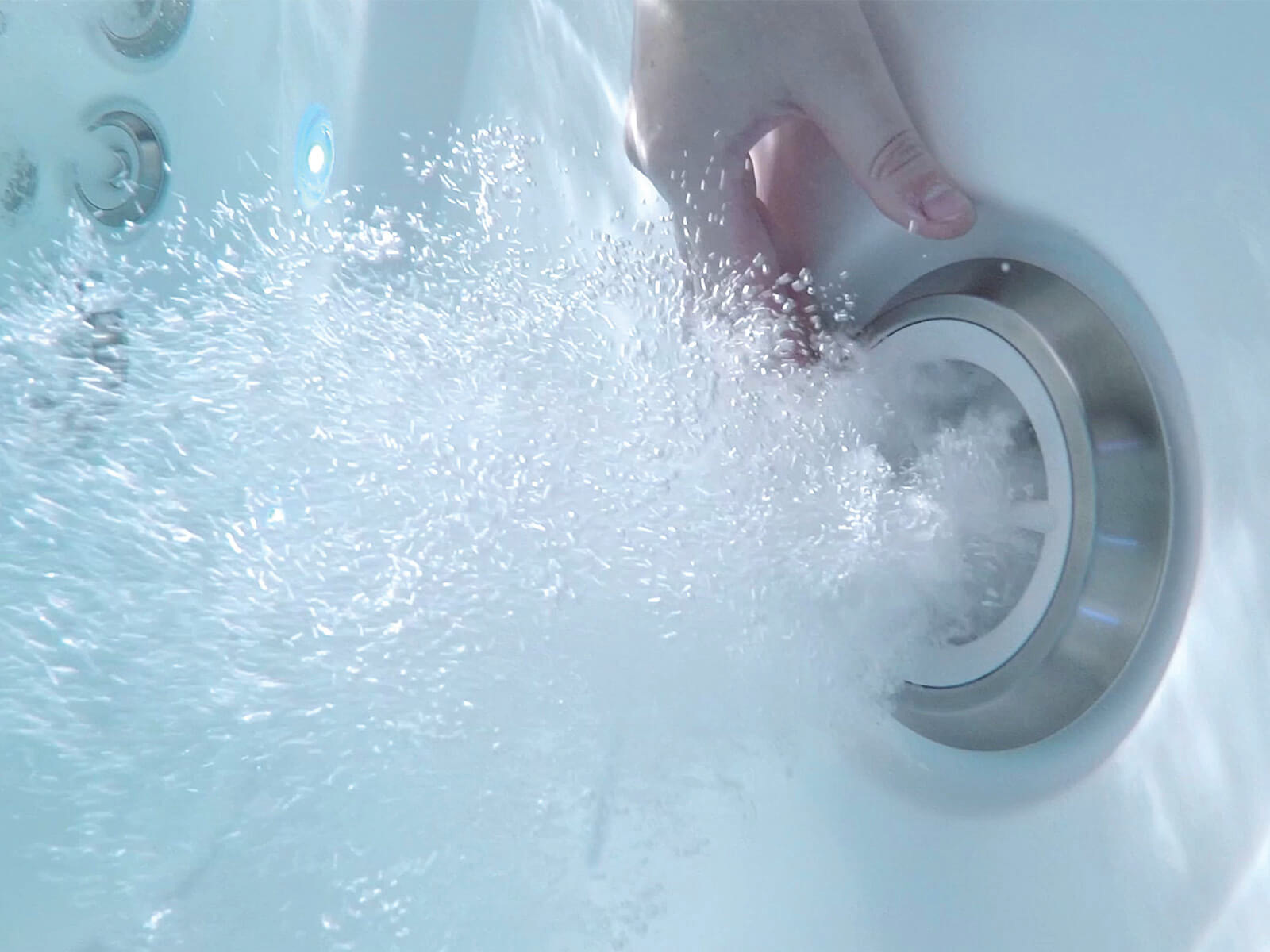 EASY WATER CARE
Crystal clear spa water is essential to a great spa experience. Limelight Collection spas offer exclusive innovations that keep your water clean with less effort.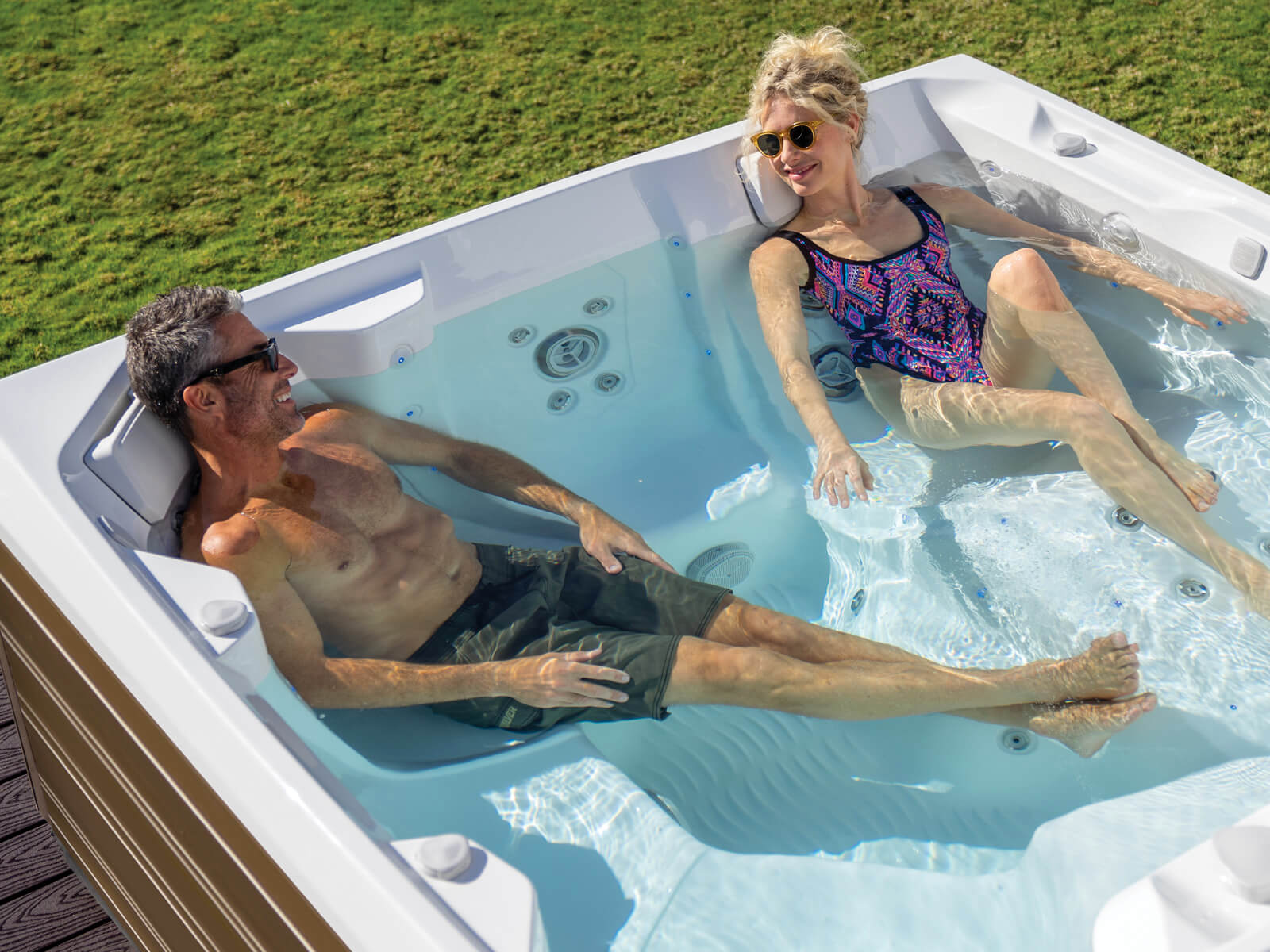 FRESHWATER SALT SYSTEM
This system automatically generates chlorine from salt for soft, natural-feeling water without harsh odors, itchy skin, or irritated eyes. Keep your hot tub water clean and feeling great for up to a full year.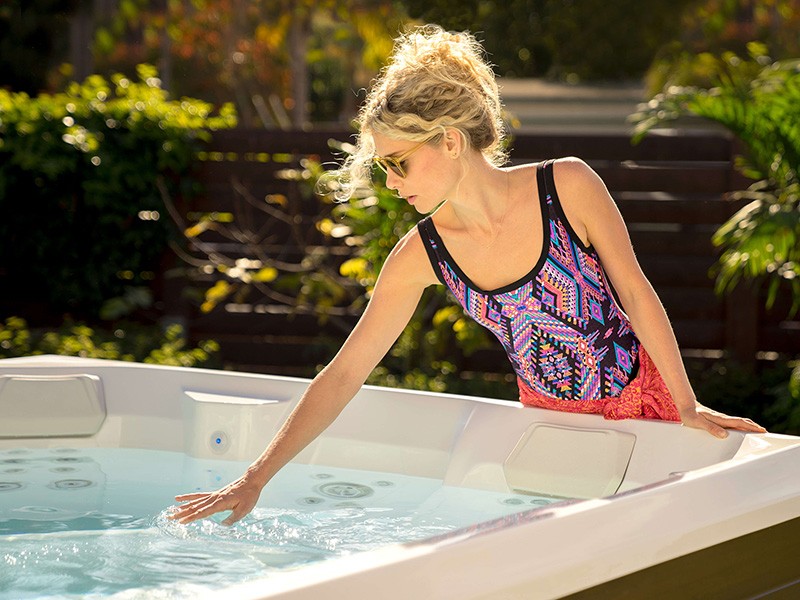 DUAL-ACTION FILTRATION
This two-filter design increases total filtration area to keep water cleaner with less maintenance. One filter is dedicated to the circulation pump, the other to the jet pumps to clean water when the jets are running.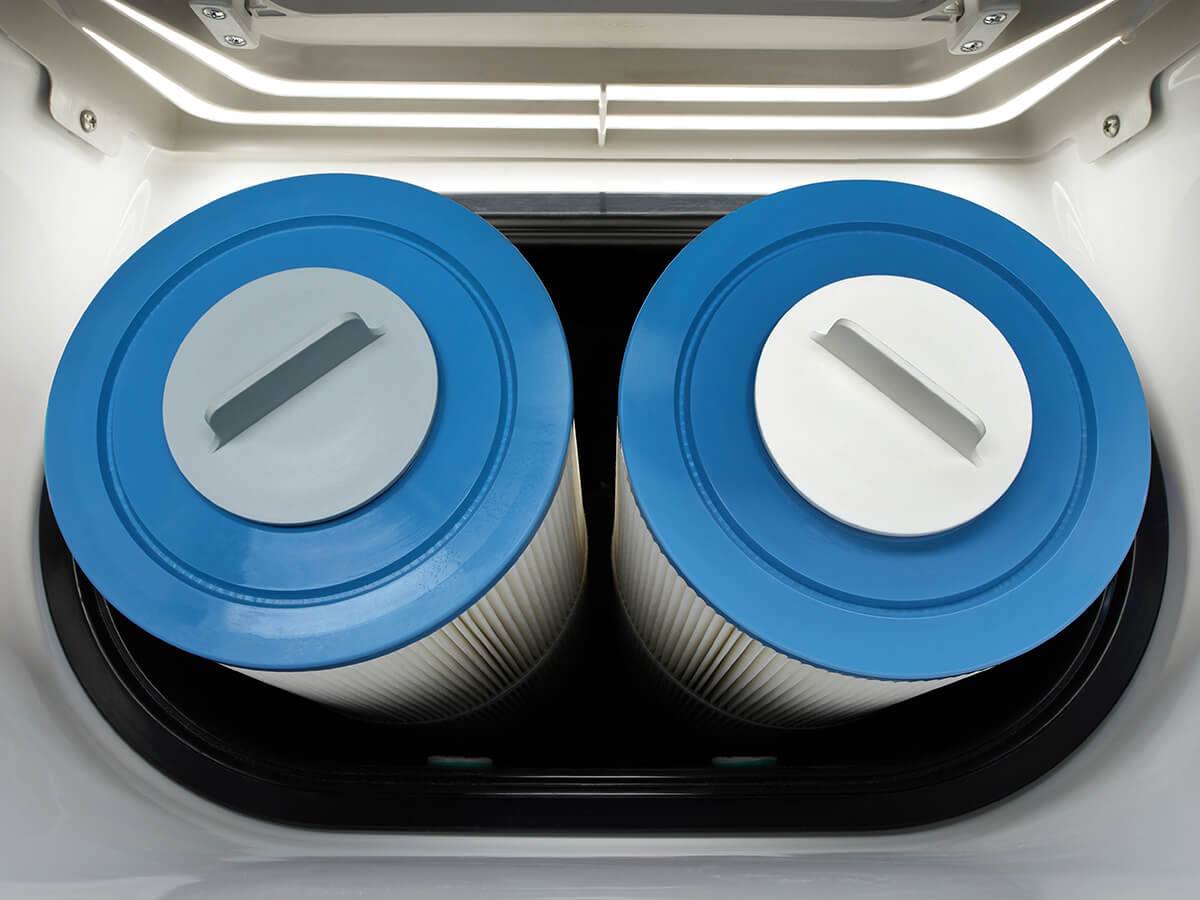 MONEY-SAVING ENERGY EFFICIENCY
Limelight Collection spas feature an Energy Smart® System to reduce energy consumption. You can have peace of mind knowing that your spa will be hot and ready when you are, while keeping energy costs low.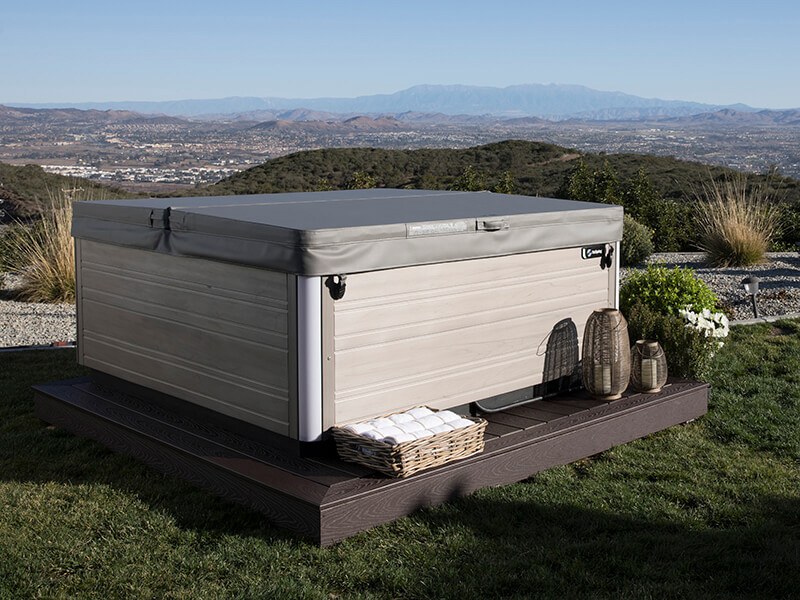 ENERGY SMART SYSTEM FEATURES
FiberCor insulation fills the cabinet completely with a density four times greater than the half-pound foam used in most spas.
Proprietary spa covers ensure a tight fit to keep heat from escaping.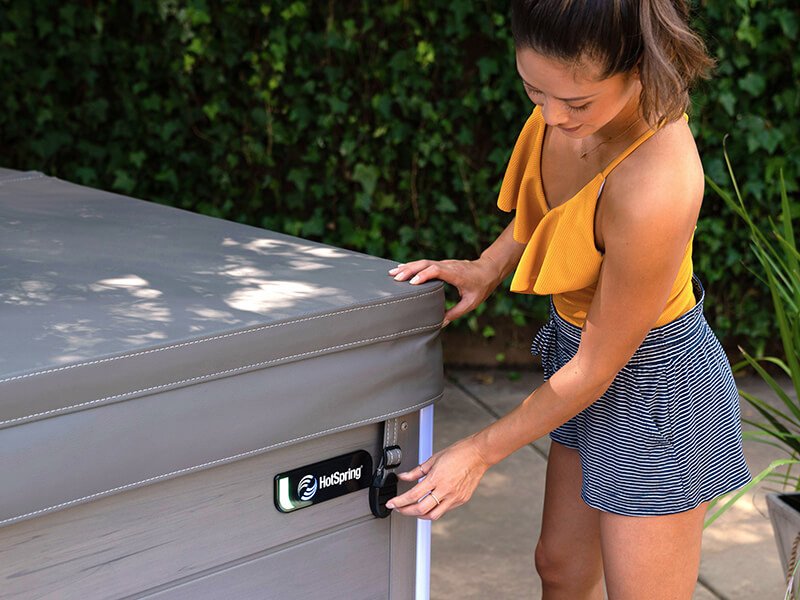 ENERGY SMART SYSTEM FEATURES
A low-energy pump circulates water using less energy than a 40-watt light bulb.
The titanium heater maximizes heat transfer.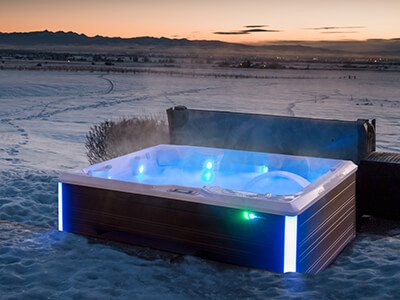 THE ABSOLUTE BEST HOT TUB OWNERSHIP EXPERIENCE®
You can count on lasting quality and unparalleled customer care from a global network of dealers dedicated to providing you with an extraordinary ownership experience.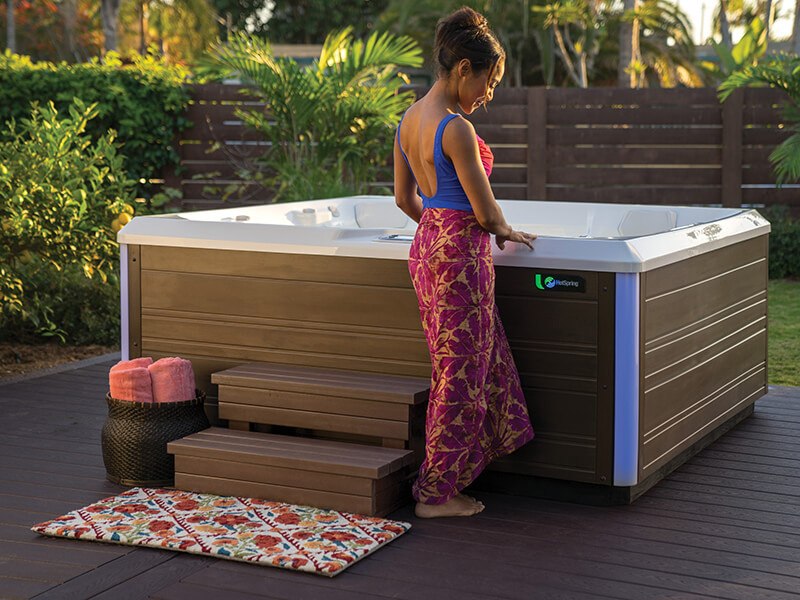 SEE THINGS IN A WHOLE NEW LIGHT
From the dramatic shell design to the brushed stainless steel jet details and beautiful lighting options, Limelight Collection spas turn heads.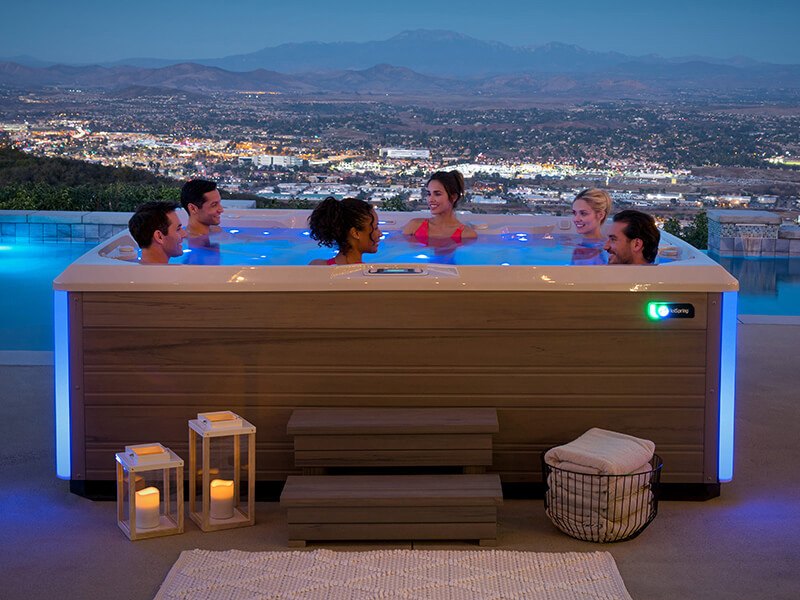 BEAUTIFUL AND DURABLE SIDING
Choose from three cabinet finishes and a variety of shell colors so you can create a look that's just right for you.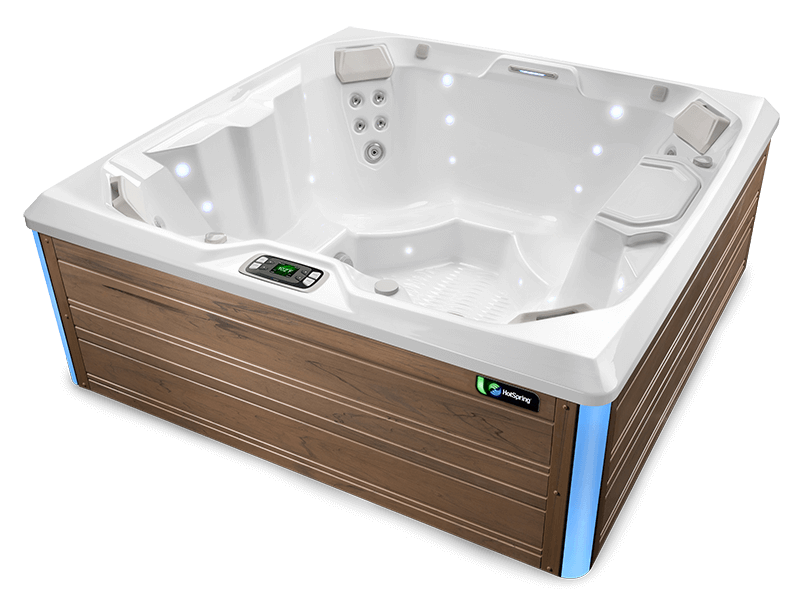 MULTI-COLOR LED LIGHTING
The interior lighting system features multiple points of LED light that accent the contours of the spa shell. Two exterior LED lights integrate with the front corners of the spa, creating an elegant look.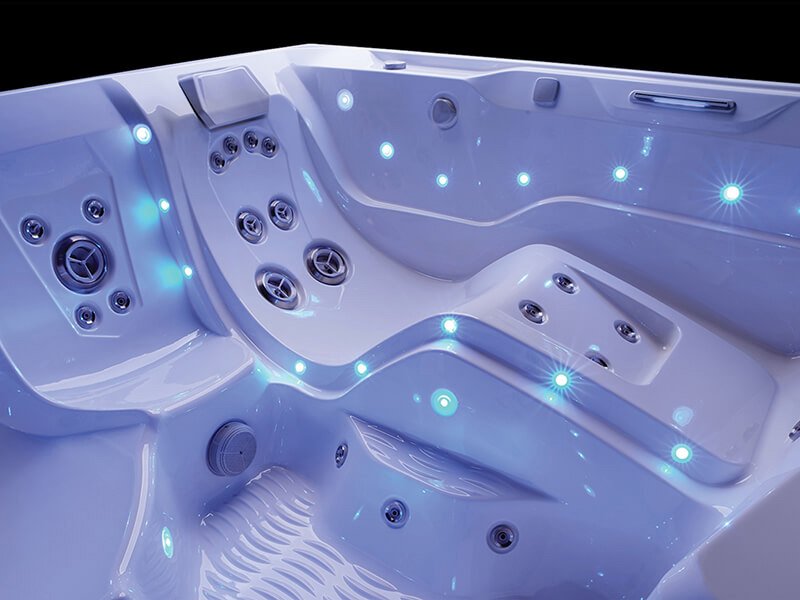 Shop Other Hot Tub Collections
With three different hot tub Collections, you'll find one that's just right for you.
Limelight Collection Reviews
I have never been so exited to spend money! This was one of the best purchases my husband and I have ever made! With back issues, this spa enables me to relax after a hard day of work and sleep a full night. I am amazed by this spa.
Hot Spring spa owner, Connecticut
LimeLight Product Aggregate Reviews
is rated out of
5
by
1312
.
Rated

2

out of

5
by
50man
from
Quality, warranty & salt system subpar
I intentionally waited almost a year to post this review because I wanted to be accurate. The bottom skirting part of the tub is painted black and faded within the first 2 months and was instructed that was not covered by warranty yet it's prominently displayed. I'm over 50 years old and have had swimming pools and hot tubs since I was in my 20s so I know how to keep water and balance and the important of consistently monitoring and adjusting. The saltwater system is extremely finicky and you'll burn through very expensive cartridges quickly. Additionally salt water systems foam very easily. Local authorized dealer not very good either. Gave up on trying to get support because I would either be ghosted or told things that never came to fruition. I would not buy this brand again nor would I deal with the authorized dealer near me.
Date published: 2022-11-28
Rated

4

out of

5
by
Slick56
from
Very Relaxing Spa
The flair is a wonderful hot tub with six seats and lots of adjustable jets. The only drawback is the lounger isn't very comfortable for my wife. She has a hard time staying in place and is always trying to lock her legs in so she doesn't float out of it. Next one won't have the lounger.
Date published: 2022-11-25
Rated

3

out of

5
by
kev7van
from
Its nice but...
I purchased a HotSprings hot tub because a have a family member that had one. She claimed hers was very low maintenance and energy efficient. When I went to the local store I was happy to see they sold HotSprings, and yes it was more money but I was willing to pay more to not have to deal with adding chlorine every day. Well, I've had my HotSprings since September (it's currently November) and it has yet to produce chlorine. I've tried just about everything that the internet or user manual has told me to do. My recent troubleshooting tip (recommended by the store) was to check the phosphate levels. It appears my water is on the high side for phosphates so I'm attempting to bring those within normal range. However, if this doesn't work I'm not sure what to do next. I was told it could be because I'm overusing it. So now my wife is the only one using it (to reduce the usage) until I can get the chemicals right and have it produce chlorine. Overall I like the tub but I'm just irritated that I cannot get the water chemistry right.
Date published: 2022-11-21
Rated

5

out of

5
by
John2022
from
Promise kept
We promised ourselves that when we moved to Florida, we would get a spa tub. We were impressed with the idea of having salt water over chlorinated and glad we did. We've had a little learning curve with water care but not bad for first time owners of a spa tub. Great service from our dealer Florida Spa & Pool. Thanks!
Date published: 2022-11-21
Rated

4

out of

5
by
Nova
from
New Prism Hot Tub Owner
We finally got our hot tub. Balancing and warming the water is relatively straight forward. Insert your problem here (COVID, Supply chain issues, etc.) we paid a premium for this Hot Tub. It works as advertised but the main problem has to do with the hot tub access panel: Very clearly a cheaply made. The slots that hold the access panel in place at plastic clips. Also, there are 8 female brass screw receptors which are installed at an angle. 4 of these were barely hanging on which means that the hot tub cover doesn't close because these were forced in by the installation crew at HotSpring. C'mon HotSpring - Who supervises your final Quality Control (QC) team members? We paid a ton of money for this equipment and the final assembly has much to be desired!
Date published: 2022-11-17
Rated

4

out of

5
by
Kyliospeed
from
Using it more than thought!
It has been therapeutic, relaxing and somewhat life altering. We are definitely enjoying our purchase of our salt water hut tub! Difficult to maintain but worth the time and energy. I would recommend to anyone looking to get a hot tub!
Date published: 2022-11-16
Rated

5

out of

5
by
Debbie
from
Excellent
We love our hot tub, the quality of hot springs is great, the quality of customer care from Misty is AMAZING, always so helpful and knowledgeable
Date published: 2022-10-30
Rated

5

out of

5
by
Mark
from
Just purchased
one week and we love this spa! The jets are great and we love the waterfall. Seating is comfortable
Date published: 2022-10-28
Rated

3

out of

5
by
Dean17
from
The front panel is damaged
When I received my spa it was in August there was a hole in the front panel. I was told that they would replace it. I am still waiting for the panel and it is the end of October When I was shopping for the spa I told the retailer that this my first experience with a spa of any kind. They were very helpful before I bought it but I get no help from them after delivery. I am starting to understand my spa by going to the pool supply store by my house
Date published: 2022-10-26
Rated

2

out of

5
by
Ooops
from
Pretty - But
We paid Full Retail because the dealer is a friend , we have tried several different micron filters and the thing still goes into shut-down .. have had extensive warranty work done , thankfully our friend takes care of it .. speakers are just Ok .. we had a Cal Spa before this one thought this was an upgrade .. we were wrong .. it's nice when it works .. Yes , we have great water quality and we maintain it ..
Date published: 2022-10-26
Rated

5

out of

5
by
JC
from
Excellent buy
I love our new spa, it is so comfortable, and beautiful, and saves energy. What else could you ask for?
Date published: 2022-10-26
Rated

4

out of

5
by
BRIAN
from
GAMES LAKE OASIS
VERY HAPPY WE PURCHASED A HOT TUB NOT SO HAPPY WITH DEALER SERVICE RIGHT AFTER INSTALLATION WIND BLEW OFF A CORNER TRIM PIECE I BROUGHT THE TRIM PIECE TO DEALER AND WAS TOLD THEY WOULD GET A REPLACEMENT PANEL WHICH WAS 3 MONTHS AGO AND HAVENT HEARD ANYTHING FROM THEM SCINCE ALSO A LITTLE PLASCTC FITTING IS MISSING FROM ONE OF THE FOOT JETS
Date published: 2022-10-21
Rated

5

out of

5
by
Rk
from
Love it
This is my 4th spa and it is great. It is the best spa I've had. I was worried that the salt system would be difficult to manage but it is not. The staff are all very friendly and helpful. Thank you all at Shannons.
Date published: 2022-10-19
Rated

5

out of

5
by
Larry
from
Love My Hot Springs Spa!
A very well built and easy to use hot tub. The water stays clean with minimal chemicals. So glad we bought it!
Date published: 2022-10-13
Rated

5

out of

5
by
RLH07
from
Providing Tons of Enjoyment
After a large backyard renovation, we decided to complete the project by purchasing a Hot Spring spa. Growing-up my family owned a Hot Spring spa. First, these spas have come a long way in the past 20-30 years. They're made of better materials and have many more features, and most importantly are easier to care for. We purchased a Limelight Pulse spa in ~ April. We waited until early September before it was delivered. I am not sure if the wait is always that long or if it's an aftermath of the Covid backlog. Within 3 weeks the front control started having issues and some of the buttons stopped working. Luckily the vendor (Richard's Total Backyard) fixed it within a week of reporting the issue. Fingers crossed that was a fluke. Besides that issue, the entire family has enjoyed it more than I ever anticipated. We use it daily and it's the perfect size for a young family of four (young kids swim in it). I have also been pleasantly surprised how easy maintenance has been. Like I mentioned, my family owned a few tubs growing up and the chemical maintenance was always cumbersome. This spa is much easier to maintain, and I suspect the saltwater system helps a fair amount. While an expensive purchase, I would recommend the purchase to anyone on the fence about buying one. I've been very pleased thus far.
Date published: 2022-10-10
Rated

1

out of

5
by
NotHappyHotTubber
from
So far… AWFUL
Got my tub hooked up 2 days ago after waiting over a year for it. The tub keeps tripping the breaker and won't reset… called our dealer and they only have 1 person that does servicing and they are on vacation for 2 weeks. The GM was no help- kept saying he didn't know anything and we would have to wait for the tech to return. It shouldn't be this hard to use a hot tub! I am almost to the point where I want to send it back and switch to another brand. Instead of relieving my stress - it is making it go through the roof!! Oh, and the electrician was kind enough to help us and it is not an electrical problem!
Date published: 2022-10-09
Rated

5

out of

5
by
Dhrh
from
Love it!
I have wanted a hot tub for a long time. I am enjoying our Beam so much! I'm glad we chose the smaller spa with lower sides. It is easy to get in and out of and don't need steps. I am 5'4". I also don't sit so low I'm up to my neck in water. This spa is beautiful, comfortable and sooo relaxing. The lighting and waterfall is wonderful as well. The Hot Spring Beam is everything I hoped it would be. There was also a military discount which I appreciate a great deal. Love our hot Spring Spa!!!
Date published: 2022-09-30
Rated

5

out of

5
by
John
from
Perfect spa for our family
Great size for my wife and two kids. I really like the salt water system. Once I got it stabilized the maintaining of water quality is really easy.
Date published: 2022-09-30
Rated

5

out of

5
by
Tex
from
Very satisfied customer
We are very pleased with our Hot Springs spa. The ease of use (maintenance) is a major benefit regarding overall enjoyment. The controls are excellent. The automated cleaning is great and we really enjoy the salt water aspects of less chemicals. Wouldn't hesitate to recommend this product!
Date published: 2022-09-28
Rated

5

out of

5
by
AB
from
Anthony
Love my TUB!!! I should have bought one years ago!
Date published: 2022-09-27
Rated

3

out of

5
by
Redfam
from
salt cell does not keep up
very disappointed that the salt cell will not keep up with the use of the pool despite the salt level is turned up to 10, we are a family of 5 and I constantly have to add chlorine
Date published: 2022-09-27
Rated

5

out of

5
by
Hula
from
Best purchase ever!!!
Love this spa! Easy set up with easy maintenance and cleaning!! We use it every day and night.
Date published: 2022-09-26
Rated

4

out of

5
by
Ler
from
Nice spa but have some concerns after a few months
I like the spa overall. It did arrive with a damaged side that still has not been fixed but the dealer is aware. The side panels of the spa are already "warping" and we have had it about 2 months. I am concerned on the quality of the outer shell of this spa. I do like most everything else but wish I would have sat down in an empty spa before purchasing as some seat are comfortable and a few don't have much room for your feet at the bottom.
Date published: 2022-09-19
Rated

3

out of

5
by
Mamangalena
from
Great hot tub, but jet rings already rusting…
Hot tub is not even a year old and the silver jet rings are rusting! Love this hot tub, but this is a major flaw to its beauty. The rust makes the hot tub look cheap, and it wasn't! This hot tub has comfortable contoured seating, powerful jets, and is easy to maintain; We have the Saltwater system. As much as we want to give this hot tub 5 stars, we cannot. For the cost of this tub, the components should not rust or discolor especially after less than a years worth of use. It's a shame to look into our tub and see this, we love our tub otherwise. But we were shocked to see rust on components that are visible at all times. Disappointed to say the least.
Date published: 2022-09-15
Rated

5

out of

5
by
Soaker
from
Awesome features! Awesome tub!
We have had three other hot tubs the past 40 years! This Hot Springs Tub is so easy to run, water quality is fantastic utilizing the Salt Water Disinfection System. The seats, jets, and lights are just what you want in a Hot Tub! Good Job Hot Springs Spa..
Date published: 2022-09-04
Rated

5

out of

5
by
Bigdnorth
from
Great
So far so good! I have just used the spa one time. It is on 115 volt until I have electrical company install 220.
Date published: 2022-09-03
Rated

4

out of

5
by
Rick
from
Balance of water
I get all levels balanced in my salt water tub and the next day it's not, it's just me and my wife that uses the hot tub! I'm testing every other day too find the chlorine level's are low and PH dropping some! We were told this salt water hot tub is less maintenance but is it?
Date published: 2022-08-30
Rated

5

out of

5
by
Jerry
from
Flair review
Logan, the salesperson at Aquarius Pools in Columbus, GA, who also gave up the "pool school" was outstanding. She was very helpful, knowledgeable, pleasant and accomodating. Entire experience, from selection, review, paperwork, installation, and "school" was excellent
Date published: 2022-08-29
Rated

2

out of

5
by
TW82
from
Frustrated
Our spa was delivered June 10th. Directions for set up were followed after having freshly filled water tested by our dealer. Our chlorine levels have not been right and we've been given different directions from each service person we speak to. We've been told by some to add chlorine daily and 10 output while others say 3 or 4 output and once per week chlorine. We thought the salt system would be a better option, but after three months, we're not impressed. I just want the salt system to do what I was told it would do.
Date published: 2022-08-29
Rated

5

out of

5
by
DJ
from
Flash
Great hot tub "0" problems after we got it up and running. Works just like it is supposed to. Relaxing and a great addition to our home.
Date published: 2022-08-22
Compare Hot Tub Collections
Each Hot Spring Collection features spas with different jets, features and number of seats.
Compare Now
Visualize That Perfect Spa in Your Space
Use the free Virtual View™ AR app to view and compare spa models.
Learn More