The spacious Rhythm is everyone's favorite place to gather. Our largest model includes four comfortable captain's chairs, a cool down seat, and large footwell.
7' x 7' x 36"
2.13m x 2.13m x .92m
Dimensions
FROG® In-Line Cartridge Ready
Water Care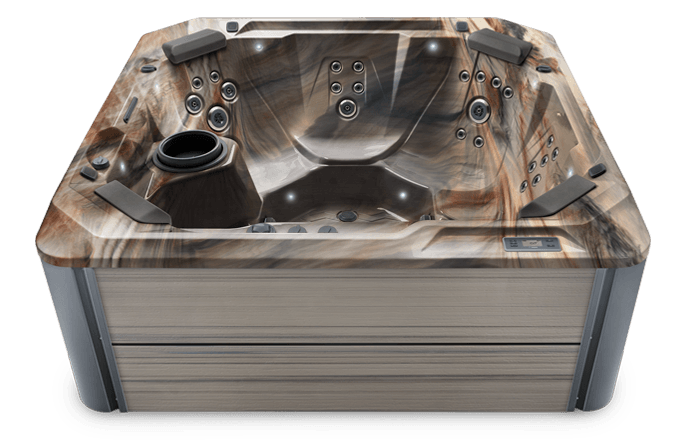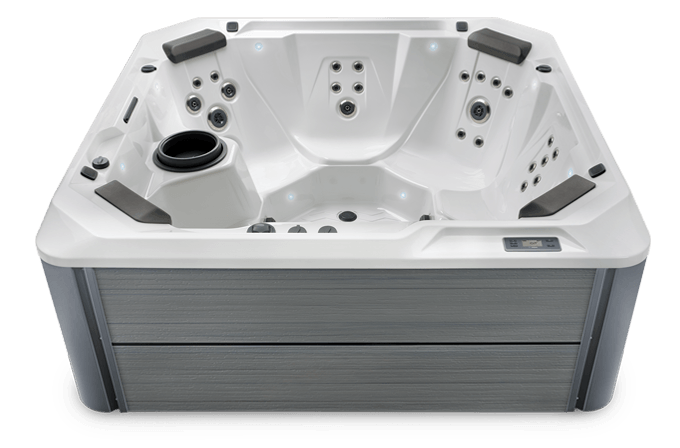 Shell
Alpine White

Pearl

Pebble

Tuscan Sun
Alpine White

Pearl

Pebble

Tuscan Sun
Alpine White

Pearl

Pebble

Tuscan Sun
Actual colors and product may differ from on screen representation. Please see your local dealer to verify.
Visualize That Perfect Spa in Your Space​
The Hot Spring Spas Virtual View™ AR app puts the power of augmented reality at your fingertips. Shop and compare models virtually, in any color combination, and see how they look in your space. Virtual View AR takes the guesswork out of choosing your perfect spa.
Multi-colored LED lights accentuate your spa, inside and out. You control the mood! Choose from three levels of brightness, single color or revolving display.
The Rhythm provides a carefully designed system of jets to soothe and target muscle groups from your neck to your toes.
Customize your massage by rotating the jet face for your right level of comfort.
These small, powerful jets are clustered to direct targeted streams to select muscle groups.
Rotating streams of water create a pulsing sensation for a unique experience for those trouble spots.
Design
Beautify Your Space
Designed to delight the senses, each spa features eye-catching finishes, dramatic LED lighting, sleek metallic corners, and distinctive design details. Subtly embossed cabinets evoke the beauty of natural materials with the durability of advanced composites. Choose from a soothing color palate that follows current design trends and complements your indoor and outdoor space.
A large bartop, contoured seating, and integrated pillows complement the overall design for a unique and on-trend look.
Massage
Water
Energy
Quality
Price

Seating Capacity

7 Adults

Dimensions

7' x 7' x 36"

2.13m x 2.13m x .92m

Water Capacity

Weight

845 lbs./383 kg dry

4,820 lbs./2,185 kg filled*

Spa Shell Options

Alpine White
Pearl
Pebble
Tuscan Sun
Jet Pump 1

Wavemaster® 6200
Two-speed
1.5 HP Continuous Duty
3.2 HP Breakdown Torque

Jet Pump 2

Wavemaster® 6000
One-speed
1.5 HP Continuous Duty
3.2 HP Breakdown Torque

Water Care System

FROG® In-Line Cartridge Ready

Ozone System (Optional)

FreshWater® III Corona Discharge

Effective Filtration Area

65 sq. ft., top loading filters

Vinyl Cover

3.5" to 2.5" tapered
2 lb. density foam core Nutmeg or Stone

Entertainment systems (optional)

Cover Lifters (Optional)

CoverCradle®, CoverCradle II®, Lift 'n Glide®, UpRite®

Steps (Optional)

Hot Spot Collection – Almond
Hot Spot Collection – Havana
Hot Spot Collection – Storm
Polymer – Ash

*Includes water and 7 adults weighing 175 lbs. each
Export models available in 240v, 50Hz, 2000w heater
Cabinet Options

Jet Count

Hot Tub Jets

3 XL Directional Hydromassage jets
2 XL Rotary Hydromassage jets
3 Directional Hydromassage jets
2 Rotary Hydromassage jets
30 Directional Precision® jets

Lighting System (interior)

10 multi-color LED points of light

Lighting System (exterior)

4 multi-color LED points of light

Water Features

Control System

230v/50amp, 60Hz
Includes G.F.C.I. protected sub-panel

Heater

Energy Efficiency

FiberCor® Insulation; Certified to California Energy Commission (CEC) and APSP 14 energy efficiency standards for portable spas
RHYTHM REVIEWS
See what our customers are saying about the Rhythm.
Spa steps make it easier to get in and out of your hot tub and are available in a variety of options designed to match your Hot Spring hot tub.
With options to fit your needs and space, our patented cover lifters make opening and closing the spa cover simple, helping maintain your hot tub and extending the life of your cover.
Enhance your spa experience with our easy-to-use system featuring Bluetooth.
BROWSE MORE 7-PERSON HOT TUBS
SHOP OTHER HOT TUB COLLECTIONS
With our different hot tub Collections, there's one that fits your lifestyle.