Experience our Best Salt Water System for Home Spas
When you own a hot tub, you want to enjoy the many relaxation, relationship, and wellness benefits that a daily hot soak and hydrotherapy massage provide. You don't want water system maintenance and care concerns to interrupt your bliss.
Say Hello to FreshWater®—our Best Salt Water System for Home Spas
The breakthrough technology of the FreshWater® Salt System, available on Highlife®Collection and Limelight® Collection hot tubs from Hot Spring® spas*, helps keep your spa water clean and clear for up to one full year with normal use. New spa owners will want to take advantage of its benefits!
With just a little salt in your spa water, the FreshWater titanium cartridge-based system generated chlorine automatically so you'll spend less time measuring and adding chemicals. Unlike any other salt system on the market, the cartridge can be replaced in just a few seconds by the spa owner right from the bar top. Its innovative design eliminates the need for tools or a service technician. The FreshWater® Salt System is the simple way to keep your water clean, clear, soft, and ready. Plus, the water can last up to twelve months with normal spa use before draining and refilling, offering the water conservation benefits that we know are important to you and Mother Earth.
The FreshWater® Salt System Means Cleaner Water With Less maintenance
With traditional spa water care systems, when you add chemicals to the water, such as chlorine granules, the addition of particulates makes it necessary to change the water frequently—as often as every four months. With the FreshWater® Salt System, all you have to do is dip a test strip into the water and adjust the output settings every 10 days as prompted by the simple directions that appear on your control panel. Read our startup guide for more tips on the best way to get set up with our system.
The FreshWater® Salt System manages sanitizer levels, keeping them effective but low and providing a steady but gentle amount of chlorine that keeps your spa water clean and silky smooth on the skin. Chemical odors and build-up are reduced, eliminating the physical irritations that excess chlorine can cause and extending spa water life. The best part? All of this is all done with less effort from you due to the system's in-line features:
Plumbing integration. Factory integration with the spa's plumbing ensures reliable operation without any extra components that accompany aftermarket salt systems.
Titanium cartridge-based inline design. The system cartridge automatically generates chlorine from salt, making water care easier. The cartridge needs no maintenance and replacement is easy too. Simply access the cartridge from the bar top and replace it. Cartridges are disposable and sold in three-pack cartons that can help keep your water clean for up to one full year.
Control panel integration. When the system needs attention, such as when it's time to replace a cartridge, an indicator light on the spa's control panel will let you know. Sanitizer levels can also be adjusted directly from the control panel.
Every Hot Spring Highlife Collection and Limelight Collection spa ships from the factory ready to use the FreshWater® Salt System. The optional start-up kit, purchased separately, is all that's needed for the dealer to install. The kit includes the following:
FreshWater Controller
FreshWater Titanium Cartridge
FreshWater Spa Salt (10 lb. bag)
FreshWater Vanishing Act® Calcium Hardness Reducer
FreshWater Salt Test Strips
FreshWater 5-Way Test Strips
FreshWater Phosphate Test Strips
FreshWater Owner's manual
FreshWater Startup Guide
The need for chemical sanitizing can be further reduced when the FreshWater® Salt System is paired with FreshWater® Mineral Spa Sanitizer**, an optional sanitizer that enhances the cleanliness of your spa without introducing more chemicals. Ionized silver is an antimicrobial agent that destroys bacteria and viruses. To enjoy the benefits of silver with the FreshWater® Salt System, simply insert the FreshWater® Mineral Spa Sanitizer cartridge into the filter standpipe, handle up. Each cartridge lasts up to four months. You'll also want to make sure you use FreshWater® Vanishing Act treatment to protect the system from hard water right from the start.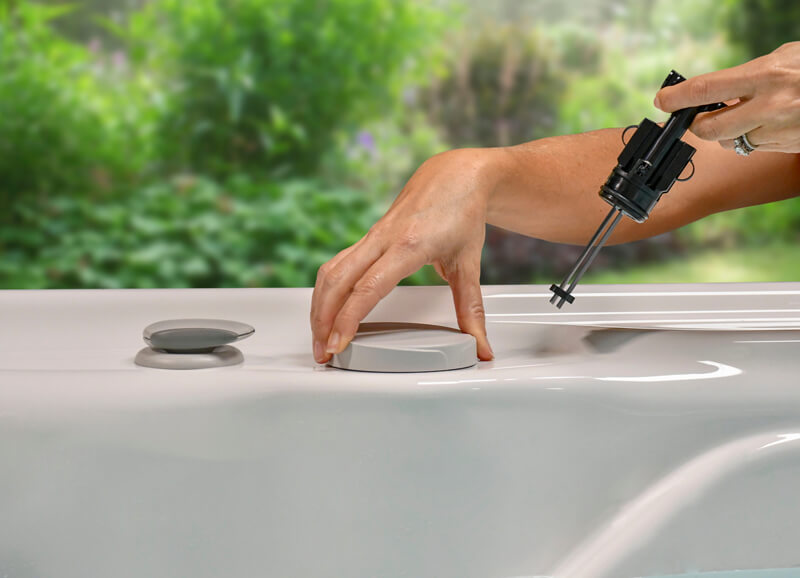 UP TO ONE FULL YEAR OF CLEAN, CLEAR SPA WATER
Spas with traditional water care systems can require a complete drain and refill every three to four months, which can interrupt your daily hot tub therapy and may even require a service call. With the FreshWater® Salt System and simple owner maintenance, water life can be greatly extended, meaning you'll only need to drain and refill your spa up to about once a year. The benefits this provides are powerful:
More hours of enjoyment for you. Keeping spa water is always clean and ready to enjoy is simpler with FreshWater® Salt System, which means you'll use it more often. And, when you use your spa often, the health benefits of hydrotherapy begin to accumulate, offering the relationship, sleep, and overall health benefits that make every day better.
Energy cost savings. Heating your spa water each time you refill it consumes power, which you'll notice on your energy bill. The FreshWater® Salt System can help reduce your energy consumption and add to your savings account.
Reduction of water use. Water is a precious commodity, especially in the western and southwestern regions of the United States, so water reduction is top of mind for eco-conscious hot-tubbers. Whether you own a two-seat or seven-seat spa, the FreshWater® Salt System will allow you to be more water-efficient and save money.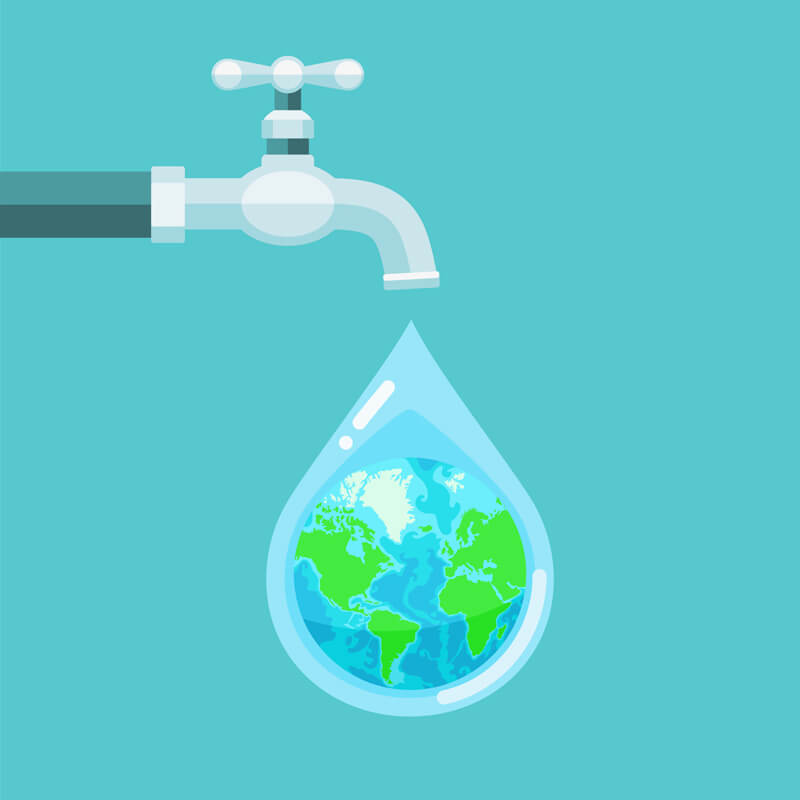 Goodbye Frequent Draining, Hello Water Conservation
From day one of the design of the FreshWater® Salt System, we put hot tub water conservation at the forefront. By extending the life of spa water up to a full year, we answer a call for resource conservation.
If you are able to use your spa water as gray water in your region, you can:
Water your plants and landscaping. Drain your spa into a sprinkler to water your lawn, trees, and flower beds.
Wet your home's foundation. In drier parts of the country, home foundations can crack when the ground becomes extremely dry and shifts beneath them. Spreading your used hot tub water around the edge of the foundation can prevent this.
Wash your home, car, or boat. With a submersible pump and a long hose you can use your used spa water to clean your siding, cars, and recreation vehicles.
THE WELLNESS BENEFITS OF THE FRESHWATER® SALT SYSTEM
The FreshWater® Salt System will complement your healthy lifestyle and bring mineralized hot tub therapy into your daily wellness routine, because salt water provides these benefits:
Gentle on your senses. Silky smooth to the touch and easy on your eyes, salt water feels soothing and lacks a strong chlorine odor.
Enhanced hydrotherapy. More dense than typical hot tub water, salt water increases buoyancy, which can better help relieve pressure on joints and may help temporarily reduce the pain that can accompany arthritis. When combined with the power of massaging jets, salt water can help you better relax to reduce muscle tightness and improve the quality of life.
Improved emotional wellness. The smooth feel and clean smell of a salt water spa will invite you to soak more often, providing you with the relaxation you need before or after a busy day and the opportunity to reap the cumulative benefits of warm water immersion. Enjoying more spa time can help reduce anxiety and the discomfort that stress can cause, and even help you sleep better.
FreshWater®, Fresh Start!
The FreshWater® Salt Water System is the latest innovation in our never-ending effort to provide our customers with unparalleled hot tub therapy and The Absolute Best Hot Tub Ownership Experience®. Through better, simpler water care and improved energy and water efficiency, the FreshWater® Salt System allows Hot Spring spa owners to spend more time enjoying their spas and less time worrying about maintenance.
To learn more about Hot Spring spas and the many benefits of the FreshWater® Salt System, download a brochure.
** Product availability depends on your region. Please check with your local dealer.